Texas Republican Denies There Was Any Insurrection on January 6
A Republican Texas lawmaker who attended the January 6 pro-Trump rally, which preceded the attack on the U.S. Capitol, has denied the day's events were an insurrection.
Kyle Biedermann made the claim during a debate on Thursday about a a controversial GOP elections bill dubbed the SB1.
Democrat Erin Zweiner tabled an amendment to prevent participants who encouraged or participated in a state of federal insurrection from becoming a voter assistant, The Dallas Morning News reports.
In response, Biedermann said: "People that attended that rally and attended the January 6 event, you're calling them all insurrectionists?"
"The amendment is all about the insurrection that you are claiming on January 6, yet you were not there. You don't know what happened.
"All you do is listen to the liberal media, is that correct? Where do you get your information?"
Asked by Zweiner if he believed that "the events of Jan. 6 were an insurrection," Biedermann replied: "Of course not."
At least 20 North Texans, according to The Morning News, have been arrested in connection with the January 6 riot at the Capitol, which left five people dead and 138 police officers injured.
Shortly before the attack, Biedermann joined thousands of Trump supporters protesting Donald Trump's defeat in the 2020 presidential election. The violence delayed House lawmakers certifying Joe Biden's election victory.
A week after the events, Biedermann told the New Braunfels Herald-Zeitung that he "peacefully marched on our nation's Capitol to make our voices heard."
He added that it was "unfortunate that some used this gathering to sow discord and promote violence."
Zweiner later doubled-down on her claim in a tweet on Thursday stating: "The Capitol Insurrection this past January was a true attack on American democracy and those involved should NOT be allowed anywhere near our elections."
She was then supported by State Representative Vikki Goodwin who tweeted: "Rep. Biederman just said on the TX House Floor there was no insurrection on Jan. 6.
"Left many of us feeling like we are on different planets. He was there..."
Newsweek has contacted Kyle Biedermann for comment.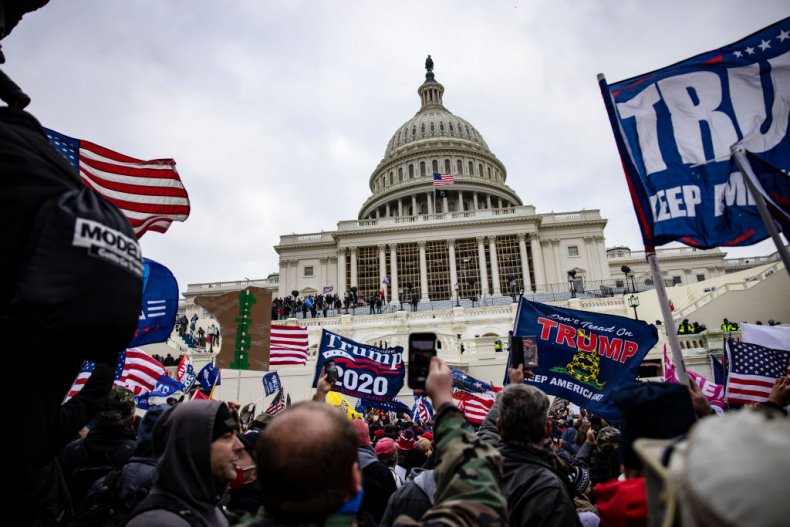 A House Select Committee investigation into the January 6 attack on the Capitol building is ongoing.
Some Capitol Police officers who defended the building that day have this week filed a lawsuit against former President Donald Trump.
Filed on behalf of seven officers, the suit alleges Trump "worked with white supremacists, violent extremist groups, and campaign supporters to violate the Ku Klux Klan Act, and commit acts of domestic terrorism in an unlawful effort to stay in power."