Texas Republicans Turn on Trump over Tariffs: 'It's a Tax. It's Not an Overly Complicated Issue'
Texas Republicans are balking at President Donald Trump's threat to impose tariffs of at least 5 percent on all goods imported from Mexico as soon as next week.
The president announced last week that he would begin levying tariffs on all Mexican imports on June 10 unless America's southern neighbor moved to stop the flow of migrants entering the U.S. without authorization. The tariff rate would begin at 5 percent and increase 5 additional percentage points on the first day of each subsequent month, unless Mexico takes action to prevent migrants from entering the U.S. — though Trump has not yet stated what actions would actually satisfy this condition. The tariff rate could eventually reach as high as 25 percent, the White House said.
Trump's threat provoked rare dissent from a range of congressional Republicans, including lawmakers from Texas, which would be the state hit hardest by a tariff on goods imports. Texas imported $107 billion in goods from Mexico last year, accounting for nearly a third of the $346.5 billion imported by the entire country.
"It's a tax. It's not an overly complicated issue," Republican Representative Dan Crenshaw told The Washington Post. "Tariffs are bad for our companies, they're bad for consumers, and they're bad for our supply chains."
Both Texas senators—Ted Cruz, who has voted in line with Trump's policy positions 91.8 percent of the time, and John Cornyn, who did so 94.8 percent of the time—also expressed concerns about Trump's proposed tariffs.
While Republican lawmakers, who have indicated they could block Trump's attempts to impose the tariff, and Mexican officials have attempted to dissuade the president from his threatened tariff, the administration has appeared unwilling to budge. The White House's announcement of the looming tariff said that the sufficiency of Mexico's efforts to stem the flow of migrants would "be determined in our sole discretion and judgment."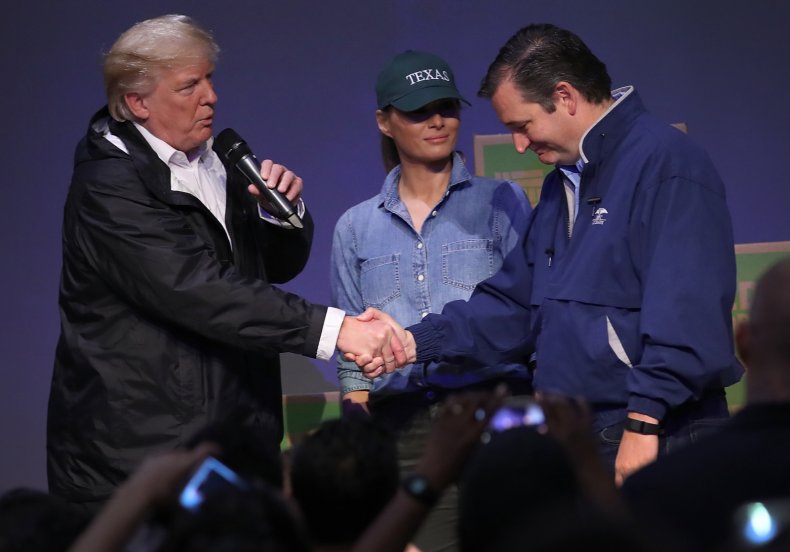 Mexico's Foreign Secretary Marcelo Ebrard flew to Washington almost immediately after the tariff announcement in preparation for talks with the Trump administration about staving off the new fees. However, those negotiations have yet to prove fruitful.
"Immigration discussions at the White House with representatives of Mexico have ended for the day. Progress is being made, but not nearly enough!" Trump tweeted on Wednesday after discussions between Mexican officials, Vice President Mike Pence and Secretary of State Mike Pompeo ended without a solution.
The president has railed against the flow of migrants coming through the southern border, which have risen to a 13-year high, with nearly 144,300 migrants apprehended in May. But Trump's renewed focus on stopping migrants from coming into the country — which he promised to do during the 2016 election campaign — now poses a risk to another central element of his platform: boosting jobs and the economy.
With U.S. companies already footing the costs of escalating trade tensions between Washington and Beijing, tariffs on Mexico would create an additional financial burden for American businesses.
The automobile industry would be particularly impacted, and sector representatives warned that the tariffs would harm U.S. jobs. Deutsche Bank analysts predicted that a 25 percent tariff on Mexican imports could raise the average price of automobiles sold in the U.S. by $1,300.
A report from the Perryman Group, an economic research firm, said that a 5 percent tariff would cost the U.S. 406,000 jobs each year.