Texas School District Rebukes Holocaust Statement From Curriculum Director
A Southlake, Texas school district has backtracked in the wake of outrage after one of their top executives was recorded suggesting that Holocaust denial should be taught in their classrooms.
In an audio clip released Thursday by NBC News, Gina Peddy, the executive director of curriculum and instruction for the Carroll Independent School District (ISD), can be heard in a meeting suggesting that opposing views on the Holocaust should be included in textbooks.
"Make sure that if you have a book on the Holocaust," Peddy says, "that you have one that has an opposing, that has other perspectives."
Others in the room can then be heard questioning her, asking how it is possible to teach opposing views of the Holocaust.
"Believe me, that's come up," Peddy responds.
The suggestion reportedly came up as a result of the state's new law, Texas House Bill 3979. The bill was passed in September and requires teachers to "explore issues from diverse and contending perspectives," and provided guidelines as to the placement of books in school libraries.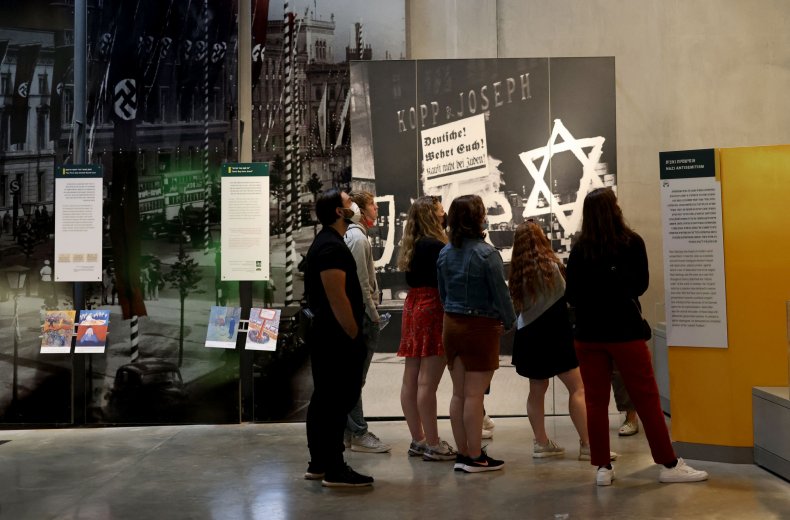 Texas Governor Greg Abbott stated that the bill was designed to stop the teaching of critical race theory in the state. Opponents have expressed concerns that it could be used to stifle learning while promoting false narratives.
In the aftermath of Peddy's audio recording, multiple district officials were quick to distance themselves from her words and clarified that books advocating Holocaust denial would not be added to their schools.
Carroll ISD spokeswoman Karen Fitzgerald told NBC News that "our district has not and will not mandate books be removed, nor will we mandate that classroom libraries be unavailable."
Lane Ledbetter, the superintendent of the Carroll ISD, also released a statement Thursday clarifying the district's stance on the issue. In it, he said that the ISD recognized that there are "not two sides of the Holocaust."
"The comments made were in no way to convey that the Holocaust was anything less than a terrible event in history," Ledbetter's statement continued. "As we continue to work through implementation of HB 3979, we also understand this bill does not require an opposing viewpoint on historical facts."
The Texas State Teachers Association also weighed in, with spokesman Clay Robison stating that "we find it reprehensible for an educator to require a Holocaust denier to get equal treatment with the facts of history."
"That's absurd. It's worse than absurd. And this law does not require it," Robison added.
Numerous politicians and activists also spoke out against both the law and Peddy's comments.
Representative Alexandria Ocasio Cortez of New York tweeted that "Holocaust denial has no place in our history. None."
Attorney Christopher Hahn also weighed in, tweeting that his grandparents, both Holocaust survivors, "watched their friends and family get murdered. There is no opposing view."
The controversy comes just days after the Dallas News reported that Carroll ISD had punished a fourth-grade teacher at one of their schools after discovering she had a copy of an anti-racism book in her classroom.
Newsweek has reached out to the United States Holocaust Memorial Museum for comment.