On Wednesday, The Texas Republican Party fired its Seargeant-at-Arms, Walter West after he used Facebook to express support for rioters in Washington D.C. who broke into the capitol building in an attempt to overturn the national election for President Donald Trump.
Above an image of a crowd of Wednesday's protesters and smoke rising on the capitol building steps, West wrote, "You Accepted ANTIFA burning down your cities... Now Deal with them taking back OUR HOUSE," according to KETK-TV.
Then, in a statement entitled, "The Texas GOP Condemns Violence at the Capitol," the state Republican Party wrote that it "in no way endorses Walter West's statement about the lawlessness occurring at the Capitol Building. He will be removed as Sergeant-at-Arms for the Party."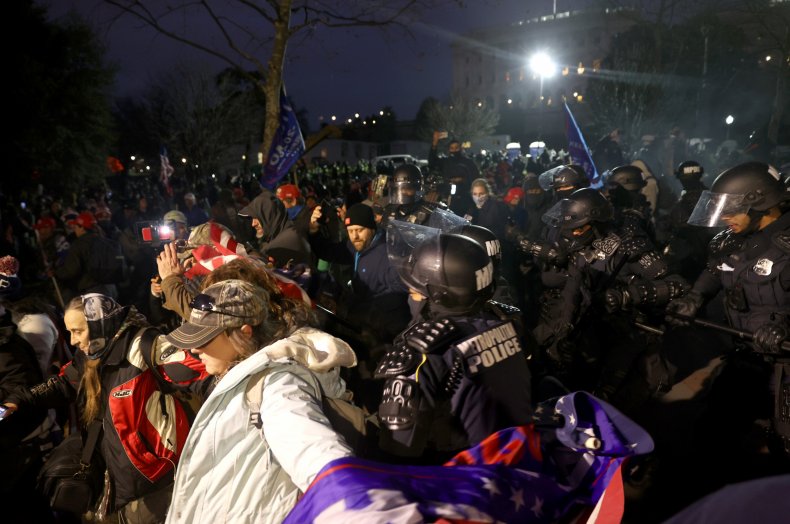 "Whereas we vigorously support the First Amendment right to freely assemble, we condemn violence and pray for all gathering in our nation's capital and those in the Capitol Building. The Texas GOP has always been on the side of law and order and will remain so."
Roughly 150,000 pro-Trump protesters converged on Washington D.C. on January 6 at the behest of the president as part of a #StopTheSteal rally in the belief of Trump's claims that widespread voter fraud stole the November 2020 presidential election from his rightful victory. January 6 marked the day that both houses of Congress were set to meet and conduct a final vote approving the Electoral College's ballots in favor of President-elect Joe Biden.
However, that vote was effectively interrupted as pro-Trump rioters stormed the Capitol, knocking down barricades and amid Congress beginning the process of certifying the presidential election results. As rioters eventually entered the building, police officers had to draw their guns inside the House chamber. All congresspeople were evacuated until the building was secure.
Democratic Senate Minority Leader Chuck Schumer of New York has since said that Congress will resume its approval of the Electoral College vote by 8 p.m. local time now that the capitol building is secure, according to journalist Steven Nelson.
Trump himself held a rally amid the protests earlier on Wednesday. However, as rioters began storming the capital, Trump released a video praising the protesters for opposing the theft of a national election, vilifying Democrats as underminers of democracy but also asking his rioters to go home in peace.
Twitter has since removed the video for promoting violence and has threatened to ban Trump's account if he continues to violate its civic integrity policy.
Newsweek contacted the White House for comment.