Twitter Deletes Trump Tweet 'Due to a Risk of Violence' for First Time Ever
Some social media platforms removed a video posted by President Donald Trump on Wednesday which encouraged protesters at the U.S. Capitol to "go home" while still reiterating his baseless claims of widespread election fraud.
Protesters breached the Capitol building in Washington, D.C. on Wednesday in an attempt to disrupt the Congressional certification of President-elect Joe Biden's victory in the Electoral College. Trump has refused to concede the election to Biden and appeared to encourage demonstrators to "march down Pennsylvania Avenue" to the Capitol. Protesters entered the Capitol rotunda and broke windows in the Capitol building.
"We had an election that was stolen from us," Trump said in the video. "It was a landslide election and everyone knows it, especially the other side. But you have to go home now. We have to have law and order. We have to respect our great people in law and order."
In what may be a first for Trump's account, Twitter removed the tweet as being unable to be "replied to, Retweeted, or liked due to a risk of violence."
When asked for comment, Twitter referred Newsweek to a thread in its Twitter Safety channel addressing their actions towards Trump's tweet.
"In regard to the ongoing situation in Washington, D.C.," tweeted the Twitter Safety feed, "we are working proactively to protect the health of the public conversation occurring on the service and will take action on any content that violates the Twitter Rules."
"Threats of and calls to violence are against the Twitter Rules, and we are enforcing our policies accordingly," the feed continued.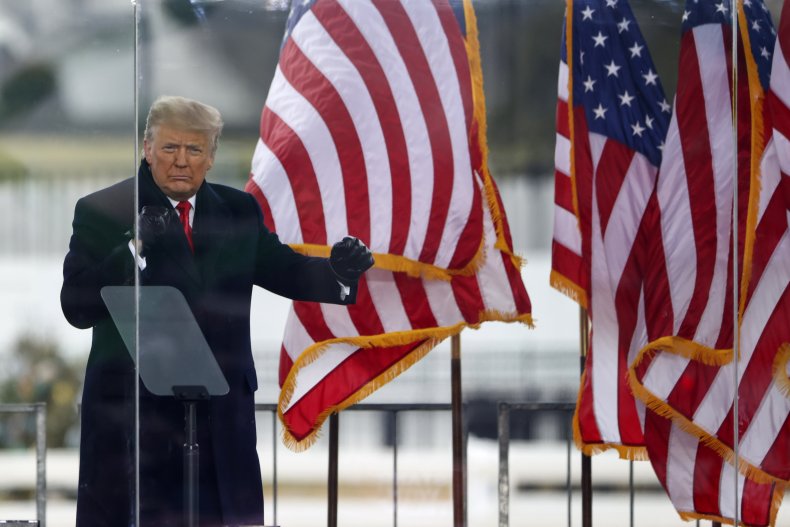 "In addition, we have been significantly restricting engagement with Tweets labeled under our Civic Integrity Policy due to the risk of violence," the thread added. "This means these labeled Tweets will not be able to be replied to, Retweeted, or liked."
"We are also exploring other escalated enforcement actions and will keep the public updated with any significant developments," Twitter Safety concluded.
Facebook removed Trump's video completely as part of "appropriate emergency measures."
"This is an emergency situation and we are taking appropriate emergency measures, including removing President Trump's video," tweeted Facebook Vice President of Integrity Guy Rosen on Wednesday. "We removed it because on balance we believe it contributes to rather than diminishes the risk of ongoing violence."
In a statement sent to Newsweek on Wednesday, YouTube confirmed that it had also removed Trump's video.
"We removed a video posted this afternoon to Donald Trump's channel that violated our policies regarding content that alleges widespread fraud or errors changed the outcome of the 2020 U.S. election," the statement read. "We do allow copies of this video if uploaded with additional context and sufficient educational, documentary, scientific, or artistic (EDSA) value."
Twitter also deleted Trump's follow-up tweet on Wednesday after earlier flagging it for its potential for inciting violence. "These are the things and events that happen when a sacred landslide election victory is so unceremoniously & viciously stripped away from great patriots who have been badly & unfairly treated for so long," Trump wrote. "Go home with love & in peace. Remember this day forever!"
Some advocacy groups have called for the suspension of Trump's social media accounts. "President Trump has a responsibility to call for an end to this violence and unrest that he has sowed," the Anti-Defamation League said in a Wednesday statement. "His campaign of disinformation is a clear and present danger to our democracy. But until such time as that happens, social media companies should suspend his accounts ASAP as they would do for anyone else advocating disinformation and promoting violence. It's time."
Updated 01/06/2021 8:06 p.m. EST: This story has been updated with a statement from YouTube.