Who Is Javier Salazar? Texas Sheriff Investigating DeSantis Migrant Flights
A Texas sheriff has launched a criminal investigation into the flights arranged by Florida Governor Ron DeSantis which brought 48 Venezuelan migrants from San Antonio, Texas, to Martha's Vineyard last week.
Javier Salazar, sheriff of the Texas county where San Antonio is located, Bexar County, told reporters that it's too soon to press charges against anyone and make public the names of any suspect.
But he added that his team is working with the attorneys representing some of the migrants flown to Martha's Vineyard to establish what laws were broken and who should be charged.
The 48 migrants were flown on Wednesday September 14.
During a Facebook Live news conference, Salazar said the migrants were "lured under false pretenses" onto the flights to Florida and then Massachusetts and brought to the small island of Martha's Vineyard "for little more than a photo op, video op."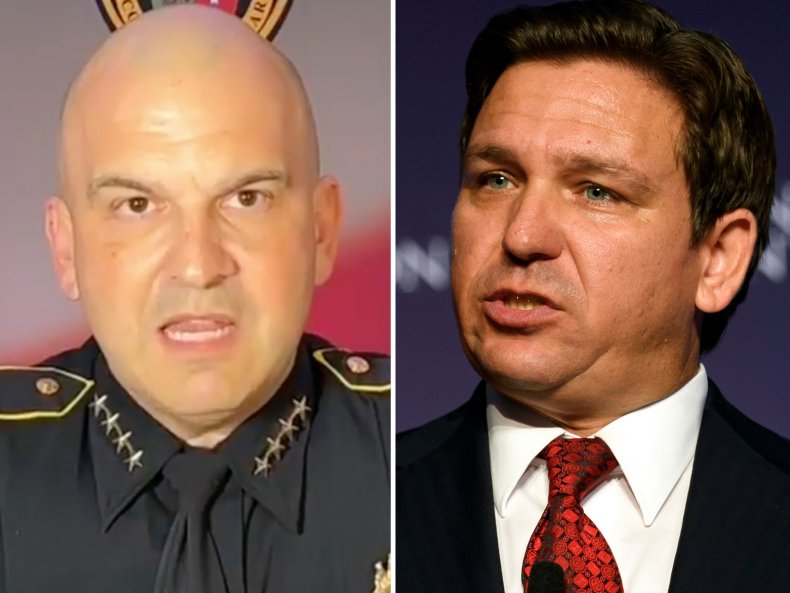 Salazar said he believed the migrants were "preyed upon" with the promise of a better life and "exploited" for "nothing more than political posturing."
"What infuriates me the most is what we have is 48 people here legally—they have every right to be here and they were preyed upon. Lured with promises of a better life and with the knowledge they would cling anything that was offered for a better life and were exploited and hoodwinked to make the trip to Florida for what I believe was political posturing."
He accused the organizers of the migrant flights to play with human lives, "with people who are already in a desperate situation."
"That does tend to bother me quite a bit, and so we are absolutely opening an investigation into this," Salazar said in a press conference.
Newsweek has contacted Salazar for comment.
Salazar, a Bexar County native and a Democrat, was sworn into office on January 1, 2017. Before being elected sheriff, he served with the San Antonio Police Department (SAPD) for twenty-three years after joining the force at the age of 21.
He first worked as a patrolman, then in Downtown Bike Patrol and the San Antonio Fear Free Environment (SAFFE) unit, a group that focuses on working with communities to solve crimes and problems in their neighborhoods, with the cooperation of residents.
Salazar later served in the Narcotics unit, the Executive Protection Detail and the office of the Chief. In 2012, he served as the Director of Communications for the SAPD, and later he covered the role of Director of the Department's Integrity Unit.
He was re-elected sheriff on November 3, 2020 and his current term ends on December 31, 2024.
He graduated from Samuel Clemens High School in Bexar County and holds an Associates Degree in criminal justice from the Alamo Community College District, a Bachelor's Degree from Wayland Baptist University and a Master Peace Officer Certification from Texas Commission on Law Enforcement.
He has been married for some twenty years to his wife Sarah and the two have two daughters.
During the Facebook Live press conference held on Monday, Salazar said the White House has not been in contact since he announced the launch of the investigations against the migrant flights, but he'd welcome any cooperation.
"This case would absolutely have to go federal, and I would welcome a call from the White House to discuss," he said.
The White House appears to share Salazar's opinion over the migrant flights which have reached Martha's Vineyard last week. In a press briefing on September 15, White House Press Secretary Karine Jean-Pierre condemned Republican governors for "using migrants as political pawns" in an act that she defined as "shameful [...] reckless, and just plain wrong."
DeSantis, on the other hand, has defended his actions saying he was sending the migrants to "sanctuary jurisdictions" that are more accommodating to migrants and unauthorized immigrants.
"Immigrants have been more than willing to leave Bexar County after being abandoned, homeless, and 'left to fend for themselves,'" DeSantis said in a statement to Orlando NBC affiliate WESH, mentioning the at least 50 migrants who were found dead in a tractor-trailer in late June in Bexar County.
"Florida gave them an opportunity to seek greener pastures in a sanctuary jurisdiction that offered greater resources for them, as we expected."
Newsweek has contacted DeSantis' office for comment.