Monster Snapper Caught by Texas Spearfisherman Could Shatter World Record
A spearfisherman has caught what has been described as a potential world record-setting fish in the Gulf of Mexico.
The fish is a 137-pound cubera snapper, caught on June 3 by Braden Sherron who was spearfishing while freediving, meaning diving underwater without the use of any breathing equipment.
News and photos of his catch were posted to Facebook by Port Aransas Fisherman's Wharf, which wrote: "Shout out to Braden Sherron with this pending Texas and world record-breaking cubera snapper.
"We are so thankful he chose Port Aransas Fisherman's Wharf to weigh and take pictures of this monster of a cubera snapper!"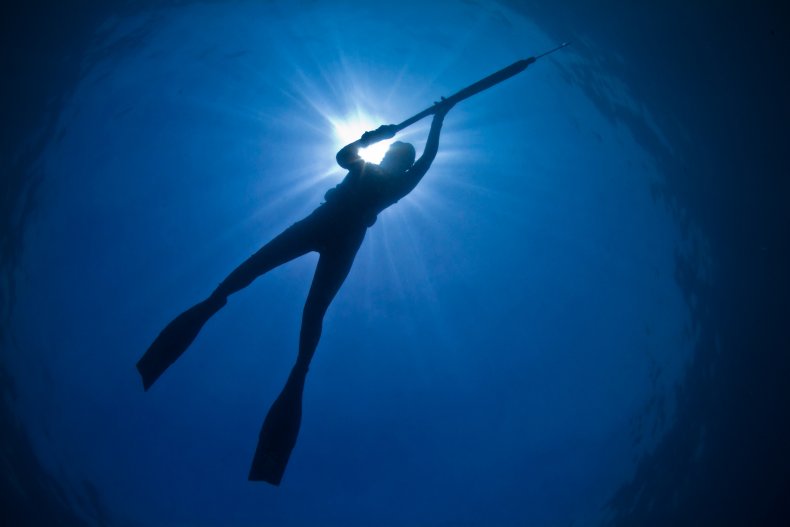 Photos show Sherron standing with the large gray and orange fish and also show it being weighed.
Fish records are not always simple. State records in Texas are split into different categories based on the method with which they were caught and whether it was a freshwater or saltwater catch.
The rod and reel state saltwater records, per Texas Parks and Wildlife, show the heaviest cubera snapper, listed at 131 pounds, was caught in 1983. At the same time Texas Parks and Wildlife also states that heaviest saltwater cubera snapper caught by other methods was a 151-pound fish caught by handline in 1984.
However, the International Game Fish Association (IGFA) states that the heaviest all-tackle Atlantic cubera snapper was caught in Louisiana in 2007 and weighed 124 pounds and 12 ounces. By this measure Sherron's catch could be a world record.
It's not clear why there is a discrepancy in the figures. Newsweek has contacted IGFA for comment. In any case, Sherron's catch is currently pending.
The cubera snapper, also known as the Cuban snapper, is a fish that lives in the Western Atlantic ocean from Nova Scotia down to Brazil, though it's rarely seen above Florida and the Gulf of Mexico.
The Florida Fish and Wildlife Conservation Commission states that cubera snappers are commonly about 40 pounds in weight, which helps put Sherron's catch into perspective. The Gulf of Mexico Fishery Management Council states that cubera snappers can reach an age of 55 years.
National Geographic states the fish are listed as vulnerable on the International Union for Conservation of Nature (IUCN) red list and that overfishing is a threat they face.
Other notable fish and sea-life catches this year include a rare orange lobster that was caught and then released by a Maine fisherman. The "unique" lobster catch proved popular on TikTok where it gained hundreds of thousands of views.
In addition, a large bass that was caught and then released in California earlier this year was described as a "monster" by angler Scott Flitcraft who caught it. "Easily my whole hand could fit inside its mouth," he said. "Lifting it up out of the water and into my tiny boat I was in shock!"