Chris Christie Says Ted Cruz Took Heat Because He 'Has Just Not Been a Very Likeable Guy'
Ex-New Jersey governor Chris Christie, once mocked by Sen. Ted Cruz for being pictured at the beach during a state government shutdown, has said he does not have much sympathy for the GOP lawmaker as he takes flak for his trip to Cancun during power outages in Texas.
Christie is well placed to relate to the predicament of Cruz as he faces criticism for travelling to Mexico while millions in his state froze in darkness after a snowstorm.
In July 2017, after he ordered a state government shutdown that closes parks and beaches in New Jersey, Christie and his family were ridiculed after they were pictured on an empty beach at the governor's official retreat in Island Beach State Park.
Cruz said in 2017 that Christie "should go back to the beach," when the then New Jersey governor criticized the senator's request for federal aid for Texas after Hurricane Harvey. Christie had referred to Cruz's opposition to an aid package after Hurricane Sandy hit the U.S. north-east in 2012.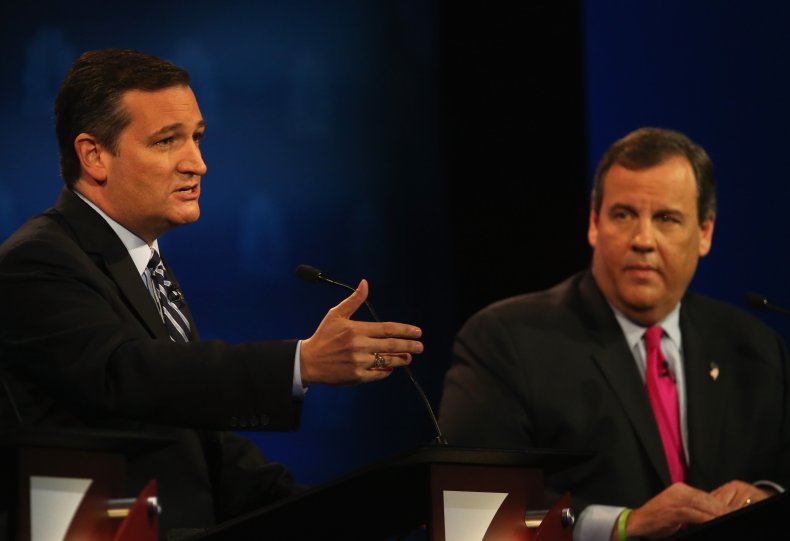 When asked about the fracas surrounding Cruz, Christie told Fox News Radio: "It's hard to have sympathy for Ted Cruz because, you know, Ted was right on board making fun of me back in 2017 when I had that incident on the beach."
Regarding the media coverage, Christie told the Guy Benson Show: "in part, it's because the media loves to pile on Republicans, and that's an element of it. But the other element of it is that, Ted has just not been a very likeable guy.
"He has taken every chance he can to take shots at people on both sides of the aisle over the course of his career. And so when you do that, when you decide that's what you want to do, and especially on personal matters, there's not going to be a ton of people running to your defense."
In Christie's view, balancing public responsibilities with family life was tricky but a better approach for Cruz was to either apologize or double down on it, "because then people think you're trying to be a politician rather than just telling the truth about what happened."
Cruz has previously criticized politicians for appearing to relax during a time of crisis. Last December, Cruz accused Austin Mayor Steve Adler of hypocrisy for going to Cabo, Mexico, during the coronavirus pandemic and recording a video telling people to stay home if you can. "Hypocrites, complete and utter hypocrites," he tweeted.
Meanwhile, Cruz told reporters on Thursday: "it was obviously a mistake and in hindsight, I wouldn't have done it." Newsweek has contacted Cruz's office for comment.
The graphic below provided by Statista compares the outages in Texas with other states.