Topo Chico Shortage Hits Texas As Coca-Cola Admits 'Challenges'
Texans have noticed that, as of lately, Topo Chico—the state's favorite drink and a staple during the hot summer months—has been hard to find in grocery stores across Texas.
Topo Chico, sourced and bottled in Mexico but owned by Coca-Cola, is ubiquitous in the Southern state, and the love Texans have for the drink is a fact everyone approaching the state tends to be aware of. When the heat of summer hits the state, Texans know they can rely on ice-cold Topo Chico sparkling water to find some relief.
But as the hottest temperatures of the year hits Texas among a heatwave that's affecting millions of people in 28 states across the country, Topo Chico is nowhere to be found, likely due to a water shortage in Mexico, where the drink is produced.
Coca-Cola, who acquired the brand in 2017 for $220 million from the original Mexican company which created Topo Chico, has apologized about shortages of the drink, according to the Houston Chronicle, but has not explained what the shortages are due to.
Newsweek has contacted Coca-Cola for comment.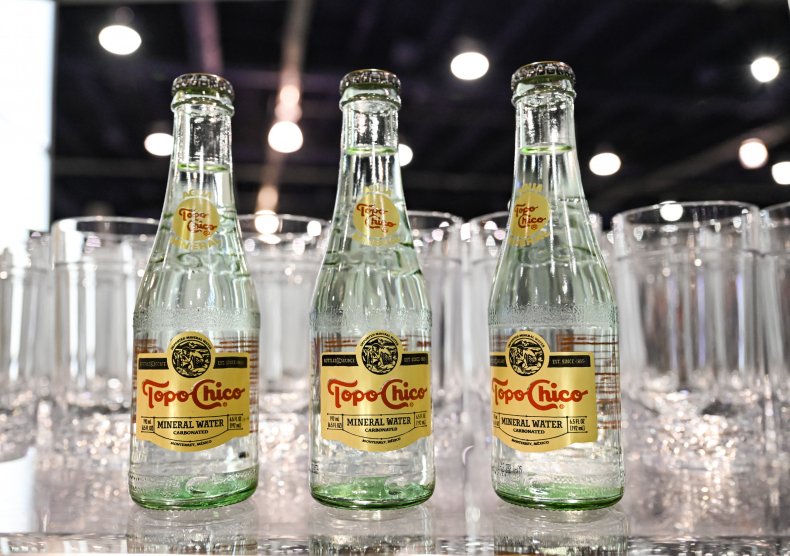 But the Houston Chronicle reports that food supplier What Chefs Want claimed that water shortages are affecting production of Topo Chico, among other products.
Topo Chico has been traditionally sourced and bottled in Monterrey in Mexico since 1895, taking its name from the Cerro del Topo Chico mountain near the city.
Monterrey, one of Mexico's wealthiest cities, is currently suffering a historic drought due to a combination of exceptionally high temperatures, a prolonged lack of rain and poor water management. The city's three dams are near to being completely dry, according to a report by NPR.
In response to this water emergency, Monterrey has reduced access to water from 4 a.m. to 10 a.m. every day, leaving its over 5 million residents queuing for water within those daily six hours.
According to an interview conducted by NPR with an Associated Press reporter based in Monterrey, there are now shortages of drinks produced in Monterrey—like Topo Chico— because the city's authorities are asking companies based there to share their water resources with the local population.

The shortage of Topo Chico matters to Texans, with the drink having become part of the state's identity. Shortages had made headlines in cities like Austin, Houston and San Antonio.
A spokesperson for Topo Chico told KXAN that the company is "working hard and implementing contingency plans to keep the products people love on shelves during this temporary shortage," but did not disclose what materials it was lacking.