Texas Tourists in NYC Attack Restaurant Hostess After Being Asked for Vaccination Proof
Five tourists from Texas visiting New York City allegedly attacked a restaurant hostess who questioned the validity of their COVID vaccination proof, a spokesperson for Carmine's restaurant on Manhattan's Upper West Side told Newsweek.
Police said Friday that Kaeita Nkeenge Rankin, Tyonnie Keshay Rankin, and Sally Rechelle Lewis on Thursday were trying to dine inside the Italian restaurant before the hostess asked them to show their vaccination proof and later said that the cards were fake, the New York Daily News reported.
In response to the accusation, all five women began physically assaulting the 22-year-old hostess, according to Carmine's spokesperson. According to the Daily News, they began punching the hostess repeatedly and tore her necklace off, police said.
Newsweek contacted the New York City Police Department but didn't receive an immediate response by the time of publishing.
"It's a shocking and tragic situation when one of our valued employees is assaulted for doing their job—as required by city policies—and trying to make a living." the restaurant's spokesperson said. "Our focus right now is caring for our employee and the rest of our restaurant family. We are a family-style restaurant, and this is the absolute last experience any of our employees should ever endure and any customers witness."
A cell phone video obtained by NBC New York showed the attack as it unfolded outside the restaurant Thursday night. According to the news outlet, the hostess stand was nearly knocked over amid the dispute, and one waiter was reportedly helping a customer move away from the attack.
The police said that the hostess wasn't severely injured and was treated at the scene, the Daily News reported.
All suspects were reportedly released after being issued desk appearance tickets for assault. NBC New York reported that they are now facing charges.
The assault sparked controversy across the city's hospitality sector as New York City began enforcing vaccination proof requirements this week for gyms, entertainment venues, and dine-in restaurants in an effort to slow the spread of COVID.
New York City Mayor Bill De Blasio announced the initiative early in August. He said that people will need to prove their vaccination status in order to be allowed to enter these settings. Workers at those places are also required to follow this mandate as a condition of maintaining their employment.
"Assaulting a restaurant worker for doing their job is abhorrent and must be punished. We're calling on the City and State of New York to immediately increase penalties for assaulting restaurant workers in New York City in conjunction with enforcement of COVID-19 protocols," Andrew Rigie executive director of the NYC Hospitality Alliance wrote on Twitter on Friday.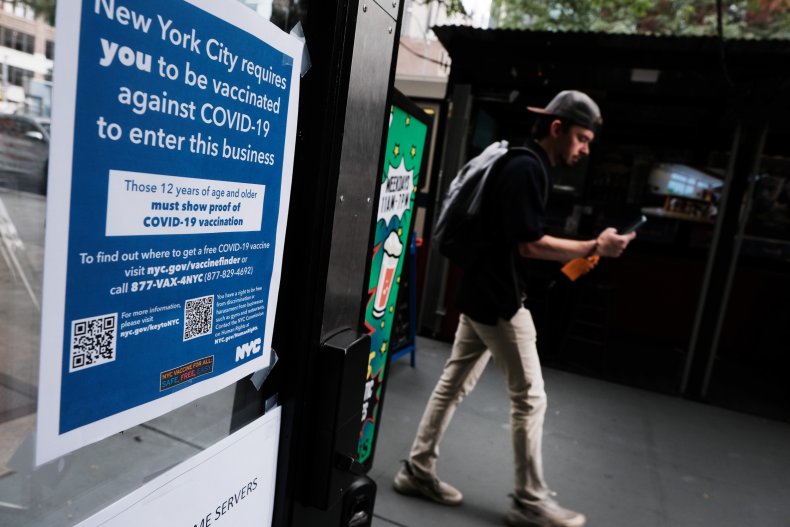 Mayor Bill De Blasio office's spokesperson told Newsweek that the city provided restaurants with conflict resolution training in recent weeks and that it will continue to assist restaurants with adjusting to the new COIVD initiative.
"This disgusting and violent behavior [at Carmine's restaurant] has no place in New York City—and it's entirely unacceptable against service workers who are keeping staff and patrons safe," said Mayor Bill De Blasio office's spokesperson.
Fake COVID vaccination cards have become prevalent in some U.S. cities. On Wednesday, U.S. Customs and Border Protection (CBP) said that agents in four cities seized packages containing fraudulent cards that were shipped from China.
Updated 09/17/2021, 5:27 p.m. ET: This story has been updated with statements from a spokesperson for Carmine's restaurant and a spokesperson from Mayor Bill De Blasio's office.