Texas Sea Turtles Rescued After State's Worst Known Case of Cold-Stunning Amid Storm
Turtle rescue groups say they have never seen so many cold-stunned turtles in need of help after a brutal winter storm hit Texas this week.
The state has seen temperatures fall as low as 0 Fahrenheit in recent days, which has put sea turtles in a state of lethargy, leaving them unable to swim.
Wendy Knight, executive director at the animal protection organization Sea Turtle Inc., told Newsweek: "This event is the largest cold stun event in recorded history.
"Cold stun events have been documented since 1980 when the sea turtle stranding and salvage network was established. This is truly a record-breaking and Herculean event."
The volunteer group plans for cold stun events every year. It is typical for sea turtles to require assistance when temperatures fall, and between 100 and 500 of the animals come into their care annually.
Knight said: "However, we do not plan for more than 4,700 cold stun turtles in one event."
It is not clear how many of the turtles will survive this year. The turtles are being monitored by staff, who are looking for injuries as well as observing their vital signs and weight.
However, Knight said Sea Turtle Inc. remained optimistic. According to the group, some of the turtles could be released back into the Gulf of Mexico as early as this weekend, or by early next week.
She said: "At this point the prognosis for many to recover is positive but we will know more as the days unfold."
Texas State Aquarium (TSA), which is also involved in the rescue efforts, said it had received "15 truckloads full of cold stunned sea turtles" on Thursday. They expect to receive well over 1,000.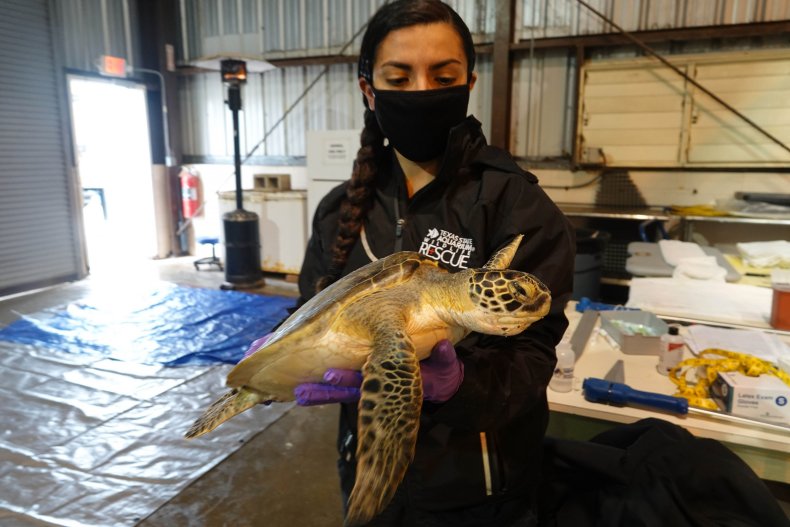 According to the aquarium, the number of cold stunned turtles is so large this year because many sea turtles had remained in shallow bay systems on the Laguna Madre, a lagoon in the western coast of the Gulf of Mexico, since temperatures have been mild in recent years.
This time, the animals did not get the normal "thermal cues" that warn them to move away from the shallow bays, "and by earlier this week, it was too late."
Cold weather can be lethal for sea turtles due to the low temperatures and also because they may get injured by being washed against rocks. When temperatures fall, the cold-blooded animals cannot maintain their body temperature internally and subsequently become unable to swim. They may also develop illnesses such as pneumonia.
Rescue efforts have involved the use of large indoor buildings such as the South Padre Island Convention Center. Ed Caum, its director, told The Associated Press on Wednesday this week it had taken in over 3,500 sea turtles, but said: "We know we're going to lose some."
Power is an issue. Hundreds of thousands of people in Texas were without electricity on Friday according to the poweroutage.us website, as this week's winter storm has severely disrupted the state's grid, freezing pipes and instruments.
The good news
According to Jesse Gilbert, senior vice president and chief operating officer of Texas State Aquarium, it may be possible to return some of the turtles to the water by Monday morning.
He said the team noticed a number of the turtles they have received have tags on them from previous years, providing insight into how many survive the rehabilitation efforts.
"The success rate for cold-stunned sea turtles after they're warmed up and released back into the wild is fairly good.
"The good news, if there is some, is that the turtles that are coming in seem to be recovering quite well. They've regained their strength, they're swimming around. They're defecating, which is a good sign that their GI tract is doing what it should do.
"So I'm pretty optimistic that most of these animals will make a full recovery and we'll be able to release them in the next three to four days.
"What we're experiencing at the aquarium is about 75 to 80 percent of them coming in alive. So that's probably not as accurate as what's actually being seen in the field because most of the time the turtles are pre-screened before they're brought to the aquarium.
"I do suspect that we're seeing survival numbers greater than 50 percent overall. We're certainly seeing that at the aquarium. Right now there's a fighting chance we'll see more than 50 percent of them make it through."
Sea Turtle Inc. said they had been provided with a generator by Elon Musk's rocket firm SpaceX after all 10 of their facility's heaters were taken offline by the weather.
On Thursday evening, Knight said they had scaled back activity at the organization's makeshift hospitals to allow the turtles "calm, quiet, and healing time".
The group is currently asking for donations, which can be made via its Facebook page or website. People who have found turtles can call Sea Turtle Inc. on 956-243-4361 or the Turtle Island Restoration Network at 1-866-TURTLE5.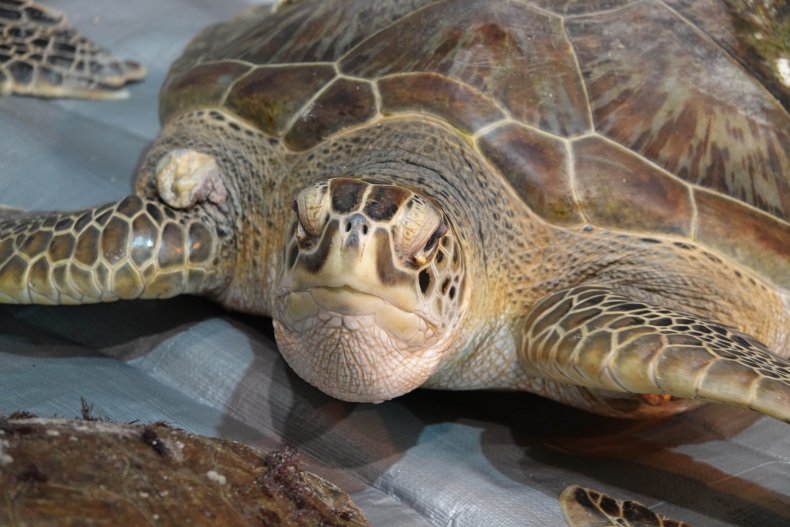 In Focus
One turtle looking upwards. Cold-stunning makes turtles lethargic, meaning they may not be able to swim to warmer areas.
Launch Slideshow

3 PHOTOS