Texas Urged to Stop Executions After Inmate Put to Death Without Media Witnesses
Civil rights campaigners are calling on Texas officials to halt a scheduled execution after the state carried out an earlier one without media witnesses last month—breaking a practice observed in all 570 previous executions since 1982.
American Civil Liberties Union calls to the Texas Department of Criminal Justice come after Quintin Jones was put to death last month.
"We are writing to express our deep concern regarding TDCJ's plan to move forward with future executions, despite the lack of public accountability for the enormous mistakes" related to Jones' execution, the ACLU said in a letter addressed to the department's executive director, Bryan Collier, last Thursday.
In the letter, which was provided to Newsweek, the ACLU said it had received "no assurances that upcoming executions will be handled more competently."
Texas is scheduled to execute 45-year-old John William Hummel on Wednesday. He was sentenced to death after being convicted of the murders of his pregnant wife, their 5-year-old daughter and his father-in-law.
In the letter to Collier, the ACLU urged TDCJ to request Gov. Greg Abbott grant a 30-day stay of execution to "first provide the public with a detailed accounting of what went wrong at Mr. Jones' execution and describe the steps TDCJ is taking to ensure the mistakes are not repeated."
Why no media witnesses?
Texas executed 41-year-old Jones, who was condemned to death for the 1999 killing of his elderly great-aunt, at the state penitentiary in Huntsville on May 19.
Reporters from the Associated Press and The Huntsville Item had been waiting in an office nearby to witness the execution, but it went ahead without them being summoned. Each of the state's 570 executions since Texas resumed capital punishment in 1982 have had at least one media witness.
The failure to have reporters witness the state's first execution in almost a year was fiercely criticized by experts and death penalty opponents, and branded "a new low in execution transparency."
TDCJ spokesman Jeremy Desel told Newsweek that TDCJ has concluded its investigation into the exclusion of media witnesses at Jones' executions and its findings show that "a culmination of factors caused the incident which was preventable and inexcusable."
The results of the investigation were announced on Thursday. It found:
TDCJ said "a lack of institutional knowledge within the administrative team, a recently revised execution procedure, and insufficient oversight all contributed to the incident."
Many of the administrative team who take part in the execution process had retired or moved to different roles since the state last executed an inmate in July last year, resulting in five members of the team having new roles, the agency said.
It added that "extensive training" was conducted prior to Jones' execution, but "it became clear during the investigation that specific responsibilities for individuals participating in the process were not clearly defined."
A new policy that allowed an inmate's spiritual adviser in the death chamber also played a role, the agency said.
In April, prison officials modified a policy on spiritual advisers created after the U.S. Supreme Court halted an execution after the inmate argued his religious freedom was being violated because his Buddhist adviser wasn't allowed to accompany him in the death chamber.
The change in policy means that spiritual advisers now wait inside the Huntsville Unit instead of across the street in another building along with reporters.
"Staff would typically summon the media and inmate witnesses simultaneously from the adjacent building after all appeals have been exhausted," TDCJ said. "The change in staging area and the hyper-focus on the new spiritual advisor procedures led to confusion and breakdown in communication."
The agency also lacked an individual "independent of any operational responsibilities and whose sole responsibility is to ensure all appropriate steps are followed," it said.
The TDCJ has now assigned a director who is not part of the correctional team to ensure all processes are followed. Other steps the TDCJ has taken include: "enhanced" training for those involved in the execution process; ensuring staff members participating in the execution process have clearly defined specific roles; and assigning a uniformed officer to the area where reporters wait.
TDCJ also said disciplinary action has been taken against some employees after the investigation, but it was not clear how many or how they were disciplined.
What has the response been?
Savannah Kumar, an attorney with the ACLU of Texas, told Newsweek that the details provided by TDCJ raise more questions than provide answers. The full investigative report needs to be released publicly so the agency can be held to account, and an external review also needs to take place, Kumar said.
"So many factors went wrong by TDCJ's own admission," she said. "And so our position is that it simply cannot be that we just have to take their word for it and believe that they have completed a thorough investigation and corrected the errors."
She continued: "We really need to see details about not only these errors, but also how these errors will be will be fixed."
Shortly after Jones' execution, Desel told Newsweek that TDCJ doesn't believe any state laws were violated by not having media witnesses present. But the ACLU's letter said the error violated the Texas Administrative Code, which provides access for five reporters.
The letter added that media witnesses have repeatedly "played a critical role" in documenting botched executions and failures in the state's execution process that might otherwise never be known. "Without media access to executions, the public has no way to assess the propriety and lawfulness of the death penalty, or to otherwise exercise oversight over this critical stage of the criminal process," the ACLU said.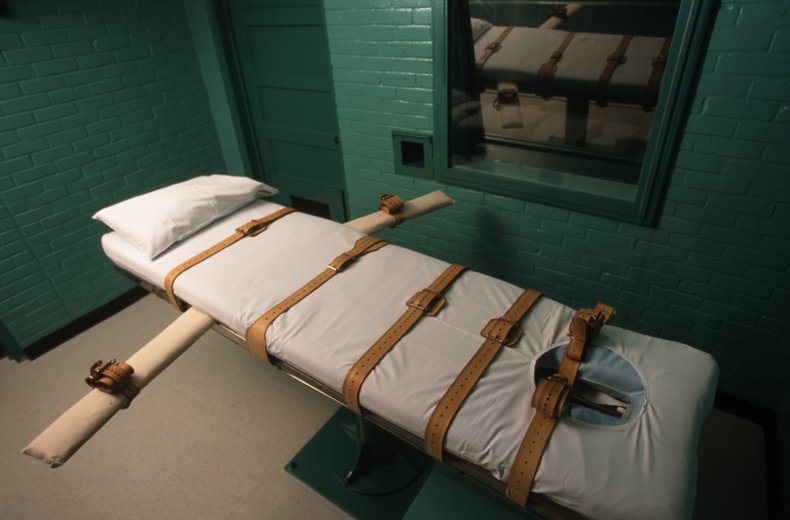 The organization said it submitted a public records request to the TDCJ shortly after Jones' execution seeking information about what went wrong. The ACLU said Texas officials responded twice—on June 16 and June 23—by "stonewalling" and refusing to disclose any information.
On June 16, the agency's director of legal affairs responded with a letter stating they had asked the state Attorney General to rule they are not required to produce the records. "TDCJ did not provide a single document or even a single sentence about the conclusions of its internal investigation," the ACLU said.
On June 23, the director of legal affairs sent the Attorney General a letter, again asserting that the records are confidential.
Kumar said the organization has yet to receive any records in response to its request.
"We haven't gotten a single piece of paper with information that responds to our Public Information Act request," she said. That request, she explained, was "seeking very basic information about the the execution of Mr. Jones to try to get a sense of the policies and practices that were in place that related to media access to executions, and some of the things that went wrong.
"We think that this lack of transparency at this level just exacerbates the transparency issues that were at play in the first place at Mr. Jones's execution."
The details disclosed so far "provides Texans with absolutely no reassurance about the execution process, and TDCJ's ability to ensure that even the most basic standards with regard to communication, oversight and training are actually being followed, especially when using the state's power to strip person's life entirely away from them."
Kumar said the timing of the TDCJ's disclosure of the investigation's findings was another cause for concern. "They're rushing forward with another execution in just two days... and it's the same kind of rush that led to this problem in the first place," she said.
"It seems to be the TDCJ is rushing this next execution without any details about how these numerous factors have been accounted for."
The ACLU's letter concluded that going forward with Hummel's execution on Wednesday would be "irresponsible and cruel."
A 30-day stay "would give TDCJ additional time to ensure adequate measures are in place to prevent critical errors at Mr. Hummel's execution, provide the public with an account of the reasons for the errors at Mr. Jones's execution, and make public the plan to prevent such errors going forward," it added.