Texas Using Boats Lined Up on Rio Grande to Stop Flow of Migrants
Texas' Department of Public Safety (DPS) has moved a number of boats to the Rio Grande River, forming a blockade with the intention of stopping migrants from making their way to the U.S. by crossing the body of water.
On Sunday, DPS shared a video to its Twitter account stating the agency "enhanced operations" in the south Texas border city of La Joya to "stop the flow of migrants entering (Texas) illegally."
Border Report wrote that the Texas Game Warden and the Texas National Guard joined DPS in the blockade. It estimated that at least 17 boats were involved in the blockade.
The measure is a part of Republican Governor Greg Abbott's Operation Lone Star, a mission that his office states is aimed to combat the "smuggling of people and drugs into Texas." In Operation Lone Star, DPS and the National Guard have joined forces to ramp up enforcement efforts.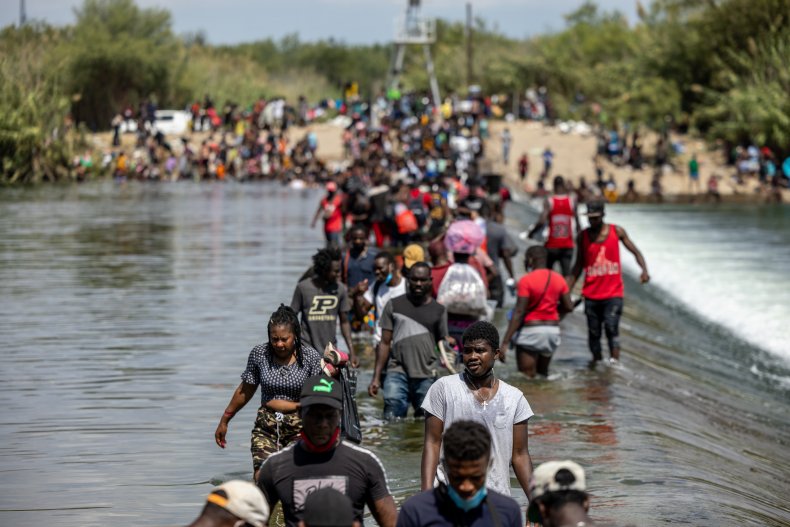 Part of the push under Operation Lone Star has been for DPS and the National Guard to arrest those who attempt to migrate north for criminal trespassing charges. Since this directive was implemented, some border communities have seen a major uptick in those being placed in their local jails.
Del Rio, Texas, has seen has over 1,400 arrests since the operation went into effect on November 7. Local officials said these arrests have led to some level of deterrence but has mostly they have put a strain on the community's jail.
"Since Operation Lone Star came in and started arresting all these individuals for human smuggling, now the county incurred a loss of revenue from the jail of almost a quarter-million dollars," Val Verde County Sheriff Joe Frank Martinez told KXAN-TV, the NBC affiliate in Austin.
The boat blockade was also met with concern. Scott Nicol, the former head the Sierra Club's Borderlands Campaign, tweeted that the action was "an absolute waste of resources," believing it to be "another election stunt from Governor Abbott that Texans' taxes have to pay for."
In contrast, Republican Congressman Michael McCaul of Texas voiced his support for the actions, expressing his gratitude for Texans who "are stepping up to the plate to protect our state" in a tweet thanking DPS and the National Guard.
Border Report writes that the La Joya area has "been heavily used by" human smugglers to bring migrants into South Texas. Border Patrol's most recent migrant encounter statistics for the month of October report that over 45,000 people crossed through the Rio Grande Valley sector where La Joya sits, more than any other sector.