Why Mbeki's HIV VIews Have No Place in South Africa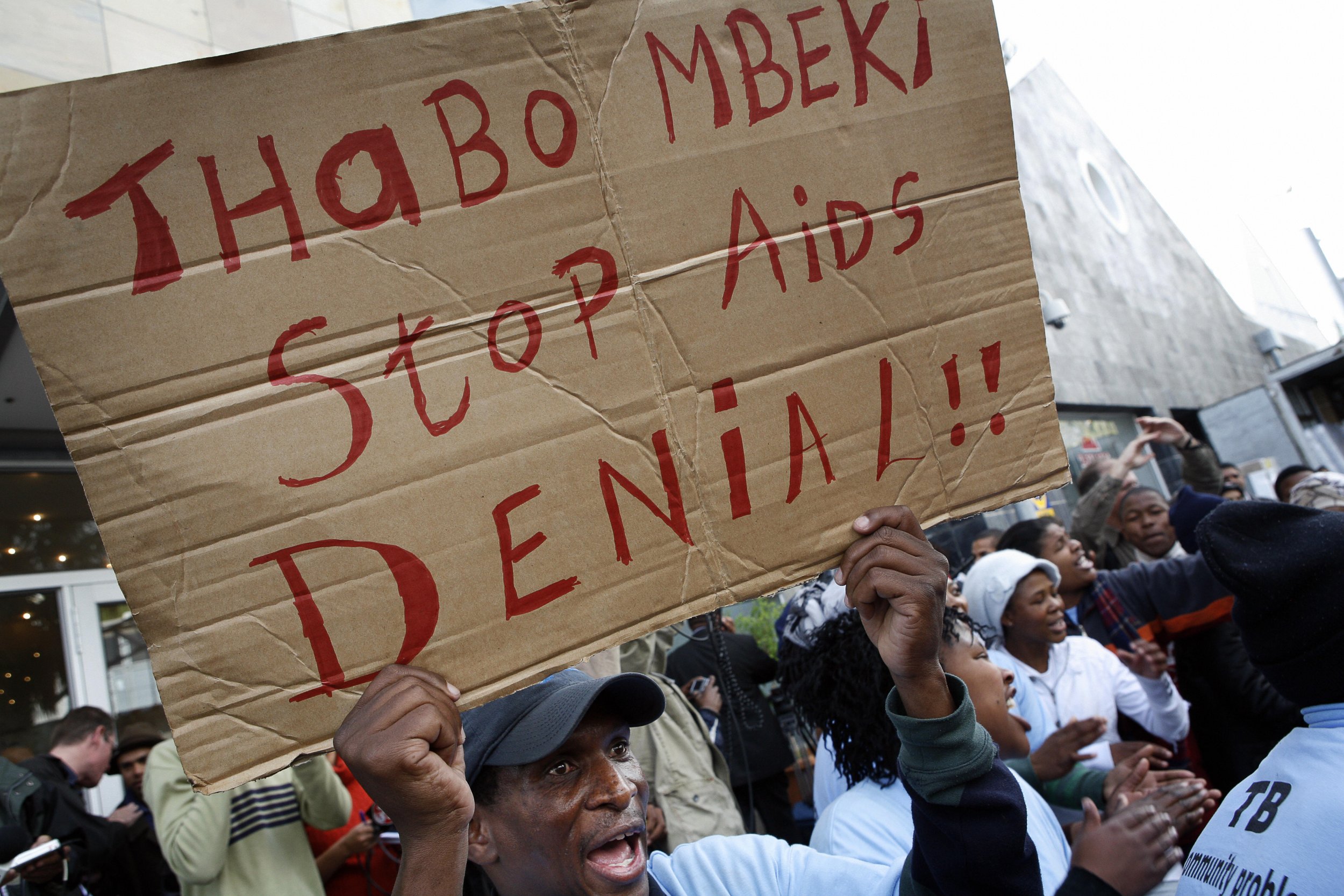 Former South African President Thabo Mbeki published an open letter on Monday, addressing his handling of the AIDS epidemic in South Africa. Contrary to what one may expect from a former head of state, Mbeki made no attempt at arguing that he did more than what he is credited for or that he had been misunderstood. Instead, Mbeki's letter transported South Africans back to the madness of the state-sponsored AIDS denialism of the early 2000s.
Mbeki writes that he never said that HIV does not cause AIDS —but only that a virus cannot cause a syndrome. But since HIV is a virus and AIDS a syndrome, his real meaning was and is clear. Word games aside, the fact that HIV causes AIDS was established in the 1980s and the 2008 Nobel Prize for medicine was awarded for this discovery.
Mbeki quotes from, and for the first time admits co-authorship, of a conspiracy theory-laden document called Castro Hlongwane that did the rounds of the ruling African National Congress party in the early 2000s. He also quotes extensively from a controversial AIDS denialist documentary. As before, he makes confused arguments about HIV and nutrition and misrepresents mortality data in the same way he did a decade ago. Now, as then, most of his arguments skirt around the core issue.
The core issue is this: Mbeki refused to make AIDS treatment available that could have saved the lives of the people he was elected to serve. Instead, he indulged quacks and allowed his Minister of Health Manto Tshabalala-Msimang to promote beetroot, garlic and African potato as treatments for AIDS. It was the equivalent of having a 9/11 truther in the White House.
In 2002, AIDS activist group the Treatment Action Campaign (TAC) won a landmark Constitutional Court case in which the state was ordered to provide AIDS treatment to pregnant women living with HIV. In the same year, another former president, Nelson Mandela, visited TAC leader Zackie Achmat and allowed himself to be photographed in the organisation's iconic "HIV positive" T-shirt. Despite the court judgement and mounting pressure both within South Africa and from abroad, what followed was years of malicious compliance with the court's order where the government came up with one excuse after another to delay and stall the introduction of AIDS medicines in the public sector.
Two independent studies from Harvard University and the University of Cape Town have estimated that the delay in introducing AIDS treatment resulted in over 300,000 avoidable deaths in South Africa. These are conservative estimates. They only cover set periods of time and do not account for knock-on effects down the line. The true number of lives lost due to Mbeki's policies are likely much higher.
The AIDS response in South Africa changed rapidly once Mbeki and Tshabalala-Msimang were removed from office late in 2008. New Health Minister Barbara Hogan wasted no time in unequivocally stating that HIV causes AIDS . When Hogan was replaced in 2009, one of the new Health Minister Dr Aaron Motsoaledi's first acts was to put on an "HIV positive" T-shirt when addressing an AIDS activist rally in Cape Town. The tide had turned.
What followed was remarkable. The number of people receiving AIDS treatment through the public sector in South Africa has grown from less than 500,000 in 2008 to more than three million by 2015. Figures from South Africa's Medical Research Council show South Africa's life expectancy shot back up from a low from a low of 53 in 2005 to 62 in 2015, partly as a result of the lives saved through AIDS treatment. While this dramatic rise is testimony to the good work done under the leadership of Minister Motsoaledi, it is also testimony to how hard Mbeki's policies hit life-expectancy in South Africa.
The science has progressed significantly in recent years. Today's AIDS treatment has fewer and less severe side effects than those used in the early 2000s. We now know that we can cut the risk of people living with HIV developing cancers or TB by providing treatment earlier rather than waiting until they get sick. We also now know that when someone is stable on antiretrovirals, the virus can be suppressed to such an extent as to make that person non-infectious. We also know that condoms and voluntary medical male circumcision massively reduce the risk of HIV transmission—and when correctly used, taking certain antiretrovirals can prevent HIV negative people from becoming infected in the first place.
The search for a cure and a vaccine must continue, but we already have most of the tools we need to end the AIDS epidemic. The challenge is that in 2016, AIDS has fallen out of the limelight. Political will and donor funding is on the wane. We are in the agonising situation where epidemiological models suggest that we can achieve an end to this syndrome if we invest in fast-tracking the AIDS response—but even as we finally see the shore ahead of us, the hard fact of the matter is that we are not seeing the investment or the reform of healthcare systems that will get us there.
In 2016, the International AIDS Conference returns to Durban, South Africa. The last time it was in Durban was widely considered to be a turning point in the global AIDS response. At the closing of that conference in 2000, Mandela said: "In this interdependent and globalized world, we have indeed again become the keepers of our brother and sister. That cannot be more graphically the case than in the common fight against HIV/AIDS." If we take something from a past president, let it rather be this.
Anele Yawa is the General Secretary of the Treatment Action Campaign (TAC), a South African HIV/AIDS activist organization founded in 1998. TAC tweets @TAC .