Bull Shark Bites Tourist in Thailand in Rare Attack: Experts
A German tourist has been severely injured in a possible shark attack at a southern Thailand beach.
Hans-Peter Malten, 75, was swimming at Nang Thong Beach in the Phang Nga province near an unidentified "big fish" when his leg was bitten, according to a report by Maj Ekkachai Siri of the Phuket Tourist Police, The Phuket News reports.
"Mr. Malten said that he and his wife went for a morning walk along the beach on Sunday morning. At about 7:15 a.m., Mr. Malten went for a swim while his wife stayed on the beach," Maj Ekkachai said.
"While he was swimming about six to seven meters [19.6 feet to 23 feet] from the beach, he felt that there was a big fish swimming nearby and then he was bitten on his right leg," he noted.
Malten was taken to the Andaman Hub Medical Center in Khao Lak before he was transported to Bangkok Hospital Phuket where he was treated.
The bite left him with a severed tendon and a gaping 7.9-inch semicircular gash on his leg. The tourist has since been discharged from the hospital, where doctors were reported to have stitched together his wounds.
Police have yet to identify exactly what had bitten Malten but speaking to Newsweek Gavin Naylor, director of the Florida Program for Shark Research and curator of the Florida Museum of Natural History, said: "The semicircular bite mark on the victim's leg is almost certainly from a shark."
"Identifying the species responsible is not easy without more information. If the beach where the event occurred is near a source of freshwater and the water was turbid, then it could well have been a bull shark. A blacktip reef shark [Carcharhinus melanopterus] is also a possibility. Both species occur in the area and frequent fairly shallow water," he added.
Local marine expert Dr. Thon Thamrongnawasawat of Kasetsart University also noted the latest incident could have been the act of a bull shark or a blacktip reef shark, but added a blacktip reef shark would leave a smaller bite mark than the latest injury.
Shark attacks are incredibly rare in Thailand, with it having been more than 50 years since a person was reported to have been bitten by a shark in the country. Both bull and blacktip reef shark rarely attack larger prey, the Thai marine expert noted.
According to the International Shark Attack File at the Florida Museum of Natural History, there have been four confirmed unprovoked shark attacks in Thailand from 1580 to the present.
But the latest injury could have been the result of a shark mistaking a human for other prey due to reduced visibility in murky waters, he explained.
Two of the most recent shark attacks reported in Thailand include one off the coast of Koh Tao in Surat Thani back in 2018 and another in Phuket in 2017, both of which reportedly did not cause any severe injuries, he said.
While shark attacks are "very unlikely," he advised against swimming at dawn or dusk when smaller sharks tend to look for food near the beach.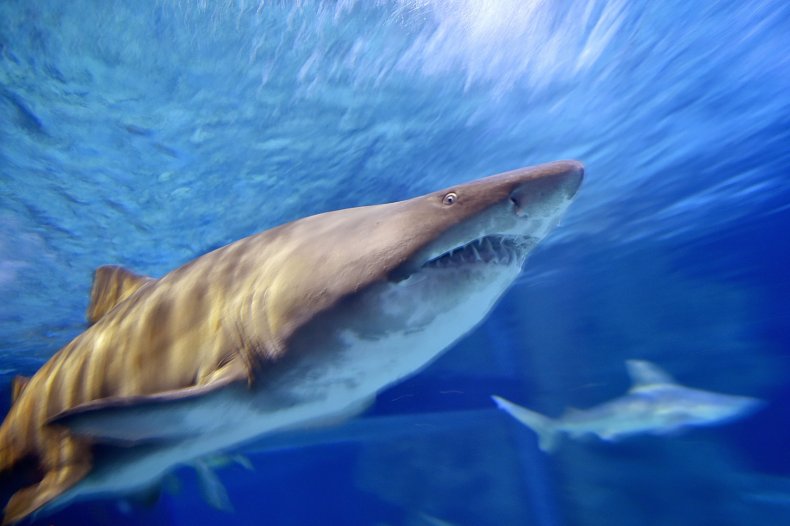 Back in 2015, an Australian tourist in Phuket was bitten in the foot while swimming at Karon Beach in the early morning hours. Jane Neame, 37, was rescued by Karon Beach's chief lifeguard Uten Singsom, who spotted her calling for help in the water.
She was treated at Bangkok Hospital Phuket but local authorities never managed to identify what could have caused the bite injuries.
"It is very rare for [a] tourist to be bitten like this, and I have not been able to confirm precisely which kind of fish bit [Neame's] foot," shark expert Tessapon Krajangdara, a specialist at the Phuket Coastal Fisheries Research and Development Centre, said at the time.
"It is possible that a small hammerhead shark bit her, as they feed in the early morning, but that would be very unusual, and a shark would normally bite a person on the leg [not the foot]," he said.
"Also, the water where she was swimming is quite deep, but Phuket's beaches are not known for attracting sharks," he added.
Earlier this month, a surfer in North Carolina was also bitten in a possible shark attack off Cape Hatteras National Seashore near Sudie Payne Road in Rodanthe. The unnamed 26-year-old surfer from Manteo was treated for a non-life threatening injury.