Thanksgiving Car Travel Was Only 5 Percent Less Than Pre-Pandemic Levels
Americans ignored pleas from public health experts to avoid travel over the Thanksgiving holiday amid the worst COVID-19 outbreak to date, as new data shows car travel was down only 5 percent from last year.
According to a StreetLight Data analysis, vehicle travel decreased by roughly 20 percent at the beginning of November, but surged toward the end of the month and peaked on Thanksgiving Day.
The analysis shows that only 10 percent less Americans traveled in the days leading up to the holiday this year, while just 5 percent less traveled on Thanksgiving day.
"What this indicates is that while people DID travel less than 'usual' during Thanksgiving week, the reduction in travel was only a quarter to half as much as a typical 'day on the life of COVID' right now," Laura Schewel, StreetLight Data CEO, said in an email to Newsweek.
Schewel also told the Associated Press that "people were less willing to change their behavior than any other day during the pandemic."
Airports also saw a surge in travel numbers during Thanksgiving, with approximately 9.5 million people passing through the Transportation Security Administration in the 10 days leading up to the holiday, the agency reported.
The Sunday after Thanksgiving marked the busiest day of air travel since March, with the agency screening 1,176,091 people.
In reference to these numbers, Dr. Cindy Friedman, a Centers for Disease Control and Prevention (CDC) official, warned this week: "If only a small percentage of those travelers were asymptomatically infected, this can translate into hundreds of thousands of additional infections moving from one community to another."
In an interview with ABC News on Sunday, Dr. Anthony Fauci, the nations leading infectious disease expert, predicted "there almost certainly is going to be an uptick because of what's happened with the travel" over Thanksgiving.
"We may see a surge upon a surge. We don't want to frighten people, but that's just the reality," he added.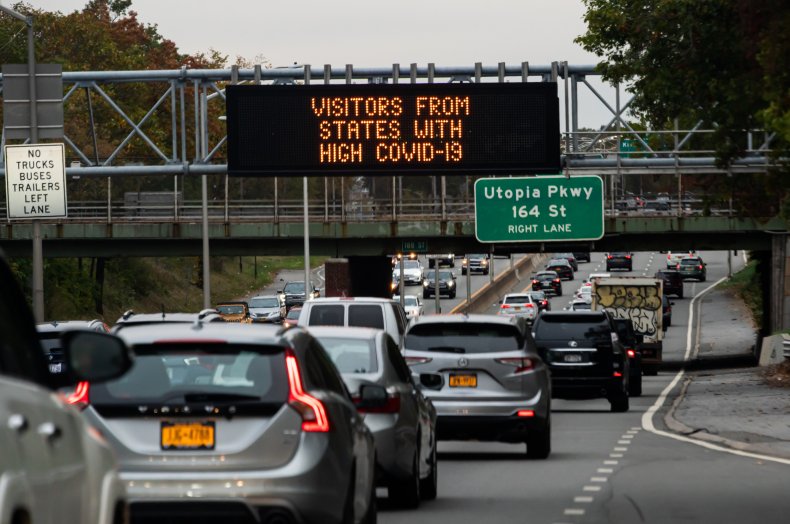 The United States is currently experiencing its worst surge of COVID-19 to date.
On Thursday, the country reported over 3,100 deaths related to the coronavirus, marking the highest single-day death count since the pandemic began.
Hospitalizations and infections have also soared over the past few weeks, with the number of hospitalized Americans surpassing over 100,000 for the first time, and new daily cases exceeding 160,000 this week.
In the face of this record-breaking surge, public health experts continue to plead with Americans to avoid travel or gatherings for the upcoming Christmas holiday.
By the end of December, experts predict to see the equivalent of a 9/11 per day in terms of deaths, and possibly 450,000 deaths by the end of January if Americans don't start taking precautions.
"What we do now will more likely impact hospitalizations and deaths in January. The end of December can still be impacted so it is never too late to still make a difference in the number of lives saved," Manisha Juthani, associate professor of medicine and epidemiology at Yale School of Medicine, told Newsweek.
The U.S. is on the brink of procuring large-scale vaccination efforts, and will likely roll out the initial process in a matter of weeks.
In the meantime, public health officials and the CDC have urged Americans to continue taking necessary precautions such as avoiding gatherings or travel, wearing a mask in public, washing hands regularly, and practicing social distancing.
Peter Drobac, a physician and specialist in infectious diseases and public health at the Saïd Business School at the University of Oxford, U.K., also told Newsweek that this year is "not about canceling Christmas," but simply celebrating differently.
"Gather outdoors if you can, and on Zoom if you can't. Have a second celebration in the spring, when it's safer. Doesn't a May Thanksgiving barbecue sound wonderful? How about a New Year's Eve bonfire on the summer solstice?" he said.
"Let's be smart, we just need to get through winter and things will start to brighten up."
Update: This story has been updated include a new comment from Schewel.