Is That a Fist Bump? Donald Trump Shook the Queen's Hand and Twitter Can't Work Out What's Going On
On Monday, President Donald Trump arrived at Buckingham Palace for a lunch with Queen Elizabeth II—the start of a three-day U.K. visit.
News crews scrambled to film the moment the two heads of state greeted. Although the interaction only lasted a few seconds, social media users noticed their handshake looked a little odd.
Zooming in on a photo of the pair's handshake, Evening Standard journalist Elliot Wagland wrote: "Donald Trump meets Queen Elizabeth at Buckingham Palace, what is that handshake?"
In a few press photos, it seemed, the gesture looked almost like a fist bump.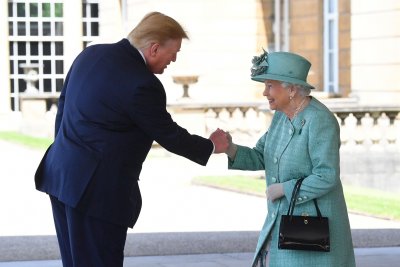 One Twitter user quipped: "Trump and the Queen finally get their secret 10-step gangster handshake right. Fist bumps all round. "
User Neal Underwood added: "Queen confuses Trump with complex street handshake."
"Just love how [the Queen] is always moving with the times. Instead of a handshake, Trump gets a royal fist bump," wrote user Brendan O'Donnell.
The official royal family Instagram also shared an image of the handshake. Some users made similar comments, with one writing: "Did he actually fist-bump the Queen?"
But, as video footage of the greeting reveals, it was, in fact, a handshake—even if a somewhat unorthodox one.
Royal writer Patricia Treble suggested the monarch was the only person the president hadn't greeted with his famously "dominating" handshake. Other Twitter users agreed, with one writing: "Don't know what kind of hand grip this is, but kudos to the Queen for not letting Trump try to crush her fingers with his usual ape grip handshake!"
Body language expert Judi James told news agency The Press Association that Monday's handshake was unusual for Trump. The president was "more inhibited" when greeting the Queen.
"He was leaning forward from a distance, with a tentative pawing of her hand," she said. "The Queen only ever offers her fingertips so he couldn't get a grasp. He probably wasn't touching much more than her fingers."
"Because he's got such huge hands, it probably does look like a fist bump," she added.
Trump's forthright handshake style has been discussed at great lengths by numerous media outlets, including CNN, who compiled clips of the president shaking hands with other world leaders. In the video—embedded below—viewers can observe Trump's unusually firm grip and his habit of patting a fellow shaker's hand. The president sometimes even pulls other leaders towards him during their greetings.
Other hand-shakers describe a different experience altogether. Actress Kathleen Turner described Trump's handshake as "yuck" to Vulture last August. "He has this gross handshake," she said. "He goes to shake your hand and with his index finger kind of rubs the inside of your wrist. He's trying to do some kind of seductive intimacy move. You pull your hand away and go yuck."
One Twitter user suggested the Queen greet Trump with a different kind of shake altogether. In a nod to a string of unusual protests against right-wing British figures, former theater director Roland Scahill wrote: "I hope Queen Elizabeth throws a milkshake on Donald Trump."
In recent weeks, the cold, lactose-heavy drinks have become a weapon of choice for some against figures like far-right activist Tommy Robinson (real name Stephen Yaxley-Lennon) and Brexit Party boss Nigel Farage.
Although many have praised what they see as humorous acts of protest, others argue such displays normalize political violence. Former British Prime Minister Tony Blair called the milkshakings "horrible and ridiculous."