'Is That Too Socialist Too?': AOC Pleads for Second Stimulus Checks and Rent Forgiveness As Pandemic Rages
Democratic Congresswoman Alexandria Ocasio-Cortez on Friday pleaded for second stimulus checks, mortgage relief, rent forgiveness and other financial support for Americans amid the pandemic as coronavirus cases soared domestically.
As Congress remains deadlocked over another stimulus package, Ocasio-Cortez urged lawmakers to resolve their issues to provide much-needed financial assistance to citizens across the country amid the pandemic.
"Can we please get people stimulus checks and mortgage relief and rent forgiveness and small business support and free testing and hazard pay and healthcare for the uninsured (& underinsured) in the middle of a pandemic or is that too socialist too?" the progressive Democrat tweeted.
It has been nearly eight months since President Donald Trump signed the CARES Act. Negotiations for a second stimulus package have stalled for nearly five months, with both sides of the political aisle blaming each other for their inability to provide more relief. Democrats have blamed the GOP for refusing to provide adequate funding to address the economic fallout caused by the pandemic, while Republicans have accused Pelosi of using the coronavirus to advance her political agenda.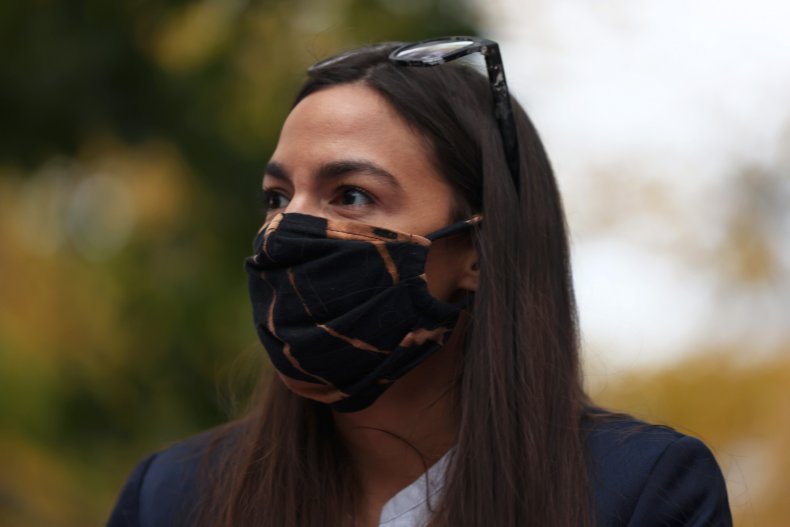 Lawmakers did not reach a deal before Election Day, but another package could still come by the end of 2020. The deadline for the next federal budget falls on December 11 and Congress must approve a spending bill by then to avoid a government shutdown. If Democrats and Republicans negotiate an agreement, lawmakers could seize on that window to pass another relief package.
While the scenario is possible, a new poll indicates that citizens have lost hope at the prospect of additional support this year. YouGov asked roughly 21,100 adults on November 9 whether they believe that Congress "will pass a bill for a second COVID-19 stimulus package."
Only 4 percent of respondents said they saw it happening within the next two weeks and 7 percent said within the next month. Fourteen percent said "before the end of the year" and 18 percent, the largest group, said "after January 2021."
Senate Majority Leader Mitch McConnell on Thursday continued to dismiss Democratic calls for a comprehensive relief deal. "I gather [Pelosi] and the Democratic leader in the Senate [Chuck Schumer] are still looking at something dramatically larger. That's not a place I think we're willing to go," he said. McConnell believes that another stimulus package is needed but said that it should be targeted.
This week, Democratic Congressman Josh Gottheimer of New Jersey, co-chair of the Problem Solvers Caucus, said lawmakers and citizens are "out of patience" over the months-long delay.
Newsweek reached out to House Speaker Nancy Pelosi and Senate Majority Leader Mitch McConnell for comment.