'That Was in the Teleprompter': Fox News Host Casts Doubt on News He Just Read About Lack of Voting Irregularities
A Fox News host on Saturday morning expressed doubt that a report he had just read regarding voting irregularities in the 2020 general election was true, blaming the lapse on the teleprompter.
Pete Hegseth, co-host of Fox News' Fox & Friends Weekend, was in the middle of discussing planned demonstrations in Washington, D.C., in support of President Donald Trump and his efforts to wage a legal war on the election results. The Associated Press and several other media outlets named his Democratic opponent Joe Biden as president-elect on November 7.
"The demonstrations are in support of the president's effort to reveal voter fraud and count all the legal votes," Hegseth said before adding: "So far, state election officials have not reported serious irregularities with the vote that would affect the outcome of the race."
Without skipping a beat, Hegseth broke from his reporting, telling viewers: "That was in the teleprompter. I read it. I don't know even know if I agree with it, but that happens sometimes."
Mediaite reporter Colby Hall described the moment as "the dissonance between the news and opinion side at Fox News neatly displayed in one 30 second clip."
There is an apparent discord between the Trump-friendly network's more traditional news programming and its opinion programming, which includes the likes of Fox & Friends and Tucker Carlson Tonight.
The Fox News news desk has projected Biden as president-elect and became one of the first major networks to call Arizona for the Democratic candidate, a decision that reportedly made Trump irate.
Trump's repeated claims of widespread voter fraud and other election irregularities have arrived without substantial evidence, and the campaign's legal challenges to ballot counts in several states Trump lost have seen little success in the courts.
Two Department of Homeland Security executive committees released a joint statement on Thursday calling the 2020 election the "most secure in American history."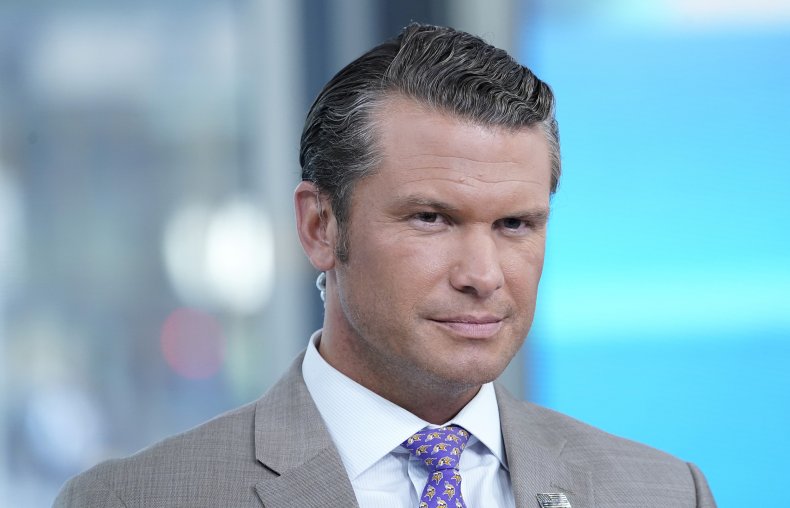 But Hegseth has previously suggested there could be instances of widespread voter fraud. On the November 7th Fox & Friends Weekend broadcast, Hegseth and his two co-hosts sparred over the topic.
Addressing whether the "potential fraud" is "systemic" and "enough to swing the election" back in Trump's favor, Hegseth said it seemed reasonable for Americans belonging to any political party to question the results and say: "'I don't have trust in institutions and I want to verify. I just want to make sure that all of this is on the up and up.'"
Co-host Jedediah Bila responded to Hegseth's remark, asserting that allegations of widespread voter fraud "need to be backed up," which she wasn't seeing.
"When you say this stuff, it makes people feel like they can't trust our democratic process, that they can't trust the electoral process," Bila told Hegseth. "If that is truly the case, if there is widespread, massive fraud happening that could affect the outcome of this election, then we need to know about it. However, if that is not happening, then these statements can be incredibly dangerous in terms of how voters view the process. We have to be able to trust this process."
Hegseth responded that while he agreed "allegations of fraud or irregularities need to be backed up by evidence," restoring faith in the electoral system "does not depend on asking people to have faith in the most irregular election in our history."
"The way you restore faith is by putting the evidence and research and investigation into ensuring that is the case," Hegseth said.
Bila once again asked for an example of such evidence. Will Cain, the program's third co-host, told her: "You have to look in order to get it, Jed."
Meanwhile, one week has passed since the Trump campaign, along with the Republican Party, began looking for tangible proof that could back up its claims of fraud inside a courtroom, producing few results. One campaign lawyer broke with Trump's messaging while appearing in an Arizona court on Thursday, claiming that the campaign is "not saying anyone is trying to steal the election" but rather "good faith errors" were made during the ballot count.
The campaign withdrew the lawsuit the next day, which had requested that a number of ballots be recounted in the state claiming Biden's lead in Arizona is too big to make a difference, CNBC reported.