Theater Review: New Musical 'The Prom' Makes Hilarious Debut on Broadway
One would think with all the depressing craziness in the headlines that a Broadway show about girl bringing a same-sex partner to a prom would be the last thing to offer some escape from the headache of the 24-hour news cycle.
Well, think again.
The Prom is written by Bob Martin (whose The Drowsy Chaperone won five Tony Awards) and Chad Beguelin (a four-time Tony nominee himself), and it is a hilarious and at times touching musical farce.
The premise of The Prom is simple, well relatively, for a farce: Four Broadway veterans on the heels of a scathing review that has left two of them reeling on the far side of their sell-by dates decide to become celebrity activists. And they look for a cause to célèbre. For better or worse—actually for better and worse—they see that Emma, a teenager in Edgewater, Indiana, wants to bring her girlfriend to the high school prom and the prom has been canceled. So they decide to step in to help in the most self-aggrandizing of ways.
In the great the tradition of sanctimonious do-gooders, they screw things up, but good. The media gets involved, and all hell breaks loose. Parents take umbrage; the actors take the umbrage back. And Emma still has no prom to go to.
Ineptitude, inflated egos and teenage angst will likely never be this much fun.
Actually, The Prom has two very different plots. When a pair of actors get scathing reviews for their performances in Eleanor!—The Eleanor Roosevelt Musical, they decide the way to save theirs is by taking on a cause. And, after endless seconds of searching for the perfect cause, the one they settle on is that of Emma. Her story is told relatively realistically and very sympathetically.
Related: Uplifting 9/11 Musical 'Come From Away' Opens on Broadway
The Prom starts off a little slowly. We are well into the third line of the play before the laughs start coming. Coincidentally that is when Beth Leavel's Dee Dee Allen, a narcissistic, clueless (soon to be former) Broadway star starts to speak about playing the title role in Eleanor. She does a perfect imitation of Eleanor Roosevelt as done by Katharine Hepburn. Eleanor's FDR is played by Barry Glickman (Brooks Ashmanskas), perhaps the gayest FDR ever seen on Broadway. By the time they are joined by fellow not-so-employed actors, Juilliard graduate Trent (Christopher Sieber) and Angie (Angie Schworer), the laugh-inducing juggernaut is well underway.
As Emma, Caitlin Kinnunen manages to sweetly capture the angst of a marginalized teenager while never letting us forget that this is a comedy. She and Michael Potts (as principal Mr. Hawkins, the truly sympathetic and empathetic principal of James Madison High School) are at the center of the play's most sincere and affecting scenes. Potts was last seen on Broadway the scene-stealing role of Joe Mott in The Iceman Cometh with Denzel Washington. In The Prom, he is more of an emissary from a world of reality that Dee Dee, Barry, Trent and Angie were somehow set apart from.
Sincere asides aside, one never loses sight that this is a comedy about a prom in being ravaged by some truly socially inept actors. So there are plenty of inflated egos, grandstanding fools and weapons-grade fashions to keep you focused on The Prom's true north: making you laugh. Whenever you worry that things could get treacly, in come Leavel and Ashmankas with just enough brimstone, bitchiness and bile to keep things real.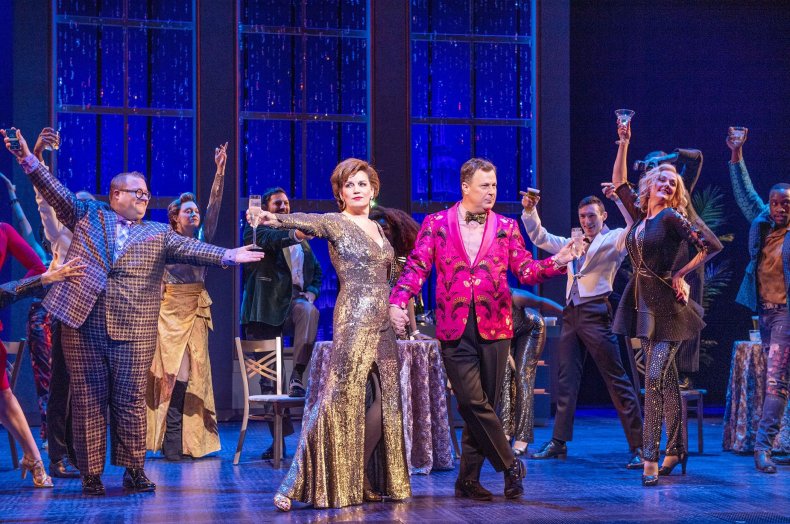 Everyone gets an equal amount of skewering: sanctimonious Eastern do-gooder liberals, social conservatives and a couple of castoffs from Deliverance (everyone it seems except President Donald Trump). The objects of the humor comprise a shish kebob of the political spectrum.
The Prom contains so many inside theater references, from Lin-Manuel Miranda to Stephen Sondheim to Bob Fosse to Carrie! The Musical, that theater insiders could get up a nice drinking game. That said, no drinks should be allowed at the seats during the performance: The risk of spit-takes here is much too great.
The choreography by director Casey Nicholaw is amazing—perhaps too amazing: Some of the kids dancing at the prom look like they were raised in a boot camp run by Michael Kidd and Bob Fosse—and those are the straight kids. But you best just go with it, lest you miss some of the funniest dialogue around.
(A little excursus here: I never went to any prom, so I have no proms to compare this to aside from Carrie—which I have always considered the feel-good movie of 1976. However negatively this might have affected me, and both my therapists say "not much but keep talking," it has saved me from staring at pictures of myself wearing a powder blue tuxedo and having a haircut that makes me look like a Chia Pet dipped face first into paprika. So I take it on faith that the prom depicted here is rendered faithfully.)
In some ways, The Prom invites comparison to Come From Away, which is playing a few blocks away at the Gerald Schoenfeld Theatre another musical about inclusiveness, but where Come From Away skews more toward a touching musical with healthy doses of comedy, The Prom is an unashamed comedy with some well-earned, genuinely touching moments. Both are welcome antidotes to the ever-breaking breaking-news cycle.
The Prom is running at the Longacre Theatre, for more information go to ThePromMusical.com.