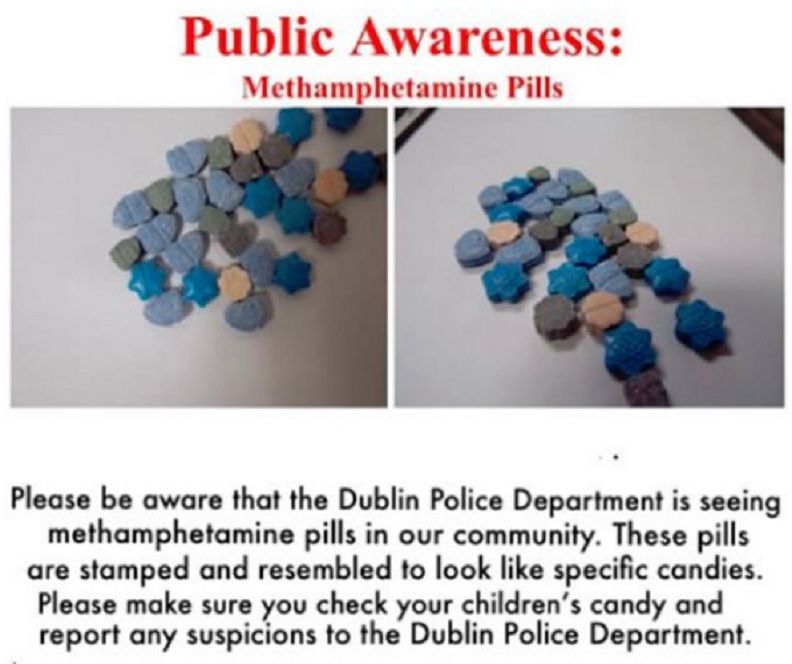 Police in Georgia are warning parents to be extra vigilant this Halloween because they have seen illicit drugs sold on the street that look just like candy.
"Just last week, we seized some drugs [methamphetamine] and it looked just like SweeTARTs," Dublin Police Department Chief Tim Chatman told ABC10, adding that it is the first year officers have seen these pills.
"It's important for all the parents this Halloween to check the candy, be with their children, wear reflective-type clothing, flashlights."
Checking your kids' candy is a message repeated every year to avoid children eating anything hazardous placed among the sweet treats deliberately or otherwise. It has been known for people to hide sharp objects in soft candy.
Back in 2016, a nail and two thumbtacks were found in candy handed to trick or treating kids in Coldwater, Michigan, ABC7 reported. Their firefighter father spotted them when checking the candy before his children ate it.
However, fake tales of tampered candy make for a common—if naughty—Halloween trick. In 2015 in Chester County, Pennsylvania, two children said they found sewing needles in the candy they were handed while out trick or treating, alarming their parents, 6ABC reported.
But they later reversed their stories when police were called and revealed they had made it all up. No charges were filed against them.
Elsewhere in Georgia, sex offenders in one city will be sent to the council chambers on Halloween night and locked up on the orders of the mayor.
Grovetown Mayor Gary Jones announced on Facebook on Monday that all sex offenders on probation in the city of Grovetown would be housed in the chambers.
Jones said the action was being taken to ensure the safety of children on a night of trick or treating.
"In order to ensure the safety of our children, all sex offenders (on Probation) in the City of Grovetown (area) will be housed in the Council Chambers on Halloween night from 6pm-9pm," Jones wrote.
"There are approx. 25-30 offenders and they will be overseen by the GA Dept. of Community Supervision District 10 (4 officers) and accompanied by one Grovetown officer."
Jones' plan garnered a number of responses on Facebook—some vehemently agreeing, others against.
One commenter suggested the entirety of the county should follow suit. Another, however, questioned the move.
In a response to one person who questioned whether any specific incident prompted the decision, Jones called it a "precautionary action" being run by the Georgia Community Services Probationary Department.
Betsy Bishop, a Grovetown resident, told local television station WRDW/WAGT-TV the action "puts my mind at ease a lot."
"He is doing a good job if he does get them off the street for Halloween," Bishop told the station.