There's More to Women's Rights Than Abortion | Opinion
On November 10, President Joe Biden told a crowd gathered in Washington to celebrate the results of the midterm elections: "Women in America made their voices heard, man.... Well, guess what? Y'all showed up and beat the hell out of them." Referring to the overturning of Roe v. Wade in June, an elated Biden declared: "Look, I said it then: Those who support ripping away the rights to choose don't have a clue about the power of women in America, but now I think they do."
Having braced themselves for bruising defeats and the ushering in of "a new political hellscape," Democrats did better than expected as the much-anticipated "red wave" failed to materialize.
Less than a week later, Biden was already singing a different tune as the reality of a gridlocked Congress sunk in. On November 14, when asked what Americans can expect from lawmakers regarding the protection of abortion rights next year, the president responded: "I don't think they can expect much of anything other than we're going to maintain our positions."
If this midterm election was a referendum on reproductive rights, then progressives and feminists have every reason to feel deeply concerned. Far from a landslide, the voters granted Democrats control of the Senate by merely one seat. As of this writing, the House of Representatives remains in the balance, with Republicans clinging to a slim advantage.
Nevertheless, media coverage of the midterm elections portrayed the fate of abortion as a decisive wake-up call for the nation. "How the fall of Roe shattered Republicans' midterm dreams"; "Motivated by abortion, women could determine the outcome in Tuesday's midterm elections"; "American voters just sent a crystal-clear message: they believe in abortion rights" read the headlines. But, have voters really sent a crystal-clear message? There is nothing decisive about a nail-biting election, the results of which are still being tallied.
Abortion was on the ballot in only five states. California, Vermont, and Michigan voted to include abortion rights in their respective state constitutions, while in Kentucky and Montana conservatives sought unsuccessfully to make restrictions more explicit. Yet based on media coverage and messaging from the Democrats, the key to win women's votes everywhere—not only in those states—was to mention abortion rights as much as possible.
Democratic politicians explicitly emphasized this point. Senate candidate Maggie Hassan insisted to voters: "Abortion access will be on the ballot. A woman's freedom will be on the ballot. The future of women's reproductive rights will be on the ballot."
Three weeks before the midterms, Biden stood before a massive banner stating "Restore Roe" while a small group of mostly young women held banners with "Defend Choice" written in capital letters. Former White House press secretary Jen Psaki wrote on social media that this was Biden's way to "re-insert women's rights back into debate on campaign trail given energy around it has waned because of concerns about the economy." Why do the Democrats equate women's rights simply to abortion?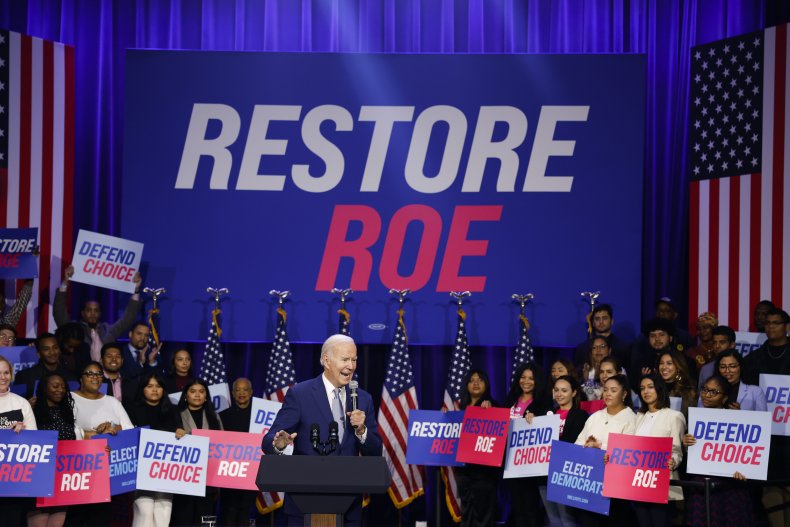 There is more to women's rights than this single issue. You wouldn't know it based on the coverage and campaigning of the midterm elections. When courting female voters, the Democrats focused all of their energy in reminding women that, after the overturning of Roe v. Wade by the Supreme Court, their only hope of restoring federal abortion rights was to vote blue. Is that really all they had to offer women?
Democrats' slim victories might provide an opportune time to reconsider whether banking the votes of half the population on merely reproductive issues is a gamble worth investing in for the future.
While the Democrats have spent decades mostly clinging to a single issue to persuade female voters they're in their corner, Republicans have expanded the parameters of what's possible when it comes to the electorate and women's rights.
Conservatives realized long ago that, while they would never cede ground on abortion rights, there is no reason the Democrats should continue to enjoy the perception that they are the only political party that cares about women and girls.
The rise of "gender identity" policies—such as the political mantra that men can become women merely by stating so and that this should allow them access to women's sports, female prisons, and shelters for women fleeing abuse—has provided Republicans an opportunity to crack the narrative that only the Left cares about women.
Moreover, having normalized extreme political positions like "gender-affirming care," which encourages children and young people to reject their biological sex, the Democrats ceded the issue of children's rights to Republicans. This election, conservatives seized the opportunity to remind voters of the issue by spending millions in advertising through radio and mail.
Whereas in the past, progressives could assume that a pro-choice position automatically granted candidates bona-fide points with half the electorate, the advancement of "gender identity" policies has opened up a new political quagmire that sees Democrats opposing feminist gains to court trans rights advocates. For Democrats, support for what some consider "trans rights" has entailed full concession on a wide range of otherwise feminist issues that should give progressive candidates and political advisers pause.
Having spent months hammering the electorate with the message that only the Democrats will protect women's rights, and in the direct aftermath of the shocking overturning of Roe v. Wade, this victory for progressives is marginal, at best. The outcome of the midterm elections represents the perfect time for progressive candidates and political talking heads to expand the scope of what they consider women's rights issues, if they intend to stop ceding ground to the Right.
Raquel Rosario Sánchez is a writer, researcher, and campaigner from the Dominican Republic.
The views expressed in this article are the writer's own.