'There's No Asian Hate': Viral TikTok Has Woman Claim There is No Anti-Asian Discrimination
Following a spate of anti-Asian hate crime across the United States, the "Stop Asian Hate" movement has grown, although some do not support it. A woman was captured in a viral TikTok saying that she does not believe anti-Asian discrimination exists.
"I just heard 'Asian hate' and I'm over that whole narrative," the woman is heard saying in Charles Choi's video, before claiming, "There's no Asian hate."
The video, which had 300,000 views on the charleschoiboy account, showed different clips of what the woman said, including that she did not hear about any protests in response to Asian hate before asking the TikToker if he feels oppressed.
"Yeah I feel oppressed," he responded. "I'm a minority in the U.S."
Choi told Newsweek that his initial reaction to the woman's claim was shock.
"That shock was due to a mix of not only her lack of awareness but also the audacity with which she intercepted my conversation with someone else," he said. "I see my people beaten. I see my people shot. I see myself afraid to live in the skin they're in, and these people decide that the appropriate reaction to it all is childish denial."
The woman and two other women she was sitting with were in disbelief and rolled their eyes before asking how Choi felt oppressed.
He told them he was racially profiled earlier that week, but the women remained unconvinced.
"I'm Asian, I don't feel hate," one of the three women said.
They continued talking, and Choi mentioned to the three women the anti-Asian language that has been used throughout the COVID-19 pandemic, before the video ends. He said that it "sucks 10 times worse" to have heard that opinion "when it's your own people."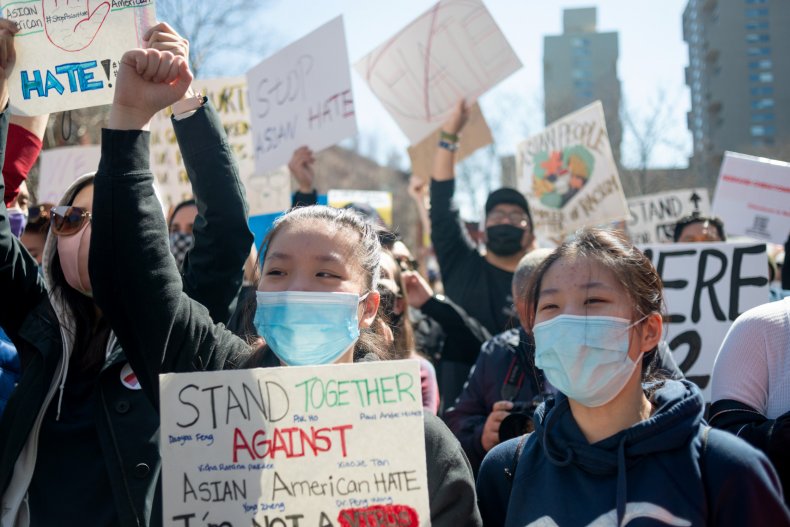 "That internalized racism, that belief, that just because you don't experience something means other people don't experience it, that everything has to do with your own self-actualization of 'real-world events,' blows my f*****g mind," he said, closing out the video.
Newsweek reported in March 2020 that former President Donald Trump was condemned for the language he used when describing the novel coronavirus. Lawmakers and organizations said that his language encouraged discrimination and violence against those of Chinese or Asian descent.
In response to a pinned comment asking how the woman became involved in the conversation, Choi said he was having a discussion about the vaccine with someone. After the Stop Asian Hate movement was mentioned, she turned around and said, "Oh my God, don't even get me started on Stop Asian Hate."
He told Newsweek that he began recording about 30 seconds after she turned around to interject herself into his conversation.
"When she started to get more aggressive, I started filming, as people don't believe people like me until there's proof," Choi said. "And even then, sometimes it's not enough."
They spoke for about 12 minutes, and Choi recorded about eight minutes of footage. When they were finished speaking, he told Newsweek, he felt "very angry."
"Being berated by three strangers denying your experiences is never a fun thing, but when I wanted to enjoy my burger and my Scotch, I felt utterly disgusted," he said.
Choi added that what took place was not a discussion but an "offensive lecture" to belittle him.
He said that he's received questions and criticisms of what he did but stands by his video.
"I released a video where I was simply harassed by these people and I still got backlash, which shows how people of color can be hurt and still some will blame them for their hurt," he said.
Choi considered blurring out the women's faces but decided that he does not "owe them anonymity."
"I'm willing to show my face to defend my beliefs, and they should be willing to do the same if they are going to attack people like me," he said.
Newsweek reported in March that people took to Twitter to speak out against anti-Asian discrimination following the mass shootings in Atlanta in March in which several Asian women were killed.
According to a national report released by Stop AAPI Hate, verbal harassment, shunning and physical assault were the three largest types of discrimination against Asian Americans and Pacific Islanders as of June 2021.
Many of the comments supported Choi.
"Isn't yelling at someone at a bar gaslighting them about their own experiences as an Asian American...Asian hate?" one commenter wrote.
"Then they all said 'oh my god' after u said u were a minority, my heart broke and I felt threatened vicariously," wrote a viewer. "Can't imagine how u felt. I am sorry."
Others questioned the woman who said she was Asian.
"'I'm Asian, I don't feel hate.' Just bc she doesn't feel hate doesn't erase that fact that other Asians DO," a TikToker user wrote.
Another wrote, "Man I feel this so much—the internalized racism."
Update 10/18/21, 10:05 a.m. ET: This story was updated with comments from Charles Choi.