With two months to go until the election, President Donald Trump is trying his hardest to make it more difficult for Americans to vote. The coronavirus pandemic means voting in person is potentially dangerous, and poll after poll has shown most Americans support voting by mail. Yet Trump has embarked on a disinformation campaign to discourage mail-in voting, against the wishes of the American people.
Postmaster General Louis DeJoy, a Republican megadonor and ally of Trump, implemented a series of cost-cutting measures at the U.S. Postal Service this summer that slowed service and caused widespread alarm among postal workers. DeJoy backed off additional changes before Election Day, but the fight is far from over.
We need to hold Trump and DeJoy accountable for threatening Americans' right to vote. We need to fund the USPS now. And Americans need to request their ballots as soon as possible.
But we also need to make sure this never happens again—by permanently making vote-by-mail an option for every voter in every state.
If universal vote-by-mail were made permanent, the USPS would be prepared for the next unforeseen threat to our elections, instead of scrambling to accommodate a surge in ballots in October and November.
The same goes for underfunded, understaffed state and local elections offices, which would be ready for the next public health emergency or natural disaster, like the wildfires consuming California or the derecho that ravaged Iowa.
Instead of being a last-minute political football, universal vote-by-mail as the "new normal" would give Democrats, Republicans and independents years to educate their voters on how to vote by mail. Every party and candidate could benefit from increased voter turnout equally—by running on policies that are the most popular among voters.
There is no good reason not to do this.
Americans should be able to vote safely and securely from the comfort of their home, just like many Democrats, Republicans and Trump have been doing for years. Mailing a ballot to every voter reduces barriers to voting, especially for seniors, those with physical disabilities and those who may not have the flexibility in their jobs to make it to the polls on Election Day. These are good enough reasons on their own, but the benefit has become even clearer during the pandemic.
No one should have to pay with their health to exercise their right to vote. No poll workers—who happen to be disproportionately senior citizens—should have to pay with their health to facilitate their fellow citizens' right to vote.
It's an open-and-shut case, and it's only made stronger when we see it in practice in the five states that already have universal vote-by-mail: Colorado, Hawaii, Oregon, Washington and even ruby-red Utah. It's no surprise that some of these states consistently have among the highest voter turnout in the nation.
When universal vote-by-mail becomes permanent, it is also incumbent upon states to educate voters about ballot return deadlines and arcane vote-by-mail requirements—like requiring voters to sign the "inner flap" of their vote-by-mail envelope. Or they can do one better and make their mail-in ballots simpler to complete from the start.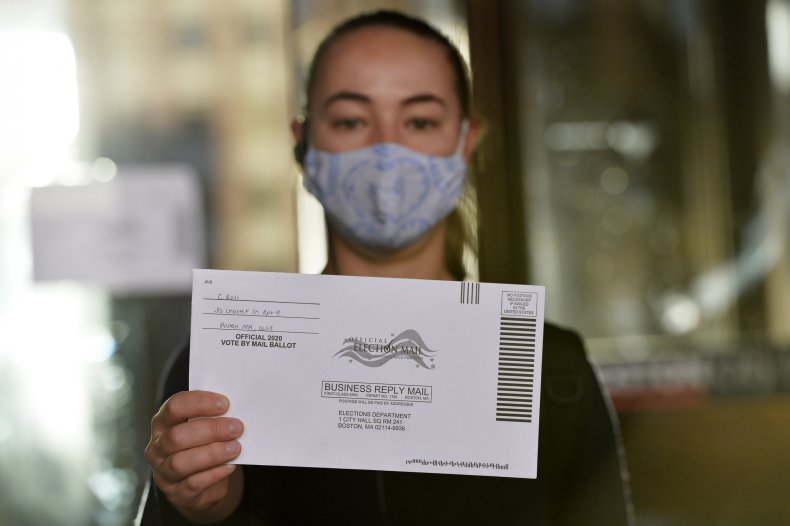 As Colorado did this spring, states need to consistently flood airwaves, billboards, phones and mailboxes to educate and build trust in the vote-by-mail system, especially among people of color—who have good reason to be suspicious of any changes to voting due to our country's shameful history of disenfranchising and suppressing their right to vote. Hopefully, universal vote-by-mail can be one of many steps toward rebuilding that trust, along with passing the John Lewis Voting Rights Act.
Reddish states like Iowa, South Dakota and Montana have expanded vote-by-mail in response to the pandemic this year, and set records for voter turnout during their primaries. California, Vermont and Nevada, as well, should be commended for giving universal vote-by-mail a try amid the pandemic.
But simply expanding vote-by-mail as a temporary stop-gap isn't a long-term solution.
Too often, we think small and choose a piecemeal approach as the politically expedient solution, but this problem requires comprehensive, lasting measures to fortify the integrity of our elections. Universal vote-by-mail is not nearly enough to fix all that's wrong with America's patchwork voting systems, but it's a step in the right direction.
It's a chance to protect our democracy, make voting a little more accessible to millions of Americans, and help our Postal Service and elections systems be better prepared and more effective.
We should take it.
Alex Morgan is the executive director at the Progressive Turnout Project.
The views expressed in this article are the writer's own.