The House of Representatives passed a bill designed to provide more military assistance to Ukraine amid the Russian invasion with overwhelming bipartisan support on Thursday.
Lawmakers approved the Ukraine Democracy Defense Lend-Lease Act of 2022 by a vote of 417 to 10, with all votes against the bill's passage coming from Republicans.
The bill had already passed the Senate with unanimous support and will now head to President Joe Biden's desk. He is expected to sign the measure into law.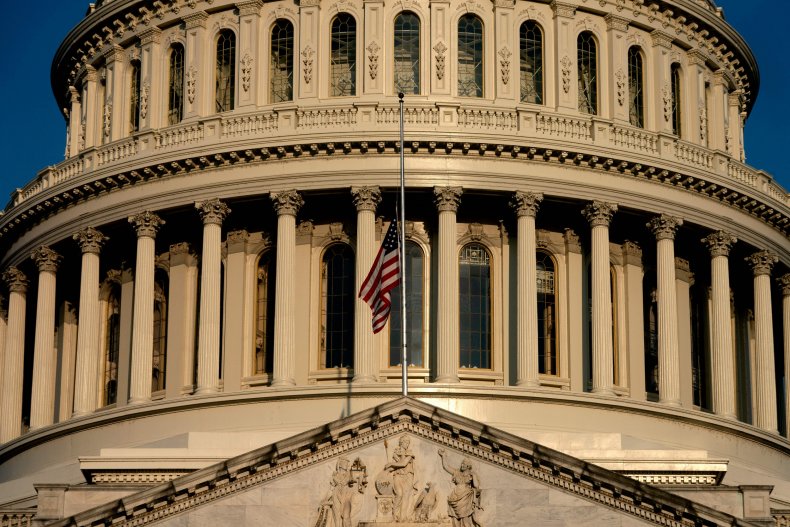 Once signed, the new legislation will revive the World War II era lend-lease program and will allow the Biden administration to effectively gift military equipment to Ukraine, while technically requiring payment at a later date.
The 10 Republicans who voted against the bill were: Andy Biggs of Arizona, Dan Bishop of North Carolina, Warren Davidson of Ohio, Matt Gaetz of Florida, Paul Gosar of Arizona, Marjorie Taylor Greene of Georgia, Thomas Massie of Kentucky, Ralph Norman of South Carolina, Scott Perry of Pennsylvania and Tom Tiffany of Wisconsin.
Massie took to Twitter following the passage of the bill to discuss his "no" vote.
"Congress just authorized Biden to transfer virtually any weapon of war, other than a nuclear weapon, to Ukraine. Insane!" he wrote.
Massie also included images of a part of the legislation that defines "defensive article"— the equipment that can be sent to Ukraine—and suggested that definition was too broad.
On Thursday, Greene retweeted one of her own posts about Ukraine from March 15 and tagged Democratic Representative Jamie Raskin, who had withdrawn some unparliamentary language he had used on the House floor while criticizing Greene during the debate on the lend-lease bill.
During her speech on the bill, Greene had not mentioned Ukraine but had talked about an "invasion" at the southern border. In her March 15 tweet, Greene had said: "NATO has been supplying the neo-Nazis in Ukraine with powerful weapons and extensive training on how to use them."
Perry, who is the leader of the House Freedom Caucus, told Business Insider in a statement on Thursday: "Handing President Biden a blank check to fix Ukraine is like handing a drowning victim an anchor—it doesn't end well."
Business Insider also received a statement from Davidson, who said he supports helping Ukraine but that is "no excuse for giving the executive branch the power of a blank check."
Tiffany issued a statement condemning the Russian invasion of Ukraine but said that "President Biden is requesting billions more in aid for Ukraine that could potentially draw our military into another trillion-dollar conflict half a world away."
"If the last two decades have taught us anything, it is that it's always much easier to get our country into a foreign conflict than it is to get out," Tiffany's statement said.
In a statement to The Hill, Gosar said: "Every vote to provide military assistance to Ukraine draws us closer to a war with Russia. This is not our fight. I reiterate my hope for immediate peace talks and resolution of hostilities. Sending more weapons of war is counter to peace and will extend the death and destruction."
A spokesperson for Gaetz told media outlets that the congressman "supports weapons for Ukraine" but "opposes waiving America's future rights for repayment."
The House passed the lend-lease legislation on the same day that Biden asked for a further $33 billion in military and humanitarian aid for Ukraine, with Senate Minority Leader Mitch McConnell (R-KY) signaling he may support the measure.