These 20 States Are Raising the Minimum Wage on New Year's Day
As Americans wait for their second coronavirus stimulus check, there's already good news for some minimum wage workers. The New Year is already answering wishes for prosperity as Friday marks a minimum wage increase in 20 states.
There are a total of 22 states that will increase the minimum wage, anywhere from a few cents to $1.50, two increases which will happen later in the new year. The states that have immediately raised their minimum wage as of 2021 are listed alphabetically here, as reported by the Labor Law Center.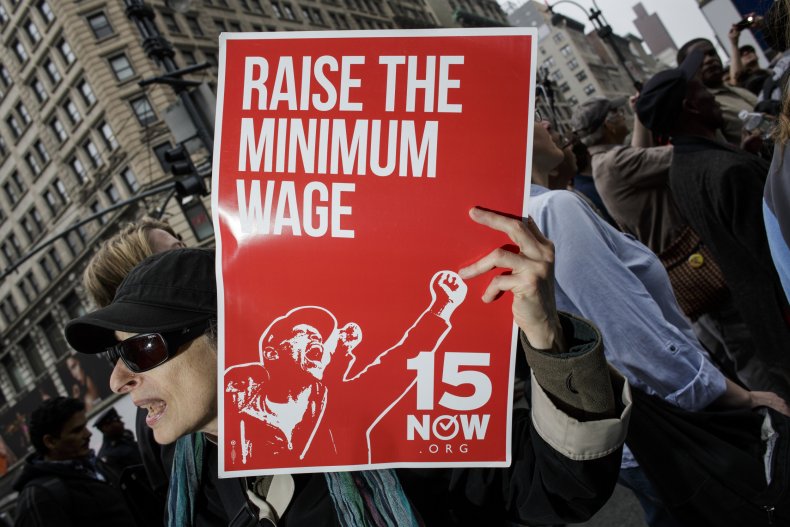 Alaska: $10.19 to $10.34 (up 15 cents)
Arizona: $12 to $12.15 (up 15 cents)
Arkansas: $10 to $11 (up one dollar)
California: $13 to $14 (up one dollar)
Colorado: $12 to $12.32 (up 32 cents)
Florida: $8.56 to $8.65 (up nine cents)
Illinois: $10 to $11 (up one dollar)
Maine: $12 to $12.15 (up 15 cents)
Maryland: $11 to $11.75 (up 75 cents)
Massachusetts: $12.75 to $13.15 (up 50 cents)
Minnesota: $10 to $10.08 (up eight cents)
Missouri: $9.45 to $10.30 (up 85 cents)
Montana: $8.65 to $8.75 (up 10 cents)
New Jersey: $11 to $12 (up one dollar)
New Mexico: $9 to $10.50 (up $1.50)
New York: $11.80 to $12.50 (up 70 cents)
Ohio: $8.70 to $8.80 (up 10 cents)
South Dakota: $9.30 to $9.45 (up 15 cents)
Vermont: $10.96 to $11.75 (up 79 cents)
Washington: $13.50 to $13.69 (up 19 cents)
Two other states have plans to raise their minimum wage in 2021. Delaware will increase from $9.25 to $10.25 effective October 1, according to Senate Bill No. 170. This wage increase has been slowly raising the minimum wage since 2014 and will conclude its last step in October.
Nevada is also expected to increase its minimum wage from $8.75 to $9.75 on July 1.
Michigan was expected to raise its minimum wage in 2021, too, but was unable to due to a high unemployment rate. The state's Improved Workforce Opportunity Wage Act, which was established in 2018, stops all planned minimum wage increases if the state's annual unemployment rate falls above 8.5 percent. In 2020's third quarter, the unemployment rate was 8.6 percent, the state reported.
The federal minimum wage did not change in 2021 and is not expected to. It has been $7.25 since 2009.
Even if your state isn't included in the 2021 minimum wage increases, stimulus checks from the American government are on their way. Americans will receive $600 per individual within the coming weeks after President Donald Trump signed the COVID Relief Package on Sunday.
Individuals who made $75,000 or less, based on their most recent tax filing, will be eligible for the whole $600 amount. Couples who made under $150,000 as a household will be eligible for $1,200 and a possible $600 per child, according to CNN.
Trump originally halted the $600 payments in hopes of upping the amount to $2,000 per individual. Senators attempted to vote to pass the stimulus increase this week, but Senate Majority Leader Mitch McConnell blocked the vote.