These 35 Senators Voted Against Stopgap Funding to Avoid Government Shutdown
The Senate on Thursday approved a stopgap government funding bill that will avoid federal agencies from shutting down through early December.
The spending measure, called continuing resolution, passed the Senate in a vote of 65-35, more than achieving the 60 votes required for approval. The bill is meant to make ongoing appropriations for the fiscal year ending September 30, 2022, and provide emergency aid among other purposes.
Among the 35 senators, all of them Republicans, who voted against the bill were John Barrasso and Cynthia Lummis of Wyoming; Marsha Blackburn and Bill Hagerty of Tennessee; John Boozman and Tom Cotton of Arkansas; Mike Braun of Indiana; Kevin Cramer of North Dakota; Michael Crapo of Idaho; Ted Cruz of Texas; Steve Daines of Montana; and Joni Ernst and Chuck Grassley of Iowa.
Those who rejected the bill also include Josh Hawley of Missouri; John Hoeven of North Dakota; Cindy Hyde-Smith and Roger Wicker of Mississippi; Ron Johnson of Wisconsin; James Lankford and James Inhofe of Oklahoma; Mike Lee of Utah; Roger Marshall and Jerry Moran of Kansas; Rand Paul of Kentucky; Rob Portman of Ohio; James Risch of Idaho; Rick Scott and Marco Rubio of Florida; Tim Scott of South Carolina; Dan Sullivan of Alaska; John Thune of South Dakota; Pat Toomey of Pennsylvania; Tommy Tuberville of Alabama; and Ben Sasse and Debra Fischer of Nebraska.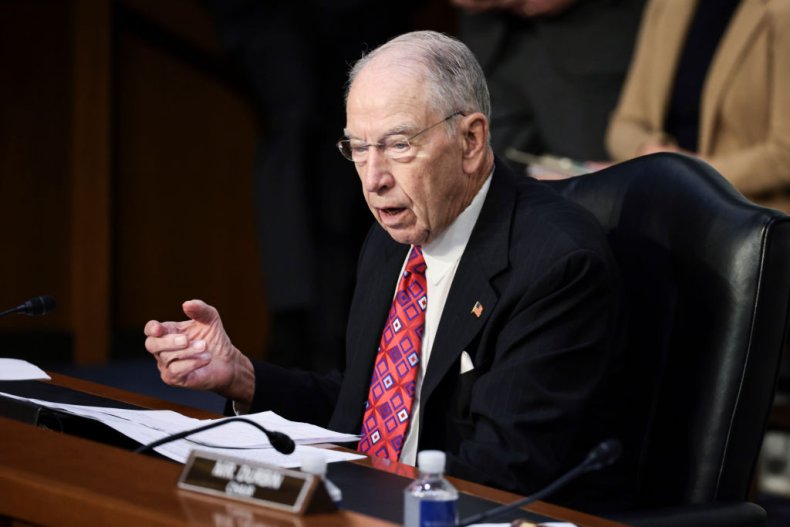 "Manchin [is] right about "fiscal insanity" to spend more than New Deal per person adjusted for inflation. He speaks for commonsense Dems across [the] country Surely other Dem Senators know better He should stick to his guns. Others should have his back," Grassley wrote on Twitter on Thursday following the vote.
In response to Thursday's vote, Braun said during an appearance on One America News Network that "Republicans and Democrats have been equal to blame, in terms of how we got here, pre-rescue bill and now this spending spree."
Senator Joe Manchin of West Virginia and Arizona Senator Kyrsten Sinema are the only two Democrats opposing the infrastructure bill with Manchin refusing to support the $3.5 trillion price tag of the Build Back Better package.
In an op-ed in the Wall Street Journal published in early September, Manchin said: "Instead of rushing to spend trillions on new government programs and additional stimulus funding, Congress should hit a strategic pause on the budget-reconciliation legislation."
Manchin previously said that he is also concerned about some of the bill's provisions regarding climate and the expansion of Medicare.
On Tuesday, President Joe Biden met with Manchin and Sinema separately to discuss their concerns about the bill.