These 44 Former Senators Command Senate 'to Be Steadfast and Zealous Guardians of Our Democracy'
A cross-party group of former senators has written an open letter describing their fears that the U.S. is entering a "dangerous period."
The letter, addressed to the current Senate, contains a dire warning by 44 former Democrat, Republican and independent senators regarding the outcome of special counsel Robert Mueller's probe converging with a time of "regional conflicts and global power confrontations."
Read more: Robert Mueller Could Recommend Prison Term for Former Trump Aide Michael Flynn
The letter, published in The Washington Post, states that although they were on different sides of the aisle, the senators all had a common goal of upholding the Constitution—which they felt was now under threat. The letter was signed by 32 Democrats, 10 Republicans and two independents.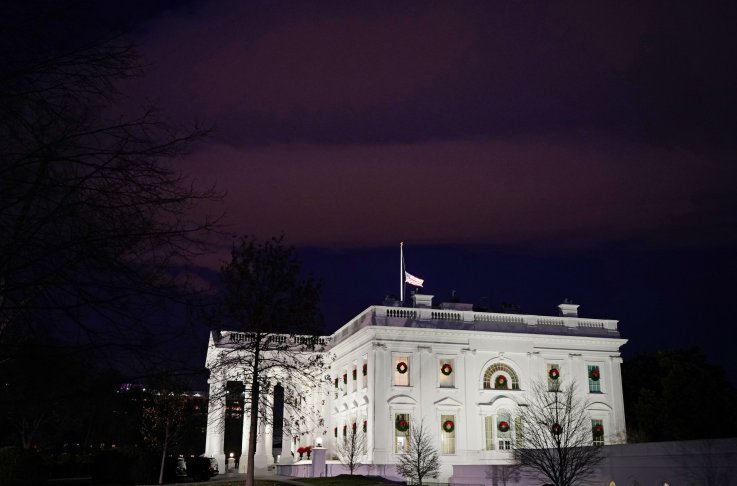 The group included Democrats Tom Daschle, Max Baucus and John Kerry, and Republicans such as William Cohen and Chuck Hagel.
"It is our shared view that we are entering a dangerous period, and we feel an obligation to speak up about serious challenges to the rule of law, the Constitution, our governing institutions and our national security," it states.
Without directly mentioning Donald Trump's name, the letter says that the U.S. must "engage at every level with strategic precision and the hand of both the president and the Senate."
"Regardless of party affiliation, ideological leanings or geography, as former members of this great body, we urge current and future senators to be steadfast and zealous guardians of our democracy by ensuring that partisanship or self-interest not replace national interest," the letter said.
CNN presenter Chris Cuomo read out the letter on his show Cuomo Prime Time, adding: "I have never seen a letter like this and we have never had a time like this. What will these words mean for the men and women who are working at the Senate right now?"
The letter comes three days after prosecutors in New York said they believed Trump had instructed his ex-lawyer Michael Cohen to make payments to adult film star Stormy Daniels and former Playboy model Karen McDougal, who both claimed to have relationships with the president.
Trump has repeated his mantra that the Russia investigation is a "witch-hunt" orchestrated by Democrats.
Politico reported that the letter's tone was similar to that of the anonymous letter published by The New York Times in September claiming that a "quiet resistance" within Trump's executive branch was working to "frustrate parts of his agenda and his worst inclinations."
The complete list of signatories reads: Max Baucus (D-Mont.), Evan Bayh (D-Ind.), Jeff Bingaman (D-N.M.), Bill Bradley (D-N.J.), Richard Bryan (D-Nev.), Ben Nighthorse Campbell (R-Colo.), Max Cleland (D-Ga.), William Cohen (R-Maine), Kent Conrad (D-N.D.), Al D'Amato (R-N.Y.), John C. Danforth (R-Mo.), Tom Daschle (D-S.D.), Dennis DeConcini (D-Ariz.), Chris Dodd (D-Conn.), Byron Dorgan (D-N.D.), David Durenberger (R-Minn.), Russ Feingold (D-Wis.), Wyche Fowler (D-Ga.), Bob Graham (D-Fla.), Chuck Hagel (R-Neb.), Tom Harkin (D-Iowa), Gary Hart (D-Colo.), Bennett Johnston (D-La.), Bob Kerrey (D-Neb.), John Kerry(D-Mass.), Paul Kirk (D-Mass.), Mary Landrieu (D-La.), Joe Lieberman (I-Conn.), Blanche Lincoln (D-Ark.), Richard Lugar (R-Ind.), Barbara Mikulski (D-Md.), Ben Nelson (D-Neb.), Sam Nunn (D-Ga.), Larry Pressler (R-S.D.), David Pryor (D-Ark.), Don Riegle (D-Mich.), Chuck Robb (D-Va.), Jay Rockefeller (D-W.Va.), Jim Sasser (D-Tenn.), Alan Simpson (R-Wyo.), Mark Udall (D-Colo.), John W. Warner (R-Va.), Lowell Weicker (I-Conn.), Tim Wirth (D-Colo.)