These 69 House Reps Voted Against Ukraine Military Aid
Congress passed the defense and homeland security portions of the $1.5 trillion omnibus spending package on Wednesday, which included providing Ukraine and other Eastern European countries with $13.6 billion in defense and other aid to counter Russian aggression. The House voted 361-69 to back funding for the Pentagon, Department of Homeland Security and other national security priorities. Fifty-four Republicans and 15 Democrats voted against it. Three members abstained.
More than $6.5 billion of that $13.6 billion will go to the Pentagon, while $3.9 billion will go to the State Department to provide humanitarian assistance to Ukrainians. A further $2.8 billion will go to the U.S. Agency for International Development to provide aid for vulnerable people in Ukraine and Eastern Europe. The Justice Department will get smaller sums.
The group of progressive Democrats known collectively as "The Squad" voted against the bill, including Alexandria Ocasio-Cortez (D-NY), Ilhan Omar (D-MN) and Rashida Tlaib (D-MI).at
Republicans who voted against the measures include Lauren Boebert (R-CO), Matt Gaetz (R-FL) and Lee Zeldin (R-NY).
The bill was separated into two votes. Kentucky Republicans Andy Barr and James Comer voted in favor of the portion of the $1.5 trillion package that designated funds for the Pentagon and Department of Homeland Security but against the second half of the measure, which included humanitarian aid to Ukraine and other non-defense spending, and which funds government operations through September.
Massachusetts Democrat Jim McGovern, among others, voted no on the $6.5 billion in military aid but yes on the measure calling for $5.8 in humanitarian aid.
The full list of representatives who voted against the bill:
Brian Babin (R-TX)
Andy Biggs (R-AZ)
Gus Bilirakis (R-FL)
Dan Bishop (R-NC)
Earl Blumenauer (D-OR)
Lauren Boebert (R-CO)
Jamaal Bowman (D-NY)
Ken Buck (R-CO)
Tim Burchett (R-TN)
Brian Babib (R-TX)
Michael Burgess (R-TX)
Cori Bush (D-MO)
Kat Cammack (R-FL)
Michael Cloud (R-TX)
Andrew Clyde (R-GA)
Warren Davidson (R-OH)
Scott Eugene DesJarlais (R-TN)
Jeff Duncan (R-SC)
Pat Fallon (R-TX)
Matt Gaetz (R-FL)
Jesús García (D-IL)
Louis Gohmert(R-TX)
Jimmy Gomez (D-CA)
Bob Good (VA)
Lance Gooden (R-TX)
Paul Gosar (R-AZ)
Garret Graves (R-LA)
Marjorie Taylor Greene (R-GA)
Diana Harshbarger (R-TN)
Kevin Hern (R-OK)
Yvette Herrell (R-NM)
Jody Hice (R-GA)
Clay Higgins (R-LA)
Bill Huizenga (R-MI)
Sara Jacobs (D-CA)
Pramila Jayapal (D-WA)
Jim Jordan (R-OH)
Fred Keller (R-PA)
Mike Kelly (R-PA)
Barbara Lee (D-CA)
Billy Long (R-MO)
Tracey Mann (R-KS)
Thomas Massie (R-KY)
Lisa McClain (R-MI)
Jim McGovern (D- MA)
David McKinley (R-WV)
Alex Mooney (R-WV)
Barry Moore (R-AL)
Troy Nehls (R-TX)
Ralph Norman (R-SC)
Alexandria Ocasio-Cortez (D-NY)
Ilhan Omar (D-MN)
Christy Perry (R-PA)
Mark Pocan (D-WI)
Bill Posey (R-FL)
Ayanna Pressley (D-MA)
John Rose (R-TN)
Matt Rosendale (R-MT)
Chip Roy (R-TX)
David Schweikert (R-AZ)
Van Taylor (R-TX)
Tom Tiffany (R-WI)
Rashida Tlaib (D-MI)
Jeff Van Drew (R-NJ)
Tim Walberg (R-MI)
Bonnie Watson Coleman (D-NJ)
Randy Weber (R-TX)
Daniel Webster (R-FL)
Roger Williams (R-TX)
Lee Zeldin (R-NY)
Commenting after the vote, Boebert tweeted: "Using aid for Ukraine as the latest crisis to pass a $1.5 trillion bill w/ $4 billion in earmarks is corrupt. This is a false choice. I'm introducing a bill that provides a better version of aid to Ukraine, stops importing oil & gas from bad actors and develops American energy."
The bill's approval in Congress comes just hours after Ukrainian officials said that Russian airstrikes had destroyed a children's hospital and maternity ward in the southern port city of Mariupol. Russia has denied targeting civilian infrastructure.
Since Russia invaded Ukraine on February 24, more than 2 million Ukrainians have fled their country, triggering the fastest-growing refugee crisis since the Second World War.
The homeland security portion of the $1.5 trillion omnibus bill will also help the government through to September avert a shutdown that would have come into effect this Friday at midnight. The domestic spending portion passed by 260-171. The legislation now heads to the Senate.
Democratic House Speaker Nancy Pelosi rarely votes as her role is meant to be non-partisan. However, she was among the Democrats who voted to approve the legislation.
Pelosi and Senate Majority Leader Chuck Schumer said in a joint statement that the bipartisan bill it will help to fund President Joe Biden's key domestic priorities.
"This bipartisan agreement will help us address many of the major challenges we face at home and abroad: from COVID-19, to the vicious and immoral attack on Ukraine, to the need to lower costs for hardworking American families," they said.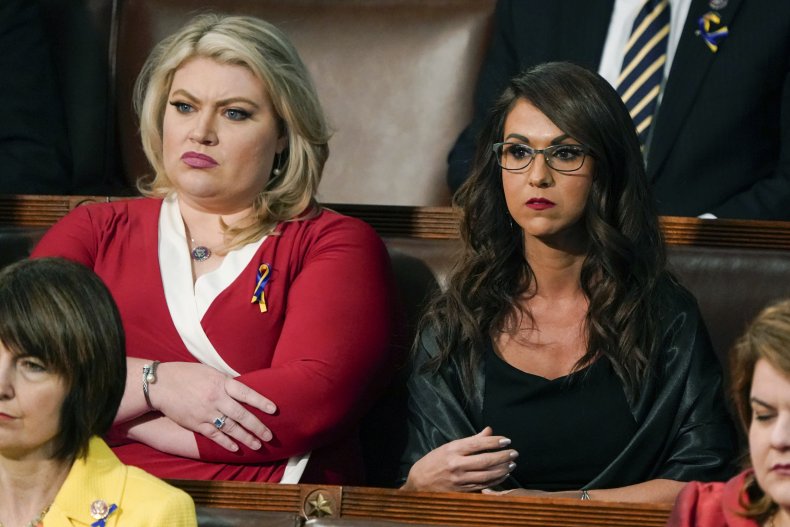 Updated 03/10/2022, 3:06 p.m. ET: This story has been updated to include Representatives Tim Walberg and Bonnie Watson Coleman to the list of those who voted against the bill.
The story also clarifies that Rep. Jim McGovern, a Democrat, voted in favor of the humanitarian aid portion of the bill.
Correction 03/10/2022, 2:26 p.m. ET: This article corrected the names of Dan Bishop and John Rose, and Kat Cammack's party affiliation.