Senator Bernie Sanders' final attempt to include a minimum wage hike in the coronavirus relief bill was rejected on Friday, with seven Democrats joining Republicans in voting against the measure.
The Vermont independent introduced an amendment to waive a budget point of order and advance a $15 minimum wage provision in the $1.9 trillion stimulus package. The procedural step failed in a 42–58 vote.
The Democrats who opposed Sanders' amendment were Tom Carper of Delaware, Chris Coons of Delaware, Maggie Hassan of New Hampshire, Joe Manchin of West Virginia, Jeanne Shaheen of New Hampshire, Kyrsten Sinema of Arizona and Jon Tester of Montana. Angus King, an independent from Maine who caucuses with Democrats, also voted no.
Sinema said in a statement that the upper chamber should "hold an open debate and amendment process on raising the minimum wage, separate from the COVID-focused reconciliation bill."
Democrats are using the budget reconciliation process to pass President Joe Biden's American Rescue Plan with a simple majority vote, meaning that they will not need any Republican support.
Biden's plan included a measure to increase the minimum wage to $15 per hour but Senate parliamentarian Elizabeth MacDonough decided last week that the measure did not meet the reconciliation requirements.
In remarks from the Senate floor on Friday, Sanders said the parliamentarian was "dead wrong."
"But more importantly, it's an absurd process that we allow an unelected staffer—as somebody who works for the Senate, not elected by anybody—to make a decision as to whether 30 million Americans get a pay raise," the senator added.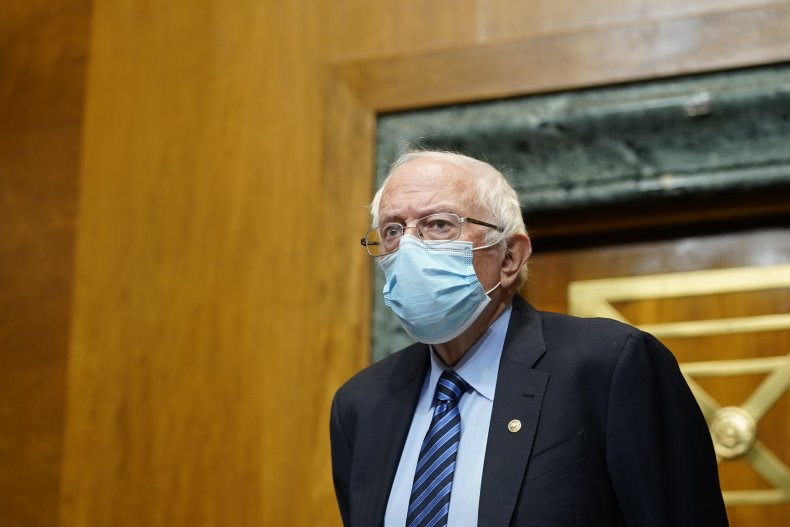 Sanders' motion was the first amendment of a process known as a "vote-a-rama," during which lawmakers can put up an unlimited number of proposals for consideration in the final bill.
It is one of the final steps before the Senate holds a full floor vote on the $1.9 trillion relief package. Senate Majority Leader Chuck Schumer of New York promised Thursday that the chamber will stay in session "no matter how long it takes" to pass the bill this week.
Lawmakers face a tight deadline to deliver the legislation to Biden's desk before key unemployment benefits are set to expire on March 14. Schumer and House Speaker Nancy Pelosi of California have both expressed confidence that the legislation will be approved by then.
While $15 minimum wage is unlikely to be in the bill, the sweeping package does include $1,400 stimulus checks, expanded unemployment benefits, aid for state and local governments, funding for vaccination programs and school reopenings, among other measures.
Sanders told reporters Friday that progressives were not going to give up on raising the minimum wage.
"Federal minimum wage, which has not been raised since 2007 by Congress is a starvation wage. $7.25 an hour. If anybody thinks that we're giving up on this issue, they are sorely mistaken," he said.
Newsweek reached out to Sanders's office for comment on the rejection of his amendment but did not receive a response prior to publication.