These Are the Cities and States That Have Banned Police Chokeholds So Far in the Wake of Protests
New York passed the Eric Garner Anti-Chokehold Act on Monday, becoming one of the latest places to ban police chokeholds in the weeks following George Floyd's death. The state joins cities like Minneapolis, Denver, Dallas, Houston and Washington, D.C., as well as California, in changing policies following the anti-police-brutality protests that have swept the nation.
Named after Eric Garner, who died in 2014 after being placed in a chokehold by a New York City police officer, the new act would criminalize chokeholds or similar restraints by police officers that could cause serious physical injury or death. The New York State Assembly announced the class C felony would be punishable by up to 15 years in prison. Governor Andrew Cuomo has promised to sign the bill into law.
"Almost six years ago, we heard Eric Garner tell police 'I can't breathe' as he was put into a chokehold by an NYPD officer. His words now speak from the grave as we deal with the police killing of George Floyd under nearly identical circumstances," said state Assembly member Walter Mosley.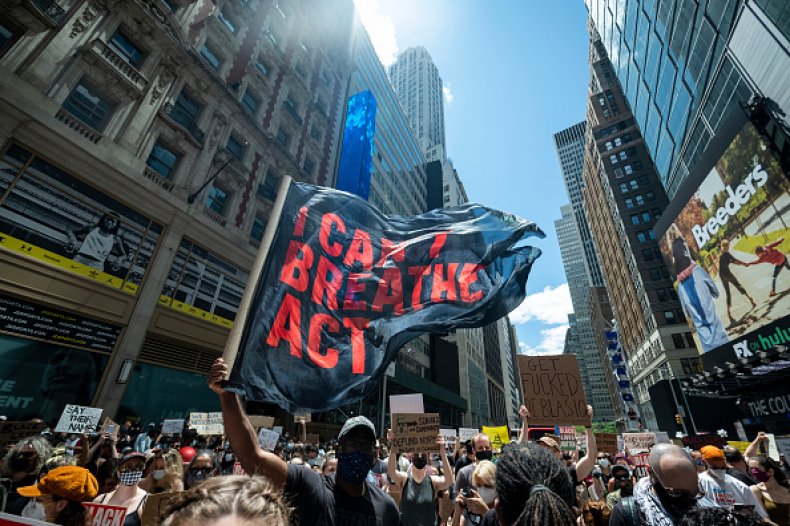 The recent death of Floyd, who died in police custody after a Minnesota police officer knelt on his neck for nearly nine minutes, has sparked protests around the world calling for an end to police violence, including uses of force that extend to chokeholds.
The New York City Police Department has banned the use of chokeholds since 1993. However, since Garner's death in 2014, 996 people have reported being put into a chokehold by the NYPD.
"The NYPD ban on chokeholds was not enough to protect Eric Garner, and it is not enough today. This legislation will put an end to the practice across the state," Assembly Speaker Carl Heastie said Monday. Newsweek reached out to Heastie for comment but did not hear back before publication.
In California, Governor Gavin Newsom said last Friday he would immediately instruct the police to stop the training in carotid holds, a form of chokehold that cuts blood flow to the brain and "has no place any longer in 21st-century practices." Chokehold restraints, which cut off airflow through the windpipe, are already banned in California.
Several cities have also banned chokeholds by police departments in response to protests. Minneapolis, where Floyd died and a key city in the nationwide protests, banned all chokeholds by police officers last Friday.
The Minneapolis City Council approved new requirements that include a mandate for police officers to immediately report and intervene when they see other officers using unauthorized force.
The Denver Police Department followed suit this past Sunday, updating policies that ban the use of chokeholds and require officers to report to supervisors if they point a weapon at someone. Officers had been allowed to use chokeholds or cartoid compression "if engaged in a lethal force encounter," but the new policy bans such force "with no exceptions."
Dallas announced last Friday a formal ban on chokeholds and any force intended to restrict a person's airway.
At George Floyd's funeral in Houston on Wednesday, Mayor Sylvester Turner announced he will be signing an executive order banning chokeholds and strangleholds in his city.
"In this city, we will require de-escalation. In this city, you have to give a warning before you shoot. In this city, you have a duty to intervene. In this city, we will require comprehensive reporting. In this city, you must exhaust all alternatives before shooting," Turner said.
The District of Columbia's Council unanimously passed a police reform bill last Wednesday that bans neck restraints by police officers, declaring them lethal and excessive force. The bill also bans the use of tear gas, rubber bullets and stun grenades on protesters.
The use of tear gas on demonstrators has also been a target of the protests. Seattle and Denver have placed a temporary ban on the use of tear gas by police, while Pittsburg and New Orleans have proposed longer-term legislation to do the same.
This story has been updated to include news developments from Houston and Washington, D.C.