These Are the 'Most 2020' Phrases Learned on Duolingo This Year
This year has been anything but a typical year. In a year of unexpected twists and turns many of us have turned to a new hobby to occupy our time —and mind. From bread baking to binge-watching, to finally reading that book that has been sitting on your bookshelf for months—with so much extra time on our hands, there has been more time to learn something new.
Duolingo, the language learning app, saw a huge boom in people looking to learn a new language in 2020. Thirty million people, in fact, began learning a new language using the program in the weeks following COVID-19's outbreak across the world. Duolingo is used to seeing spikes after events like New Year's Eve (hello, New Years' resolutions), but this spike was unprecedented with 67% more new learners than during the same period in 2019.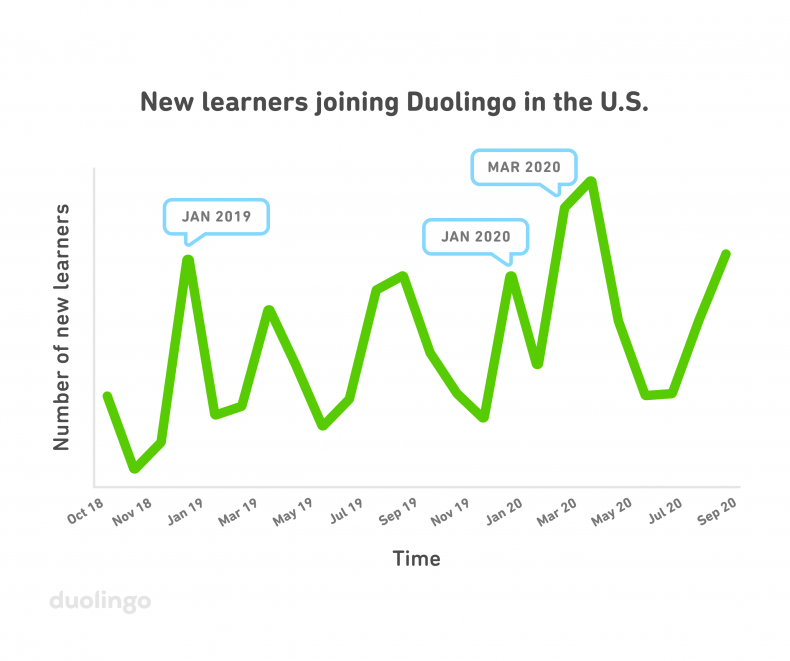 Pop Culture Fuels the Fastest Growing Languages
Though it varies from country to country, some of the trends in 2020 might have to do with some of the most talked-about figures and works of art of the year.
Korean is the second-fastest-growing language being learned around the world which could be in due part to the rise in K-POP globally, particularly international phenomena like BTS —who just won Time's Entertainer of the Year. Also, Parasite, which won the Academy Award for Best Picture in 2020, is a Korean film that might have inspired mega-fans to pick up some new phrases.
In the United States, Turkish is the #1 fastest-growing language being studied. While that might sound surprising, earlier this summer singer Halsey tweeted that she was learning the language on the app, which very well might have played a role, the app deduces.
How Old Are Duolingo's Users?
So many children have had their worlds turned upside down by this pandemic. Their routines changed, and most of their education had to be done from home rather than in a classroom. Duolingo might have come in handy for some of these kids looking for an extra tool to help get ahead in a year that has been anything but easy. Turns out 40.5 percent of the new users are part of Generation Z (roughly ages 8-23,) and for learners aged 13-14 the app saw an 85 percent year over year increase too.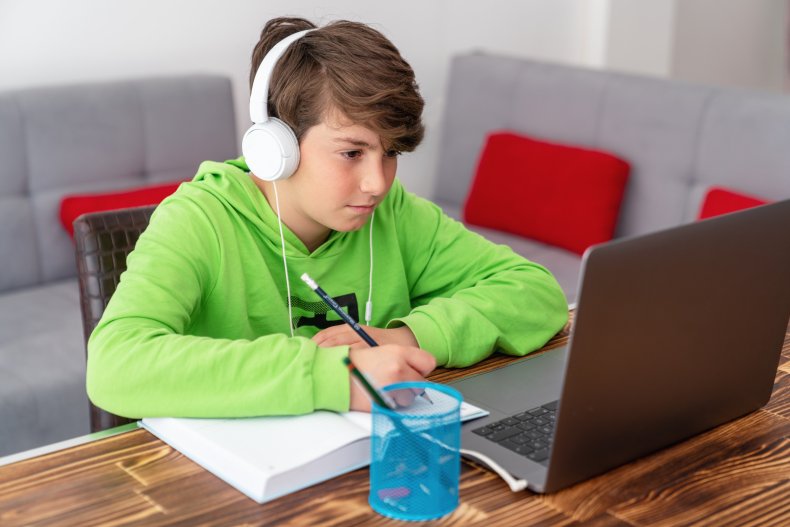 English? French? Spanish? Which Language Topped the List This Year?
English remains the top studied language in the world, though Spanish has moved up to the number two spot above French. In the U.S., English is the second most popular language to learn, which Duolingo says can be a reflection of America being home to more immigrants than any other country in the world. Though Spanish still takes first place among those living in the U.S.
"I really loved to see how the world is learning a more diverse group of languages. English, Spanish, and French may still be on top, but we also see learners in countries around the world studying more indigenous and endangered languages," Cindy Blanco, Duolingo's Senior Learning Scientist tells Newsweek.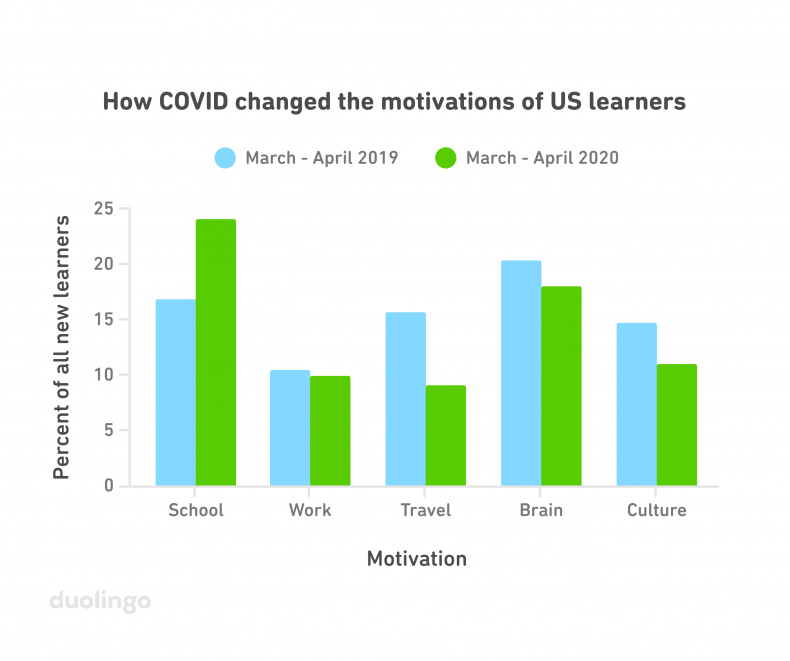 "Hawaiian is the #2 language being learned in Hawaii, Welsh is the fastest-growing language in the UK, Swahili is now on the map in Tanzania among most popular languages, and Irish overtook Spanish this year to rank as the most popular language to study in Ireland," Blanco added.
Additionally, those studying Navajo also rose in the U.S., with 22% studying for culture and 21% for brain training.
The U.S., though, when compared to other countries is not diligent about their language study. The U.S. ranks 68th on Duolingo's list of "Hardest Working" language learners globally. On that list, Germany is first, with Japan and Hungary following just behind.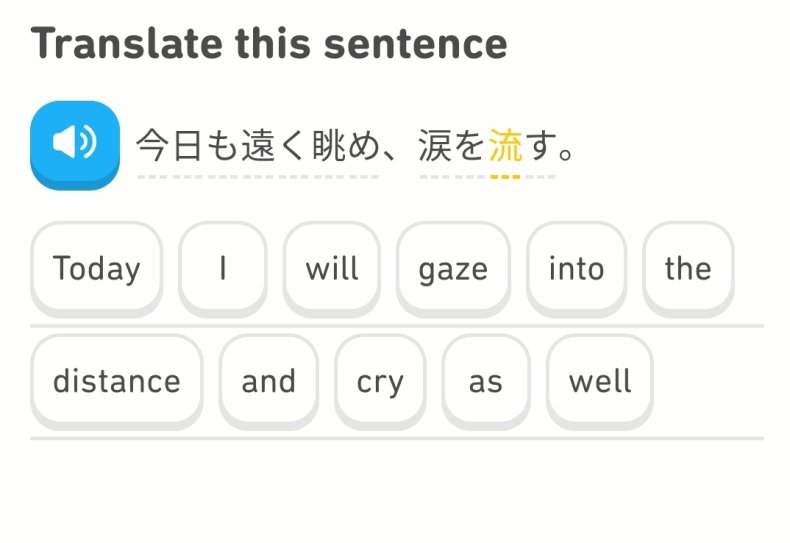 The 'Most 2020' Phrases Learned This Year
Duolingo asked their users to vote on the "Most 2020 Duolingo Phrase" seen on the app this year. Part of the app's lesson plan is to show sentences in the desired language and ask users to translate. The entries for the top prize varied from, "Today there is no good news in the newspaper," to "Do you like working at home?" to "Today I will gaze into the distance and cry as well." However, one phrase topped them all as the "Most 2020 Duolingo Phrase" and that was "I am eating bread and crying on the floor," from the app's Norwegian course. With the sourdough craze that took up the early months of quarantine, this one seems poetically fitting.