These Are the Most Popular Celebrity Couples in Every State
Celebrity couples have long had a way of captivating the attention of adoring fans as they follow their every milestone. From first dates to engagements to breakups, fans find enjoyment in knowing the ins and outs of their favorite celebrity's love life.
Shane Co., a large jeweler based in the U.S., sought to find out which celebrity couples are the most popular across all 50 states. To do so, they analyzed the search volume of 40 celebrity couples over the past 12 months using Google Trends and from there discovered the most searched in each state.
The results showed that one thing's for sure, "Bieber Fever" continues to be on the minds of people across the U.S.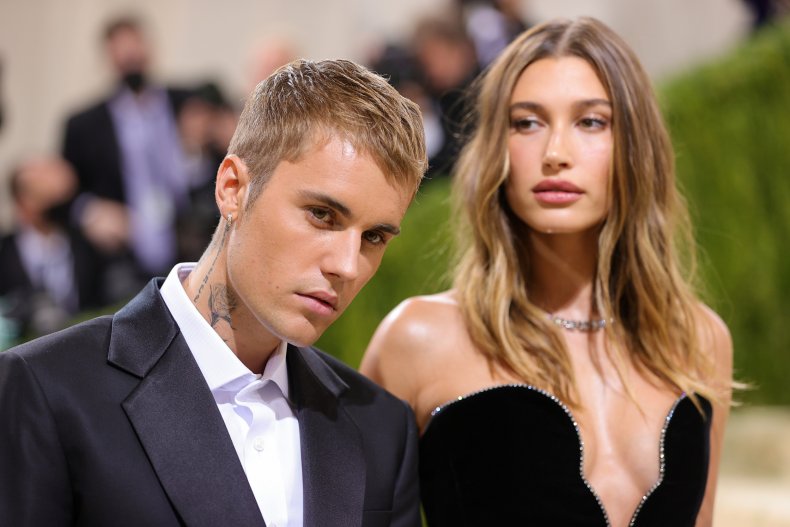 Justin and Hailey Bieber topped the list as the most popular pair in seven states: Arizona, Arkansas, Illinois, Indiana, Iowa, Minnesota and Pennsylvania. The young couple tied the knot officially during a small ceremony in New York in 2018 though celebrated with a larger wedding party in 2019 in South Carolina, Newsweek previously reported.
Falling behind Mr. and Mrs. Bieber, three couples tied for second place in being the most searched couple in three different states: Alec and Hilaria Baldwin, Ellen DeGeneres and Portia de Rossi, Jennifer Lopez and Ben Affleck and Kourtney Kardashian and Travis Barker.
All four couples have been regularly in the news over the past few months for a variety of reasons. The Baldwins made news last year when it was suspected that Hilaria was dishonest about her heritage and of course just last month Alec's name was in the news for the accidental shooting on the set of Rust. They were the most searched in Colorado, Ohio and Tennessee.
Jennifer Lopez and Ben Affleck, who were first a couple in 2002, spawned one of the first instances of celebrity couple names with "Bennifer." Earlier this year Bennifer fans rejoiced when the pair rekindled their relationship. They were the most searched in Washington, D.C., Florida and Nevada.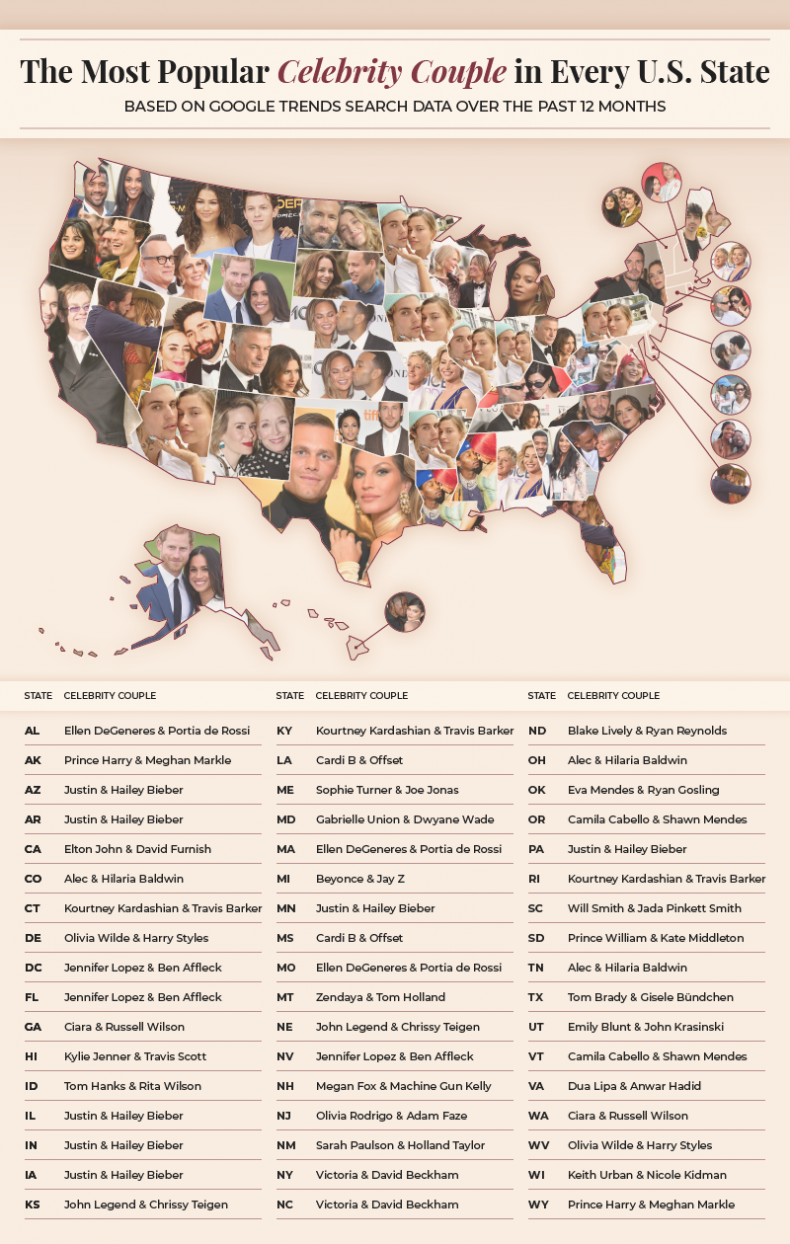 The seven other couples who make up the top 12 most popular in the states all were the most searched in two states respectively: Cardi B. and Offset, Victoria and David Beckham, Prince Harry and Meghan Markle, Olivia Wilde and Harry Styles, John Legend and Chrissy Teigen, Ciara and Russell Wilson, and Camila Cabello and Shawn Mendes.
The latter, who were the most popular couple in Vermont and Oregon, announced their breakup in a joint statement to Instagram on Wednesday.
"We started our relationship as best friends and will continue to be best friends," the post on both of the singer's Instagram stories read. "We so appreciate your support from the beginning and moving forward."
Though Harry Styles and Olivia Wilde have yet to officially confirm their relationship, photos of the pair as well as Wilde's attendance at many of Styles' recent concerts have said otherwise.