President Donald Trump's push for bigger $2,000 stimulus checks stalled Tuesday as Senate Majority Leader Mitch McConnell led a Republican effort to block a Senate vote on increasing individual COVID-19 relief payments to Americans.
McConnell has remained silent on the matter but blocked two proposals to expand the amount of the direct checks.
After blocking Senate Minority Leader Check Schumer's attempt to unanimously pass a bill to increase individual stimulus checks on Tuesday, McConnell introduced a bill that combined the $2,000 payments with a repeal of Section 230's liability protections for internet platforms and the creation of an election fraud commission.
Schumer accused McConnell of trying to kill the larger checks, saying that "if Senator McConnell tries loading up" the bill "with unrelated, partisan provisions that will do absolutely nothing to help struggling families across the country, it will not pass the House and cannot become law."
"Any move like this by Sen. McConnell would be a blatant attempt to deprive Americans of a $2,000 survival check," Schumer added.
While a growing number of GOP lawmakers have sided with the president and House Democrats in saying they would support the larger amount, some have refused to balloon the second round of coronavirus aid any more than the $900 billion bill Trump vetoed last week.
It remains unclear as to when McConnell's new bill will go to vote on the Senate floor but here are the Senate Republicans that have opposed the $2,000 price tag for checks.
Senator John Cornyn
Cornyn has stated that he is not supportive of $2,000 payments, arguing that Trump's focus on upping the checks "undermines the very positive impact" of the year-end package that was just passed after months of negotiations.
"What we ought to be doing is focusing on the $900 billion that we've already approved and that Secretary Mnuchin helped us negotiate," the Texas senator said Tuesday.
"This is all funny money, borrowed money at this point, and that's another consideration," Cornyn said. "I mean, [we're] being just frivolous about the way we spend money and rack up debt. I think people are willing to do what we need to do if they feel like it's an immediate need and it's an emergency, which we have already done and we'll probably continue to do."
Senator Mitt Romney
Romney also expressed concerns that $2,000 checks would cost the government too much money. Increasing the original $600 direct payments would mean the government would have to borrow another $464 billion.
"If we went to $2,000 per person, the additional borrowing would be up to almost $500 billion," Romney said. "Someone's got to pay for that. We can't just have free money."
The Utah senator argued that unlike the CARES Act passed in March, this second coronavirus relief package should not be an effort to stimulate the economy, but used to target Americans who are still struggling with the economic fallout of the pandemic.
"The economy is showing good signs of life, so we're not looking for a stimulus. We're looking to help people in need," he said about unemployed Americans, small businesses and rural hospitals, specifically.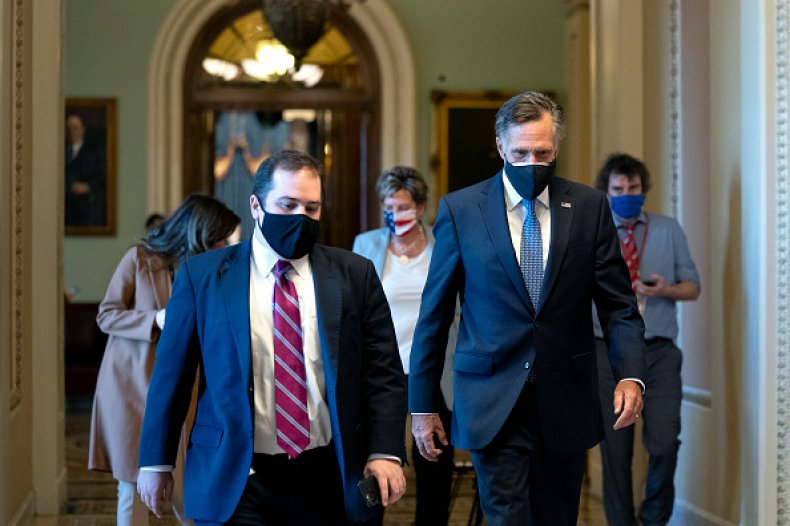 Senator James Inhofe
Inhofe has said he would "have a hard time supporting" $2,000 stimulus checks because it's "such a huge number."
Inhofe, who is also the Republican chairman of the Senate Armed Services Committee, also pushed back on the inclusion of the repeal of Section 230 as part of the bill.
"First of all, 230 has nothing to do with the military," the Republican senator said earlier this month, referencing Trump's then-threat to veto the annual spending bill for the military unless it included a repeal of Section 230. "We ought to do away with 230, but you can't do it in this bill. That's not a part of the bill."
Senator Martha Blackburn
Blackburn declared her opposition to the increased direct payments on Monday, arguing that the proposal is part of the Democrats' "socialist agenda" to universal basic income.
"You could've had a lot more money than $2,000 in the pocket of hard-working Americans," Blackburn told Fox Business. "Now, we know that what the Democrats are trying to do with this is to put us on a pathway to a guaranteed minimum income, which is one of their socialist agenda items."
"The aid has been delayed, and aid should be targeted, it should be temporary, it should be there when people need it," she said.
"What the Democrats did was to delay it and prohibit it and they didn't want to do the things that were necessary to create the very best stimulus," Blackburn continued. "The best stimulus is a job. But they don't want to open the economy, they don't want to get children back to school. They would prefer to keep people locked in their houses and out of work" until vaccines are widely available.
Senator Pat Toomey
Toomey announced on Tuesday that he would object against the House-approved legislation to increase stimulus checks to $2,000.
"Congress should continue helping workers who've lost their jobs. But blindly borrowing more than $600 billion so we can send $2,000 checks to millions of people who haven't lost any income is terrible policy. I won't consent to a vote on that," Toomey tweeted.
In an interview with CNN's Jake Tapper, the Republican senator said "it's a very bad idea" to expand the direct payment amounts. He argued that the "vast majority" of checks would be going to Americans who have not suffered any loss of income during the pandemic.
Senator Rand Paul
Paul has continued to express opposition to any direct payments as part of a second stimulus package.
"I think giving money to people, though, who are already working—look, my kids are working and don't need a check. They're not rich, but they don't need a check. And most working Americans don't need a check right now," he told Fox News on December 23.
"It's a really foolish, eggheaded, left-wing, socialist idea to pass out free money to people," Paul added. "So I part ways with the president on giving people free money."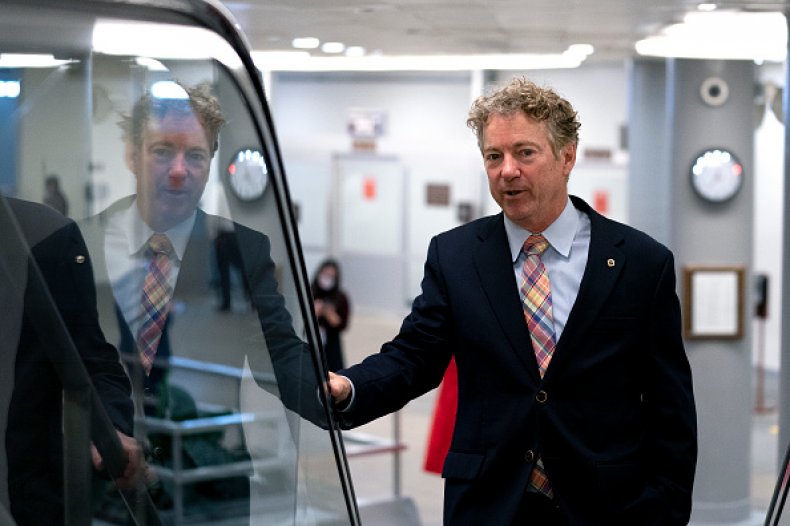 Senator Roy Blunt
Blunt, the chairman of the Senate Republican Policy Committee, is also opposed to increasing direct payments to $2,000.
"Senator Blunt believes financial relief should be targeted toward people who have lost their jobs or lost income because of the pandemic. He does not support a blanket increase in direct payments that does not take those factors into account," spokeswoman Katie Boyd told The Kansas City Star on Tuesday.
Blunt breaks from Missouri's other Republican Senator Josh Hawley, who has repeatedly pushed for $2,000 checks alongside Democrat Senator Bernie Sanders.
Hawley has been joined by other prominent GOP lawmakers such as Senators Lindsey Graham, Marco Rubio, Susan Collins, David Perdue, Kelly Loeffler and Deb Fischer, who have all supported the increase in direct payments.
Newsweek reached out to McConnell, Cornyn, Romney, Inhofe, Blackburn, Toomey, Paul and Blunt for comment but did not hear back before publication.