These Are the Worst Train Derailments in U.S. History
Train wrecks have long been part of America's history, and the recent Ohio derailment might shape up to be one of the worst for the environment.
On February 3, a Norfolk Southern Railway train derailed in East Palestine, Ohio. The train was transporting various toxic chemicals, including vinyl chloride. There were no human fatalities, but as pressure started to increase in the tankers, officials decided to conduct a controlled burn of the chemicals.
An evacuation was put in place, and after air levels were deemed safe, people returned. However, people reported pet deaths, wildlife impact and concerning physical symptoms that appeared after the derailment.
It is unclear what the final cost of the derailment will be, but the impact is already being felt.
Worst train derailment in history
Trains have been an important part of America's transportation system for roughly 200 years. Despite the evolution of modern passenger transportation, trains remain vital in America for the transportation of goods and other items. Because of their long history, trains have seen a fair share of terrible and deadly accidents.
Online platform Enjuris, which provides a directory to injury lawyers, compiled a list of the deadliest train accidents in American history. The deadliest was on Malbone Street in Brooklyn, New York, where on November 1, 1918, a train carrying passengers to Brighton Beach approached a curve in a tunnel where cars are supposed to slow to 6 mph. The train was traveling at 35 mph and derailed, killing 102 people and injuring many others. Enjuris chalked up the wreck to human error with an irresponsible conductor.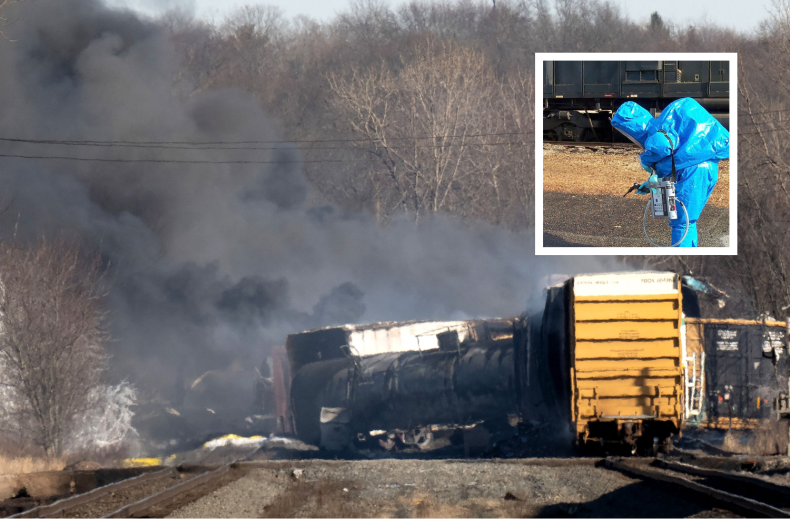 Worst train wrecks caused by natural disasters
Several of the train crashes compiled by Enjuris were caused by natural disasters. The fifth-deadliest train wreck in American history occurred in 1910, when an avalanche swept two trains into a canyon in Washington state, killing 96 people. The list includes a wreck caused by a flash flood in Colorado in 1904 that killed 97 people.
Recent train wrecks involving chemicals
Train wrecks involving toxic chemicals aren't unheard of. According to an article by Scientific America, in 2005, more than 100,000 pounds of chlorine gas was released in South Carolina when 18 train cars derailed. The crash killed nine people and exposed more than a thousand others, leading to hundreds visiting hospitals with lung injuries.
The train wreck most like East Palestine occurred in 2012, when a train in Paulsboro, New Jersey, derailed and spilled more than 20,000 gallons of vinyl chloride. Dozens of people were treated for exposure.
In East Palestine, officials conducted a controlled burn of the vinyl chloride. If spilled into waterways, vinyl chloride is difficult to clean up, Newsweek reported.
By burning vinyl chloride, the chemical turns into phosgene and hydrogen chloride, which turns into hydrochloric acid when the gas mixes with vapor. Phosgene is a highly toxic gas that was used in chemical warfare during World War I. The burn prompted officials to evacuate East Palestine residents to avoid exposure.
What caused the East Palestine derailment?
Typically, train derailments are caused by mechanical issues, as was the case in the East Palestine wreck, when a problem with a rail car axle caused the derailment that led 50 freight cars wrecking on its way to Conway, Pennsylvania, according to The Cincinnati Enquirer.
The investigations is ongoing.
Newsweek reached out to the Norfolk Southern Railway for comment.