The November election saw a number of victories for fresh Republican faces like Representative Madison Cawthorn, who replaced Representative Alexandria Ocasio-Cortez as the youngest member of Congress, and Representative Marjorie Taylor Greene, a supporter of the QAnon conspiracy theory. But Sunday's swearing in of new congressional members also includes a number of progressives.
The so-called Squad, a group of progressive House Democrats including Ocasio-Cortez as well as Ilhan Omar, Rashida Tlaib and Ayanna Pressley, inducted a second class of new representatives, thus bolstering the Congressional Progressive Caucus, which includes Senator Bernie Sanders.
As the divide between the Democratic Party's progressive wing and centrist Democrats continues to deepen, the impact these incoming officials will have on the party's future is still to be determined.
Progressives like Tlaib have argued that while Democrats lost House seats in the general election, it was candidates who ran on progressive platforms who were able to hold on to their seats or win their House races.
Here are the four new congressional members joining Sanders, the Squad and other members of the Democratic Party's progressive wing.
Representative Cori Bush
The veteran racial justice activist and former nurse elected to represent Missouri's 1st Congressional District ran on progressive platform, championing policies like the Green New Deal and Medicare for All. Bush first entered politics after becoming involved in the 2014 protests in Ferguson, Missouri, after Michael Brown's fatal shooting by a police officer.
Bush's landslide victory came after she defeated 10-term incumbent William Lacy Clay in an upset during the Democratic primaries, which came on the same night Missouri voters decided to expand the state's Medicaid eligibility.
In her third run for Congress, she was backed by Sanders, the youth-led Sunrise Movement and the left-wing group Justice Democrats, which is well known for recruiting Ocasio-Cortez.
Bush is the first Black woman to serve the House of Representatives from Missouri.
"To all the counted outs, the forgotten abouts, the marginalized and the pushed asides. This is our moment," Bush tweeted on the night of her victory. "We came together to end a 52-year family dynasty. That's how we build the political revolution."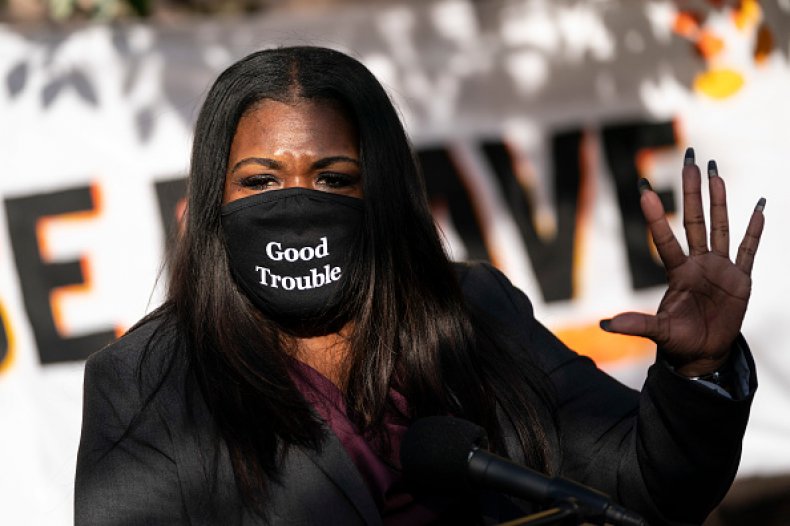 Representative Jamaal Bowman
Bowman, a former schoolteacher and principal, defeated 16-term Democratic incumbent Eliot Engel after being recruited by the Justice Democrats and went on to win in a landslide in New York's 16th Congressional District.
He was endorsed by Sanders, Ocasio-Cortez, Senator Elizabeth Warren, the Sunrise Movement, New York state's Working Families Party and the editorial board of The New York Times.
Bowman has said he'd like to elevate the issue of slavery reparations in the same way Ocasio-Cortez did with the Green New Deal.
"I was watching it from afar, watching Bernie Sanders run, and then watching AOC and the Squad not just win but truly come in as voices for the underserved. So to be joining them in Congress in 2021 is surreal and exciting, and I think it illustrates a shift happening in the Democratic Party," Bowman told NBC News earlier this month.
In a Tuesday tweet, Bowman advocated defunding the police after the Justice Department announced that the police officers involved in the 2014 fatal shooting of 12-year-old Tamir Rice in Cleveland would not face federal charges.
"A system this cruel and inhumane can't be reformed. Defund the police, and defund the system that's terrorizing our communities," the representative wrote.
Bowman and Bush have both declined to comment on whether they will vote for Nancy Pelosi as House speaker, a position Ocasio-Cortez has said should go to someone else.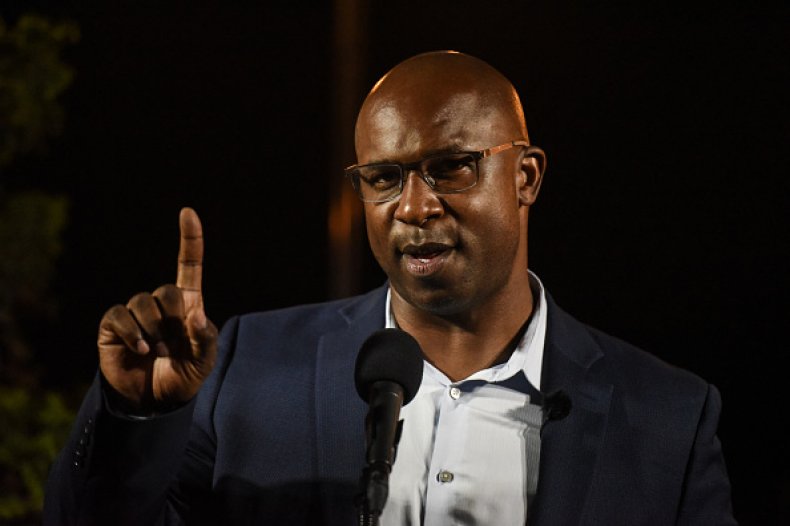 Representative Marie Newman
Newman, a former marketing consultant and anti-bullying advocate, won her seat in November after defeating an anti-abortion Democrat in Illinois' 3rd Congressional District.
Another Justice Democrat-backed candidate, she was endorsed by Ocasio-Cortez, Sanders, Warren, Chicago Mayor Lori Lightfoot, and Senators Cory Booker and Kirsten Gillibrand in the primaries, where she beat eight-term Representative Dan Lipinski.
Lipinski frustrated the party's left by opposing abortion access, voting against the Affordable Care Act, and refusing to endorse former President Barack Obama in his 2012 re-election bid.
Ocasio-Cortez told the Times that Newman "is a textbook example of one of the ways that we could be better as a party—to come from a deep blue seat and to be championing all the issues we need to be championing."
Newman ran on a platform of progressive policies that included Medicare for All, green jobs, the legalization of marijuana, immigrant protections in the Deferred Action for Childhood Arrivals (DACA) program, and "unambiguous" immigration policies.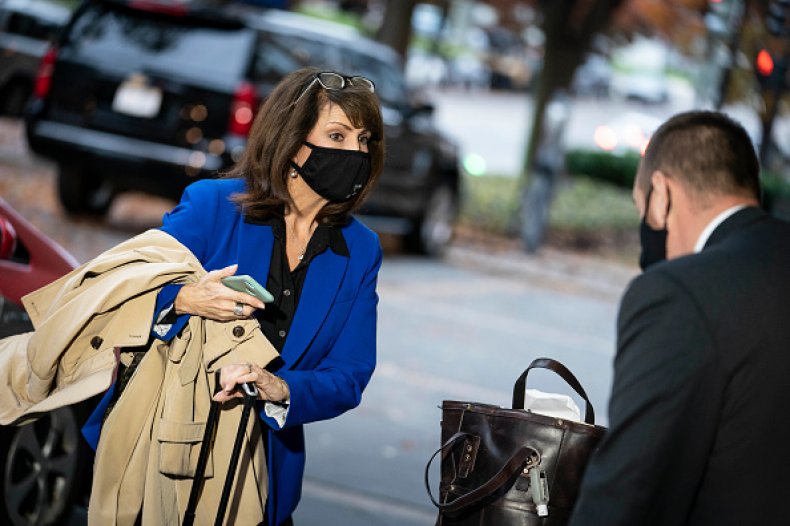 Representative Mondaire Jones
Jones, a former Obama Justice Department lawyer from New York, won a competitive race in the Democratic primaries after longtime incumbent Democrat Nita Lowey decided not to seek reelection.
Running on a platform of Medicare for All and the Green New Deal in one of the wealthiest of New York City's suburbs, Jones won the nomination and subsequently the general election in the state's 17th Congressional District.
"I'm part of a generation that stands to inherit a planet that's devastated by climate catastrophe," Jones told NBC News. "For me, there's no alternative to a Green New Deal. We have to be fighting for a thing that will make our planet inhabitable for ourselves and our children and their children."
He was endorsed by Obama, Sanders, Ocasio-Cortez and Warren.
"We are uniquely positioned to lead the Democratic Party into the 21st century, and I don't think that has happened yet," Jones said. "I don't think that we have fully addressed as a party the unprecedented challenges that Americans now face, such as the student loan crisis."
Jones and fellow Democratic Representative Ritchie Torres, who represents New York's 15th Congressional District, are the first openly LGBTQ Black members of Congress.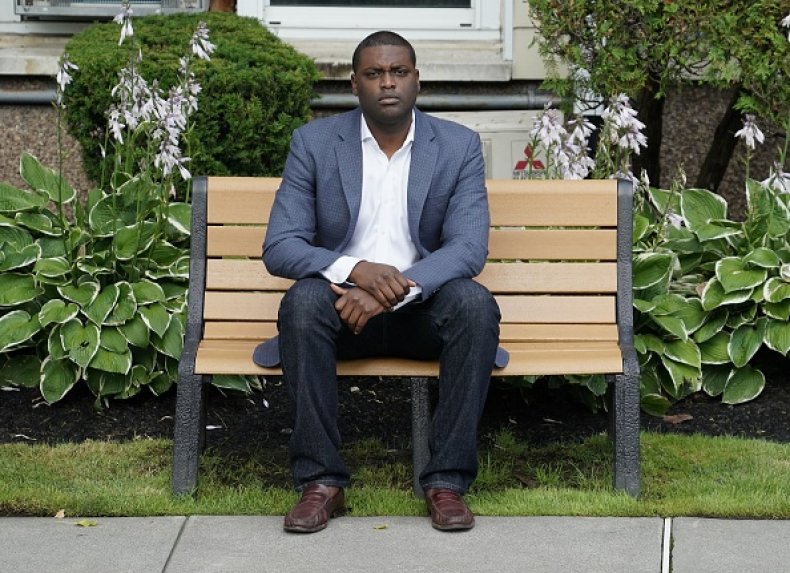 Correction 01/06/20 9:03 a.m. An earlier story stated that Newman ran on a platform of universal basic income, which she reviewed on but did not support during her campaign.