These U.S. Cities and States Are Pausing Reopening as Coronavirus Cases Spike Across the Country
Responding to recent upticks in new coronavirus cases identified over the past few weeks, a handful of government leaders across the United States have deferred reopening advancements in their jurisdictions.
After seeing spikes in daily diagnosis reports during the first week of June, Utah Governor Gary Herbert and Oregon Governor Kate Brown both halted statewide reopening procedures on June 11. In a statement, Brown told residents regional reopening applications would be put on hold for one week, referencing rising virus case counts and hospitalizations. Herbert similarly said Utah would pause reopening progress throughout most of the state during a press conference, after the state confirmed its highest single-day increase in virus cases one week earlier.
Herbert said most state regions would remain in the "yellow" reopening phase, which allows all businesses to operate with "reasonable precautions" and calls for continued social distancing as well as use of face masks in settings where social distancing is difficult.
As Florida confirms a substantial upswing in virus cases statewide, Miami Mayor Francis Suarez said the city would not transition into its third reopening phase in a Monday announcement, pointing to increasing local diagnosis numbers.
"As it stands, we are not ready for Phase 3. Although hospitalizations have remained consistent, the overall number of positive cases has increased and even the number of positive cases proportional to testing has slightly increased," Suarez wrote on Twitter.
Nashville Mayor John Cooper and Baltimore Mayor Bernard Young also announced plans to temporary stall reopening developments in their cities last week. Though Young's guidelines permitted a number of Baltimore establishments to resume limited operations on Friday under the city's first reopening phase, he said bars, casinos and other dense indoor gathering spaces would remain closed.
In light of elevated case counts confirmed over the past two weeks, Cooper said on Thursday that Nashville would continue to reopen under Phase 2 of the city's guidelines "while carefully observing" daily public health data, according to News 4 Nashville.
Newsweek reached out to the offices of Brown, Herbert, Young and Cooper for additional comments but did not receive replies in time for publication.
Reports from public health departments in 22 states—California, Nevada, New Mexico, Arizona, Arkansas, Texas, Oklahoma, Oregon, North Carolina, South Carolina, Florida, Alabama, Alaska, Hawaii, Utah, Georgia, Wyoming, Washington, Louisiana, Montana, Missouri and Mississippi—show upward trending virus counts since the start of June. Several states have seen record-high numbers in terms of cases as well as hospitalizations, with at least 14 confirming their largest seven-day diagnosis average during the first week of the month.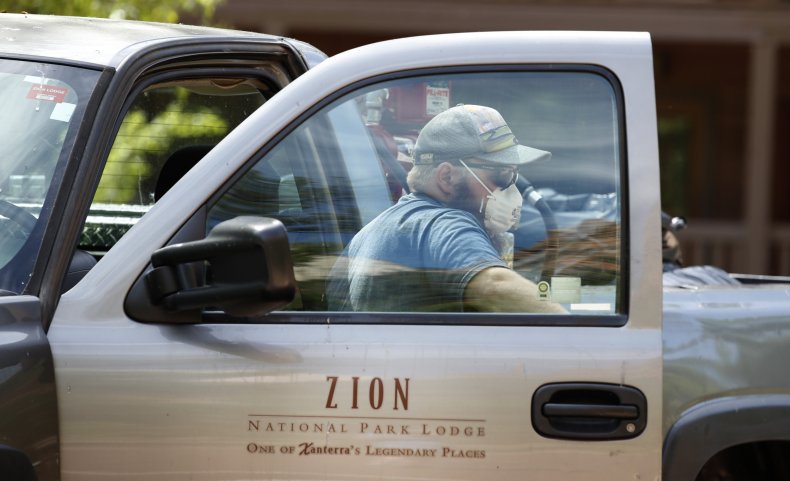 Although Alabama has not formally curtailed reopening plans, the state's Department of Public Health released a statement on Friday encouraging residents to stay at home. Alabama, among the first wave of U.S. states to reopen at the end of April, set new daily diagnosis record on Friday, with 1,075 cases, breaking its previous record of 841 daily cases on Wednesday. The number of additional cases confirmed on Saturday fell below Friday's record by less than 100 cases.
"COVID-19 spreads quickly, and your actions affect others," said Alabama State Health Officer Dr. Scott Harris in Friday's news release. "More than ever since the pandemic began, we need people to social distance, wear face coverings in public, and practice good respiratory hygiene."
More than 2.1 million people have tested positive for the coronavirus in the U.S. as of Tuesday morning, according to Johns Hopkins University's tracker. At least 116,127 have died as a result. The U.S. continues to surpass national case counts reported by other countries, with New York, New Jersey, California, Illinois, Massachusetts, Texas, Pennsylvania, Michigan, Maryland and Georgia confirming the highest overall totals.