They Bet on Ukraine Defeating Russia. Here Are Their Latest War Predictions
The rapid defeat of Ukraine many had predicted when Vladimir Putin's forces invaded on February 24, 2022, failed to materialize
Some analysts defied these predictions at the time and said Volodymyr Zelensky's military would put up stiff resistance
Here three of those analysts share their insights into the future of the conflict, what will happen in Crimea, and the risk of nuclear escalation
When Russian President Vladimir Putin ordered his military to attack Ukraine on February 24, 2022, most analysts across the globe expected a quick victory for Russia. Many military experts with decades of experience even said Ukraine could fall within a matter of days, not weeks.
Not everyone shared those views. Though he was decidedly in the minority, Kurt Volker predicted in January 2022 that not only would Ukrainian President Volodymyr Zelensky's troops mount a firm defense against Russia, but he also said Ukraine would ultimately prevail.
Having served as U.S. ambassador to NATO and U.S. special representative for Ukraine negotiations, Volker had a more unique perspective than most when he wrote in the lead-up to the invasion that Zelensky could ultimately win. Volker told Newsweek that after getting to know the Ukrainian people, he found it "unimaginable" that they would ever surrender to Russia, despite being overwhelmingly mismatched militarily.
Ukraine "is a country that's not going to go away," he said. "And that fact alone means that Ukraine is going to win."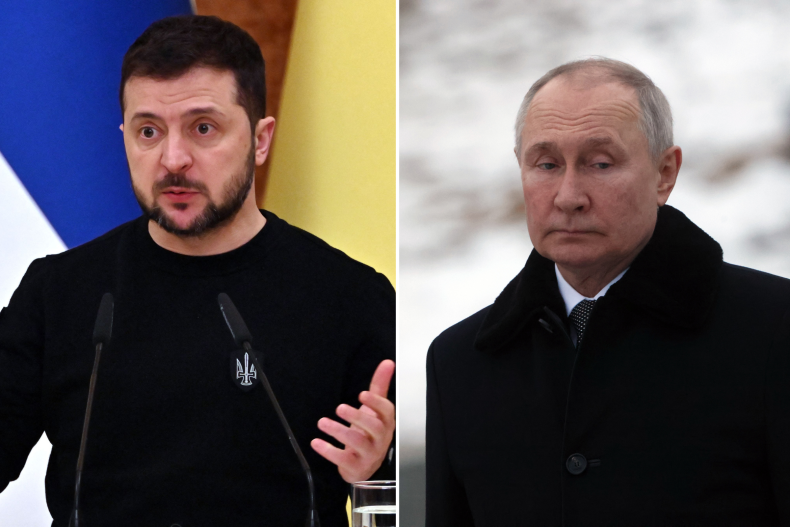 Where Does Ukraine Stand Now?
"It has been a very difficult year for Ukraine and for the Ukrainian Army," Mikk Marran told Newsweek. "Ukraine is doing fine, taking into account all the circumstances."
Marran, former director general of the Estonian Foreign Intelligence Service, also forecast a Ukrainian victory in an interview with the online New Lines Magazine a few days after the invasion.
"For Ukrainians, this is not a small scale border conflict—this is a full scale war, a war of independence," he said, adding that he feels the war first began in 2014 when Putin annexed Crimea.
By the time of the invasion last year, "Ukraine had already been in war with Russia for eight years. Ukrainians were and are defending the freedom of their homeland," he said.
As for continued success in the war, Marran said, such a prospect "is definitely doable with the continuous high morale of the Ukraine army and with the political and material support of the West."
Volker said that when he made his prediction last year in a study published by the Center for European Policy Analysis (CEPA), where he is a distinguished fellow, he was thinking of a Ukraine win "more in terms of not being occupied by Russia."
"Now when I look at this, I basically think they can pull this off militarily," he said.
Volker cited issues that have reportedly plagued Putin's military, including an alleged lack of sufficient soldier training and the destruction of equipment. The extremely high rate of Russian casualties has also taken a toll on morale, he said.
"Meanwhile, Ukraine—with the better weapons that we're giving them—is able to hit further behind the front lines and take out supplies," Volker said. "So I think this is trending Ukraine's way."
What Will Happen With Crimea?
As Zelensky gained success on the battlefield, he stepped up his demands in recent months of Ukraine's Crimean peninsula to no longer being recognized as part of Russia.
Kremlin officials, meanwhile, have repeatedly stated Crimea and four additional Ukrainian territories Putin illegitimately annexed in September must be considered part of Russia in any peace negotiations.
"Ukraine believes it has a military advantage at the moment and can take back more territory," Volker said. "And they're particularly determined to try to isolate Crimea. The status of Crimea before 2014 was an autonomous region within Ukraine, and I think what Ukrainians would like to do is get that back as an autonomous region."
"Ukraine is not free until all the occupied territories, including Crimea, is returned to Ukraine," Mirran said. "The 'United West' has never recognized the occupied territories, and this is a correct policy."
What About the Wagner Group?
In recent months, the Wagner Group of Russian mercenaries has become a prominent force behind the incremental gains Russia has made in Ukraine.
Dr. Leonid Petrov, an expert on Russian politics and postgraduate dean at Sydney International College of Management, said months ago in an interview published by SBS World News that he couldn't foresee Putin's war lasting much longer.
Petrov told Newsweek that if Wagner isn't successful in Ukraine, the group "is likely to destabilize the domestic situation in Russia and spark a civil war."
"Its founder and new warlord, Yevgeny Prigozhin, has been touring the Russian prisons—pardoning, recruiting and arming convicted criminals," he added. "They already rival the Russian regular army and even have their air force."
What Can the West Do Now for Ukraine?
"The U.S. has been slow, reactive and grudging ... We've done more [lately], and I think that our attitude now is much better," Volker said. "I think the U.S. is thinking we actually have to make sure Ukraine doesn't lose."
He also said the "other allies have been great," noting the recent equipment supplied by Germany to Zelensky and the continued support from the United Kingdom.
Petrov said NATO could still do more by heeding the requests made by Ukraine.
"Ukrainian military officials have long asked [NATO] to close the sky over the cities and to send them at least 300 modern tanks to make a difference in the war," Petrov said. "Experts say that Ukraine needs 500 to 1,000 tanks to reclaim the lost territories. And if this support is provided by the West, Putin would completely lose legitimacy in Russia and beyond."
Marran said that "so far the West has stuck together, and I am sure this will stay that way."
However, he called on Western businesses to stop contributing financially to Russia's economy while the war continues.
"All Western companies from the high-end clothing stores to the chocolate bar producers should leave Russia," he said. "There were promises in the beginning of the war and calls for a transition period for closing businesses in Russia. It seems to me that the majority of those promises have been forgotten now, and an ordinary Russia does not see the impact of the war in everyday life. This should change."
What About the Threat of Nuclear War?
Putin and Russian officials have hinted for months at the prospect of the use of nuclear weapons. Volker said the scenario is unlikely, but it's "certainly possible."
While Volker said Putin could potentially use a tactical nuke, he's skeptical the Russian president would do so "because deterrence still works."
Russia knows using nuclear weapons "would then lead to retaliation and the destruction of Russia," he said.
What Is the Probable Outcome of the War?
"The Russians will likely try a major offensive fairly soon. That might be on the anniversary or within a few weeks after that," Volker said. "But then the Ukrainians will go on the counteroffensive with this new Western armor that they're getting. My guess is that the Russians will not be successful."
"Russia could end the war tomorrow," he added. "All they have to do is turn around and leave."
A more realistic timeline, though, is that by fall, Russia could start "opening up to some solution other than just all-out military victory," Volker said.
Marran said that when peace does come, he doesn't think it will be as a result of Ukraine giving concessions to Russia.
"I think that the Ukrainian leadership is far from negotiated peace. Ukraine has fought well and lost thousands of lives defending the country," he said. "I do not see an option that all those sacrifices can be forgotten easily by the Ukrainian political leadership and by Ukrainian people. As voiced several times by President Zelensky, the aim of Ukraine is to push Russia out."
"Ukraine has no other option but emerge as victorious," Marran said.