'They Loved It': Pole Dancer Performs At Senior Center In Viral Video
A viral TikTok shows a snippet of a pole dancing performance that a woman did at a less than expected venue—a senior center.
Posted by Embla Bergli to the account @embla.pole, the video was viewed more than 13 million times, and viewers were thrilled to see the positive reaction from those in the senior center.
According to a piece published by Pole Fitness Studio, a studio based in Las Vegas, the history of pole dates back hundreds of years to the Chinese pole and Indian pole.
Modern pole, the piece stated, combines the old techniques and evolved into a form "that relies heavily on dance as well as fitness skills."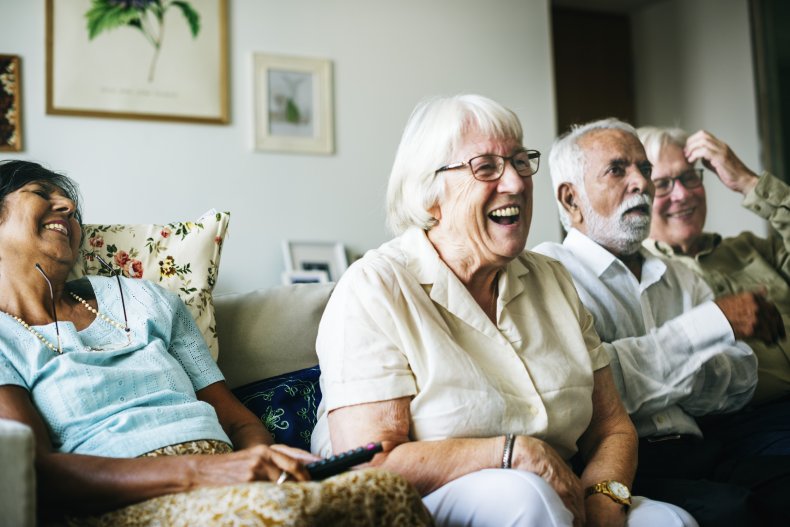 Bergli's video opens as she is performing, noting that she was booked to perform at the senior center.
"And let me tell you; they loved it," the text over the video stated.
The next few clips in the video revealed that some of the seniors got in on the fun and were dancing around the pole themselves.
One senior swung himself around, while another incorporated some footwork when standing at the pole. The budding performers wore a smile on their faces during their performances.
"You know it's been a successful night when you end up writing autographs," the text over the video read as the clip ended.
Bergli wrote to Newsweek that she enjoyed seeing everyone having a good time.
"I would really love to do something like this again," she said.
She said she has danced pole for about three and a half years after seeing a woman perform at a bar in Greece.
"I got inspired and started pole training as soon as I got back home from the trip," she said.
Bergli, a resident of Norway, explained that she's only had a few shows because not many people understand what pole dancing is.
"I've now quit my job to focus 100 percent on this, and I want to help make the sport more commercial and let people see how cool it is," she said.
One of the major benefits to pole, Bergli said, is that it offers "great training."
"I can let loose and be extra without being judged," she said. "I get strong, and it's really just a badass sport that matches my personality."
Viewers were quick to share their appreciation for the video.
"[Elders] are amazing," a TikTok user commented. "They are so open as they have nothing to lose. I always have a good laugh with them."
One viewer said it was "wholesome" and complimented Bergli on her performance.
"Almost everyone loves pole if they just give it a try," another comment read. "Love to see it."
"But they didn't have to flex on you like that," a commenter joked, referring to the seniors' performances.
A TikTok user who said they work in a retirement home said their residents would love to participate in this type of event. Other comments were complimentary to those who organized the event.
"We really need to stop the narrative that old people can't have fun, cause this was so wholesome," a comment read.
Seniors have been featured in numerous sweet videos that graced the Internet, including a post of a grandfather who gave a ride to a pet cat on his walker.
One man's excited reaction to leaving his assisted living facility after about two years also went viral, while another video showed a grandmother getting her first tattoo.