Thieves Steal Family Dog From Mom, Daughter at Gunpoint During Walk: Police
A group of thieves stole a family's dog at gunpoint during an evening walk on Saturday, according to police.
The thieves targeted the pet owners, a woman and her adult daughter walking their French bulldog Tito in Castro Valley, California, at about 5:30 p.m., the Alameda County Sheriff's Office wrote in a statement. They pulled up in front of the victims in a black 2019 Kia Nero.
Four or five people—three of whom carried handguns—got out of the car and approached them. One of the thieves snatched the dog while another grabbed a purse that contained a wallet and keys before fleeing the scene, the sheriff's office said.
The suspects went to the home of the victims and stole a vehicle from their driveway later that night, the statement said. The suspects' car was allegedly stolen and has been involved in several armed robberies.
Detectives are working to identify the suspects and safely return Tito home, the statement said.
French bulldogs—known for their small size and kind temperament—are among the more popular dogs in the United States but have been the target of other robberies in recent months.
David Johnson, president of the French Bulldog Club of America, wrote in a statement to Newsweek that the rise in thefts is due to the breed's popularity in the United States.
"Most of these thefts are driven by individuals hoping to make a quick financial gain by either selling the stolen dogs on the black market or hoping to secure a hefty reward upon the return of the dogs to the rightful owner," he wrote.
He added: "The average person has no idea the amount of money and extensive vet care that is put into raising a healthy puppy that comes from parents who have had extensive health testing and health clearances prior to any breeding."
Brandi Hunter Munden, vice president of public relations and communication for the American Kennel Club, wrote in a statement to Newsweek that French bulldogs are so in demand because of their popularity and because the breed is known to produce small litters.
Hunter Munden outlined some ways to prevent pet theft. Dog owners are advised to microchip their pets, pay attention to them while on a walk, and never let them off the leash or leave them unattended.
Last February, two of Lady Gaga's French bulldogs were taken by a thief who also shot her dog walker in Los Angeles. She offered up to $500,000 to whoever could return the pups. Ultimately, the dogs safely made their way home.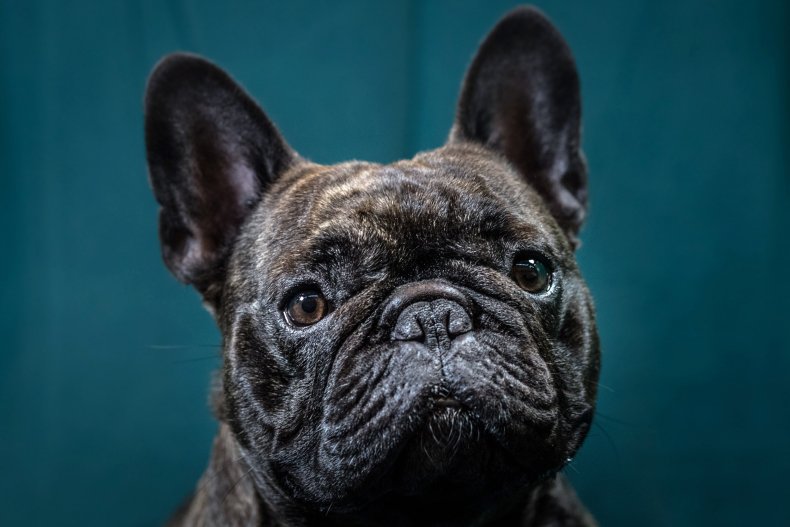 In December, a woman walking her French bulldog Mona was held at gunpoint by three men who stole the dog in Los Angeles. She was also later found safe, according to local television news station KCBS.
Two women were arrested in July after they allegedly tried to steal a French bulldog that was worth thousands of dollars in Texas.
The Alameda County Sheriff's Office could not be reached for further comment Sunday afternoon.