As novel coronavirus cases in Florida continue to soar, 49 hospitals across the state have reached full intensive care unit (ICU) bed capacity. That's according to the latest report from Florida's Agency For Health Care Administration.
The ICUs in at least three Florida counties—Nassau, Okeechobee and Putnam—were said to have reached full bed capacity.
A total of 971 ICU beds were reported to be available across the state, nearly 16 percent of the state's total number of ICU beds, as of Thursday.
More than a third (23) of Florida's 67 counties were reported to have less than 10 ICU beds available.
Eight hospitals in Miami-Dade, the state's most populous county, were reported to have hit full ICU bed capacity, with only around 15 percent of their total ICU beds available.
Hospitalizations in Florida have reached at least 19,334, according to the latest report from the Florida Department of Health.
Earlier this week, daily new cases in Florida, whose residents form about seven percent of the total U.S. population, were reported to make up nearly 25 percent of the country's total daily case count.
Over a quarter of the state's total cases are in Miami-Dade County, which has seen 72,317 confirmed infections to date.
The number of active cases in Florida began to rise on a sharper incline from about mid-June. Several reopened bars in Florida were closed again after customers tested positive for the virus.
Since May 27, three weeks after most Florida counties entered phase one of reopening on May 4, the state's daily case count has mostly been increasing.
Hospital capacity in Florida
Hospitals at full ICU bed capacity: 49
Available ICU beds: 971
Total ICU beds: 6,137
Hospital capacity in Miami-Dade county
Hospitals at full ICU bed capacity: 8
Available ICU beds: 154
Total ICU beds: 993
ICU beds available by Florida county
Nassau: 0
Okeechobee: 0
Putnam: 0
Flager: 1
Citrus: 2
Clay: 2
Highlands: 2
Seminole: 2
Monroe: 2
Columbia: 3
Marion: 3
Jackson: 4
Desoto: 4
Okaloosa: 4
Pasco: 5
Walton: 5
St. Lucie: 6
Bay: 6
Hernando: 7
Leon: 7
Sumter: 7
Polk: 8
Manatee: 9
Charlotte: 9
Santa Rosa: 9
Escambia: 10
St. Johns: 13
Indian River: 13
Lee: 16
Alachua: 19
Collier: 22
Martin: 22
Sarasota: 25
Lake: 33
Broward: 35
Hillsborough: 35
Osceola: 37
Brevard: 40
Pinellas: 47
Volusia: 63
Orange: 78
Duval: 87
Palm Beach: 115
Miami-Dade: 154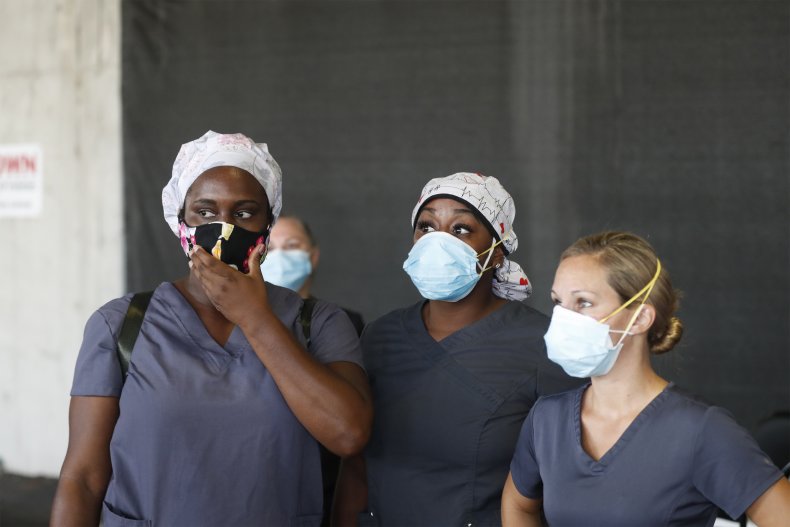 Over 13.5 million people across the globe have been infected since the virus was first reported in Wuhan, China, including 3.4 million in the U.S. More than 7.5 million globally have reportedly recovered from infection, while over 584,300 have died as of Thursday, according to the latest figures from Johns Hopkins University.
The graphic below, provided by Statista, illustrates U.S. states where reopenings have been stalled or reversed.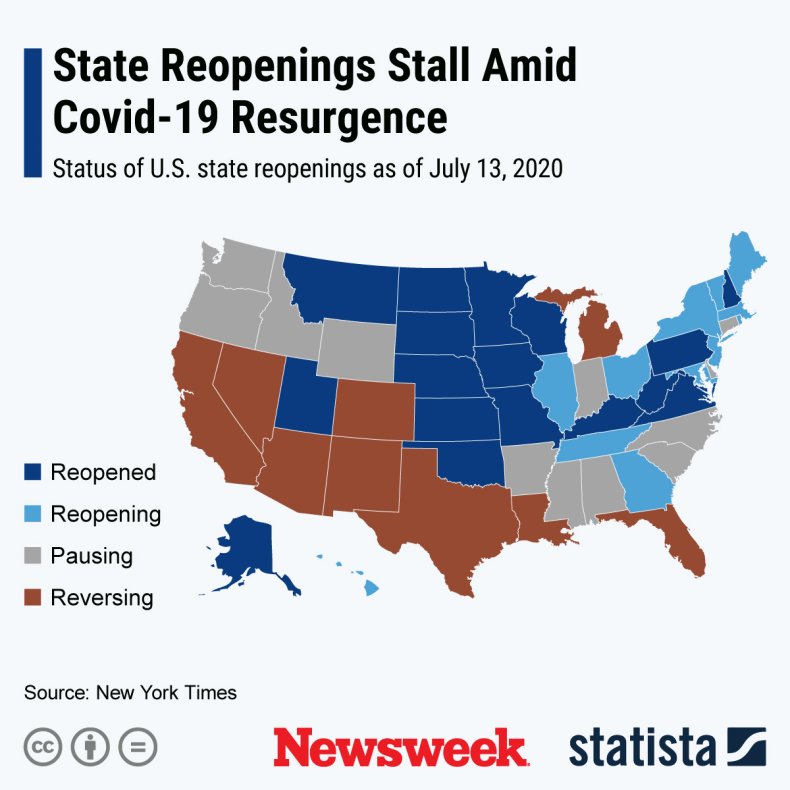 The graphics below, provided by Statista, illustrates the spread of COVID-19 cases in the U.S.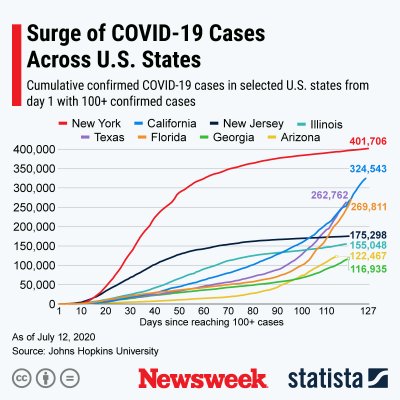 The graphic below, provided by Statista, illustrates the countries with the most COVID-19 cases.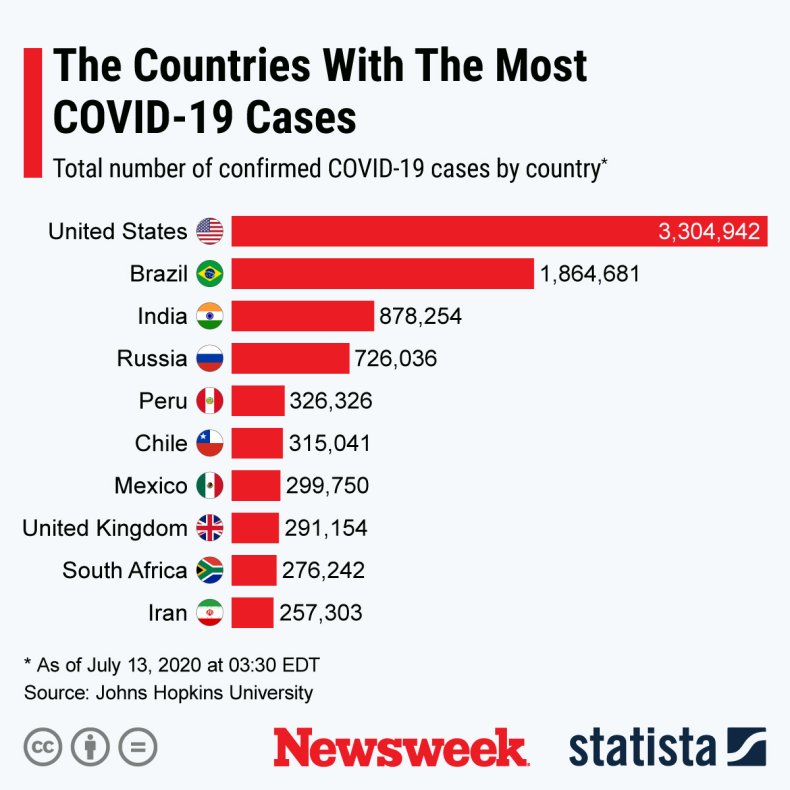 About the writer
Soo Kim is a Newsweek SEO Reporter is based in London, UK. She reports on various trends and lifestyle stories, from health, fitness and travel to psychology, relationships and family issues. She is also a South Korea expert who regularly covers Korean culture/entertainment for Newsweek, including the latest K-dramas, films and K-pop news, and is the author of the book How to Live Korean, which is available in eight languages. Soo also covered the COVID-19 pandemic extensively from 2020 through 2021 after joining the general news desk of Newsweek in 2019 from the Daily Telegraph (a U.K. national newspaper) where she was a travel reporter/editor from 2010. She is a graduate of Binghamton University in New York and the journalism school of City University in London, where she earned a Masters in international journalism. Languages spoken: English and Korean.
Follow her on Twitter at @MissSooKim or Instagram at @miss.soo.kim
You can get in touch with Soo by emailing s.kim@newsweek.com