Third Monolith Appears atop Pine Mountain, California after Mystery Objects in Utah and Romania Removed
Another mysterious metal monolith has appeared, this time in California, just days after similar structures were discovered in Utah and Romania.
The reflective obelisk was found at the top of Pine Mountain in Atascadero, San Luis Obispo County.
The monolith was discovered by walkers this week, with photos of the three-sided, 10-foot tall piece of stainless steel shared on social media.
NewsChannel 12, the CBS station for Santa Barbara and San Luis Obispo Counties, reported that the structure was located at the summit of a two-mile hike in Stadium Park.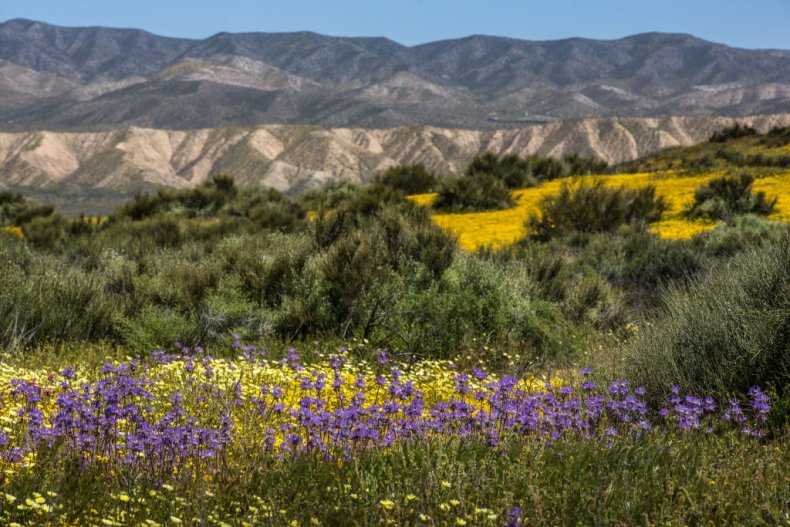 The latest discovery in California is the third metal monolith in what has become a global mystery with few clues. The vacuum of information led some to ponder whether the structure is evidence of aliens at work, while more cynical observers suggested it was more likely to be a marketing stunt.
On November 18, sheep herders discovered the first of the metal monoliths in the Utah desert. Just over a week later, the structure disappeared, replaced with a smaller pyramid and surrounded by rocks.
The Bureau of Land Management (BLM), which administers the area, said it had received "credible reports" the structure had been removed "by an unknown party."
One person who visited the location said it was neither magnetic or solid and described it as sounding "like a cardboard box" when he knocked on it.
Days later, a 13ft silver structure was spotted on Batca Doamnei Hill in the Romanian city of Piatra Neamt, with a second sighting leading some to question whether the monoliths were a marketing stunt.
The local mayor, Andrei Carabelea, said in a statement on Facebook: "There is no reason to panic for those who think there is still life in the universe.
"My guess is that some alien, cheeky and terrible teenagers left home with their parents' UFO and started planting metal monoliths around the world. First in Utah and then at Piatra Neamt. I am honored that they chose our city.
"Beyond the conspiracy theories that can be tempting, I'd like to see this randomness as further proof that our city is special. For the earthlings and (maybe) not only."
But days later, that too had been taken. "The 2.8 metre (9ft) tall structure disappeared overnight as quietly as it was erected last week," local journalist Robert Iosub told Reuters.
"An unidentified person, apparently a bad local welder, made it ... now all that remains is just a small hole covered by rocky soil."
Newsweek contacted officials in Atascadero for comment.