Third Person Dies After Receiving Contaminated Moderna Vaccine
A third person in Japan has died after receiving a Moderna COVID-19 jab from a vaccine batch that was found to be contaminated with stainless steel.
Moderna and its Japanese distributor, Takeda Pharmaceutical Company, told Newsweek in a joint statement "there is no indication" the deaths were linked to the administration of the vaccine and were working with health officials in the country to investigate the incidents.
On August 26, Takeda announced the suspension of three vaccine lots, totaling 1.63 million doses, after reports that a foreign particulate had been found in vials.
An investigation found fragments of stainless steel in some vials in one lot, which Moderna and Takeda said were most likely related to the friction between two pieces of metal in the machinery that puts stoppers on the vials.
This was apparently due to an incorrect set-up at the production line at Moderna's contract manufacturer, Rovi, in Spain.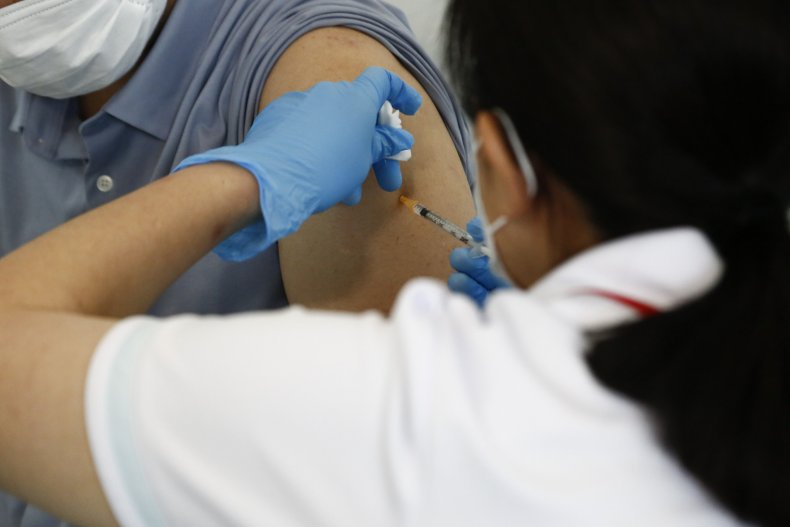 The contamination received extra media attention after Japan's Health Ministry announced that two men, aged 38, and 30 had died in August within days of receiving their second Moderna jabs from one of the suspended lots.
In the latest case, a 49-year-old man who was inoculated for a second time on August 11 with a Moderna jab, was found dead the following day, the newspaper Asahi Shimbun reported.
He had received a second vaccination dose from a batch included in the recall announced last week, which had not had reported complaints for particulates in unused vials.
On Tuesday, Takeda and Moderna reiterated that the metallic particles would be unlikely to increase medical risk, or cause adverse reactions beyond those at the local site of injection.
"There is no indication that any of the deaths following administration of the Moderna COVID-19 vaccine were in any way related to administration of the vaccine," the statement to Newsweek said, "there is also no reason to believe the vaccine poses any health hazard or undue safety risk."
"This is a tragic event, and the loss of life is something that we take very seriously. We offer our sincerest condolences to their loved ones," the statement said.
Taro Kono, Japan's minister in charge of the vaccine rollout, said last week over half a million doses from the batches had already been administered, Reuters reported.
Analysis of reports into the contamination will be published in the coming days. As of August 26, 2021,around 18 million doses of Moderna's COVID-19 vaccine have been administered in Japan, where around 47 percent of the Japanese population has been fully vaccinated.
"The vaccine has a well-established safety and efficacy profile," the Moderna-Takeda statement added.