Third Stimulus Check Threshold Should Be at Least $60K, Says Treasury Secretary Janet Yellen
Treasury Secretary Janey Yellen on Sunday said that Americans earning $60,000 should be eligible to receive the $1,400 stimulus check in President Joe Biden's $1.9 trillion relief package.
On Friday morning, the Democrat-led Senate backed Biden's American Rescue Plan with Vice President Kamala Harris casting the tie-breaking vote on a budget resolution, paving the way for the president to deliver his relief package quickly without GOP support. But the White House says that the income threshold for the direct payments is still up for negotiation.
Income eligibility was initial set at $75,000, in line with the first two rounds of checks. But Republicans want to lower the threshold, and moderate Democrat Joe Manchin of West Virginia has called for the payments to phase out from $50,000.
Yellen told CNN host Jake Tapper on Sunday that Americans earning $60,000 should receive the payments. "If you think about an elementary school teacher or a policeman making $60,000 a year and faced with children who are out of school and people who may have had to withdraw from the labor force in order to take care of them and many extra burdens, [Biden] thinks, and I would certainly agree, that it's appropriate for people there to get support," she said.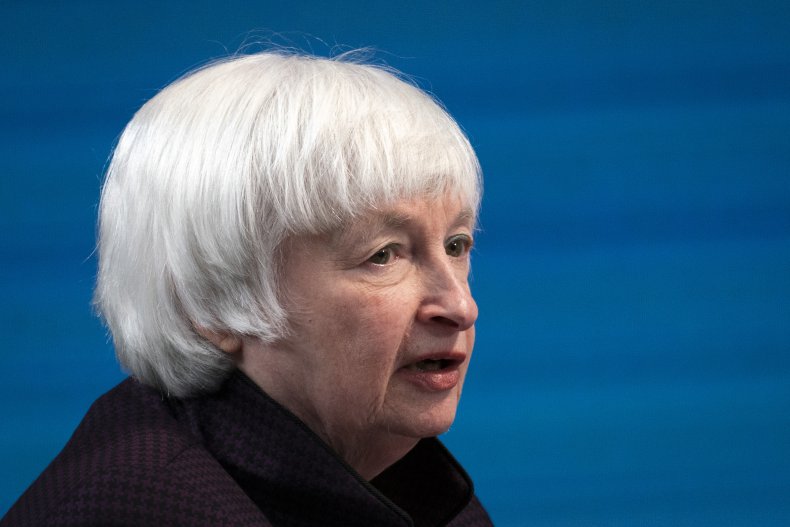 Tapper prompted Yellen to clarify her position, asking: "You definitely think higher than $50,000 per individual, but you're not necessarily willing to commit to $75,000, is what I'm hearing?"
"Yes," she replied. "I think the details can be worked out. And the president is certainly willing to work with Congress to find a good structure for these payments."
House Speaker Nancy Pelosi on Friday indicated that the stimulus package, which provides for the checks, will be passed by Congress "before the end of February." At a press conference, the top Democrat explained that the party intends to "begin working on the specifics of the bill" on Monday, and will send something over to the Senate "hopefully in two weeks."
Senate Republicans have pushed to shrink the size of the checks, which they believe is too costly, but Biden has refused.
"Here's what I won't do: I'm not cutting the size of the checks. They're going to be $1,400. Period. That's what the American people were promised," the president said.
Americans should expect the third check to be far more targeted than the previous two payments, as the Senate has overwhelmingly approved a bipartisan proposal—led by Senators Manchin and Susan Collins of Maine—that prevents "upper-income taxpayers" from receiving it.
Newsweek reached out to the White House for comment.