Third Stimulus Check of $1,400 Will Be Passed Before End of February, Nancy Pelosi Says
House Speaker Nancy Pelosi on Friday said that Joe Biden's stimulus package, which includes a third relief check of $1,400 to eligible Americans, will be passed by Congress "before the end of February."
Former President Donald Trump signed a $900 billion relief package into law in late December, which included federal unemployment benefits that will lapse on March 14. Lawmakers have set that date as an unofficial deadline to approve further coronavirus aid.
The Senate backed Biden's $1.9 trillion American Rescue Plan early Friday morning, with Vice President Kamala Harris casting the tie-breaking vote on a budget resolution. It will allow Democrats to pass the measure without Republican support.
The House will now need to approve the amendments in another vote to deliver the bill, and Pelosi has expressed confidence that Congress will pass the legislation before March 14.
"Absolutely. Without any question. Before then," she said at a press conference on Friday.
Pelosi explained that Democrats will "begin working on the specifics of the bill" on Monday. "Hopefully in two weeks time we'll send something over to the Senate and this will be done long before the expiration of initiatives," she said, adding that Congress will "finish our work before the end of February."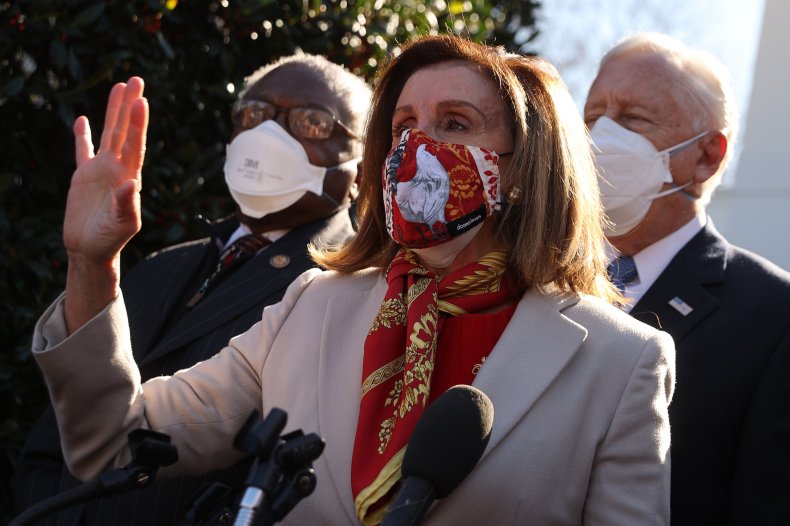 Democrats have prioritized delivering further relief to Americans, but Trump's impeachment trial—set to start in the second week of February—could delay the process.
Biden vowed that the package will include $1,400 individual payments after Senate Republicans pushed to shrink the amount during negotiations.
"Here's what I won't do: I'm not cutting the size of the checks. They're going to be $1,400. Period. That's what the American people were promised," the president said.
"What Republicans have proposed is either to do nothing or not enough. All of a sudden, many of them have rediscovered fiscal restraint and a concern for the deficits," Biden added. "But don't kid yourself: this approach will come with a cost. More pain for more people for longer than it has to be."
Democrats have quickly paved the way for more direct relief, but the checks will be far more targeted to recipients in need this time around. The Senate has overwhelmingly approved a bipartisan proposal, spearheaded by Senators Joe Manchin of West Virginia and Susan Collins of Maine, that will prevent "upper-income taxpayers" from receiving the payments.
On Friday, two House members, Democrat Lisa Blunt Rochester of Delaware and Republican David McKinley of West Virginia, proposed a stand-alone and bipartisan stimulus check bill as both sides of the political aisle continued to battle over the relief package.
"By providing a third round of individual relief, millions of American families would receive the help they need," McKinley said in a statement announcing the measure. "As Congress continues to negotiate additional COVID-19 relief measures, we must prioritize family-focused direct assistance to those who need it most."
Newsweek reached out to the White House for comment.