A Third of Voters Think 2020 Election Should Be Overturned, but Fewer Think It Will Be
Nearly a year after the presidential election, former President Donald Trump continues his calls for its results to be investigated while a third of voters back his belief that he was the rightful winner. But even fewer are convinced President Joe Biden will be ousted from office.
A new poll from Morning Consult and Politico released Wednesday found only 19 percent of registered voters thought it was likely the 2020 election would be overturned. While Trump's supporters were more likely to back the belief the election would be overturned, only 22 percent thought it would happen—a slim increase from the 17 percent of Biden voters who hold the same belief.
Some vocal Trump supporters, including MyPillow CEO Mike Lindell, have continued to push the claim that the former president will return to office before the next presidential election. Lindell claims to have significant evidence of election fraud that he plans to bring before the Supreme Court.
However, there hasn't been any substantial evidence put forth that there was enough widespread fraud that would have changed the outcome of the 2020 election. And many have dismissed the possibility that Trump will return to office without winning another presidential election, including Georgia GOP Representative Marjorie Taylor Greene. An ardent supporter of Trump and vocal believer in the need to investigate the 2020 election, Greene cautioned Republicans against buying into the belief that Trump will be reinstated.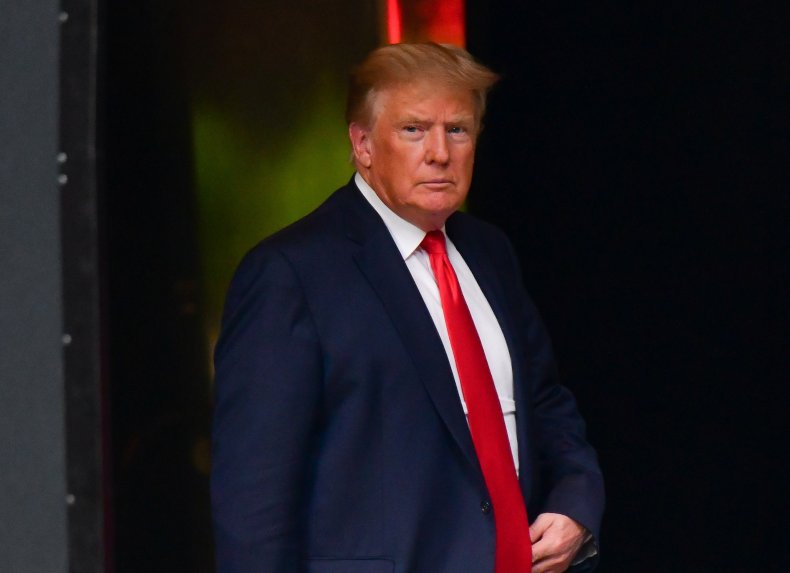 While those who believe the election will be overturned are in the minority, a majority of Trump's voters think it should. Sixty-one percent of Trump's supporters believe the presidential election results should be overturned, nearly the same percentage of Republicans who hold that view.
Only about 16 percent of Democrats and 27 percent of independents believe the election should be overturned. When looking at overall registered voters, 35 percent believe the election should "definitely" or "probably" be overturned, according to the poll.
Trump still holds a strong command over his supporters and thousands have come to his post-presidency rallies as he's continued his litigation of the "stolen" election. Although Trump's historically been a powerhouse for voter turnout, some have raised concerns that his ongoing cries about the election being unfair and fraudulent will convince Republicans their votes don't matter, causing them to sit out elections.
It's a concern Trump raised, saying in a recent statement that if election fraud isn't "solved," Republicans wouldn't vote in the midterms or 2024 presidential election. However, it's possible those worries are unfounded.
Eighty-five percent of the nearly 2,000 people polled in the Morning Consult/Politico survey said they would "definitely" or "probably" vote in the 2022 midterms. That included 92 percent of Republicans, a higher percentage than the Democrats or independents who plan to vote at this time.
The poll has a margin of error of plus or minus two percentage points.
Election integrity is likely to continue to pervade future elections and could plague the midterms. Even though Trump's supporters plan to cast their ballot in 2022, a majority of them don't believe the midterms will be a "free and fair election."