'Thirteen Lives': Did All the Boys Survive the Tham Luang Cave Rescue?
Thirteen Lives is the new Amazon Prime Video film, directed by Ron Howard, that dramatizes the 2018 Tham Luang cave rescue. The incident captured the world's attention when 12 boys and their soccer coach became stuck in a flooded cave system in Thailand.
The boys, aged from 11 to 16, and their coach went missing on June 23, 2018, and after a search operation that stretched over nine days, the missing team was finally discovered stranded in a flooded cave nearly three miles from its entrance.
Actors Viggo Mortensen, Colin Farrell and Joel Egerton have now taken on the leading roles of real-life divers Rick Stanton, John Volanthen and Harry Harris in Thirteen Lives.
The movie has, understandably, made fans curious about the real incident, and whether the entire team survived.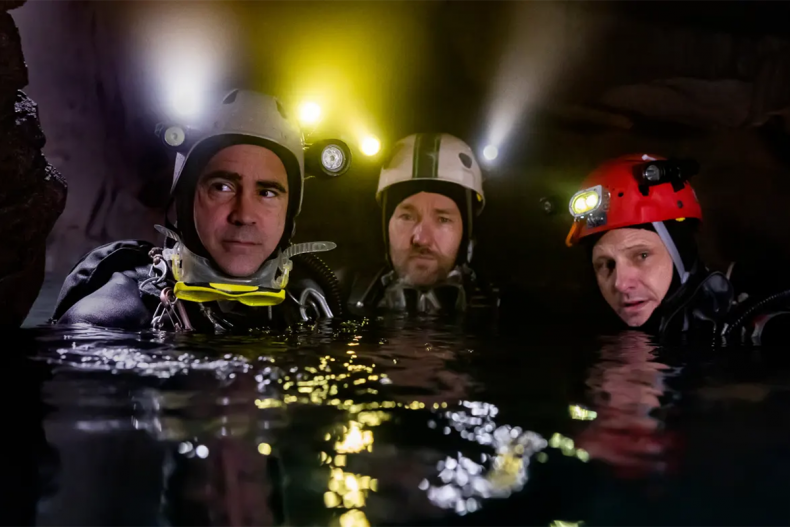 Did All the Boys Survive the Tham Luang Cave Rescue?
Between July 8 and 10, 2018, all 12 boys and their coach were evacuated from the cave by an international rescue team.
Sadly, Saman Kunan, a former Navy SEAL who was part of the rescue mission, died after delivering an oxygen supply to the boys and their coach. Thai Navy SEALs paid tribute to Kunan after this death, calling him a "skilled and talented Seal and a triathlon athlete" in a statement.
"Even after he departed the Seal unit, he still kept in touch and maintained a tie with the rest of his former colleagues. He always participated in the Seal activities until the last step of his life," the statement read. "Saman left us while working as a diver and in a time where all divers joining forces to complete the mission. His effort and determination will always remain the hearts of all divers."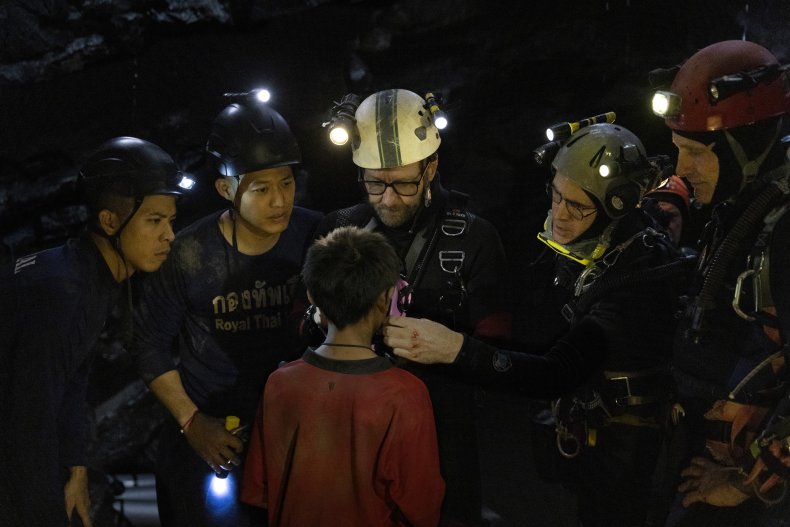 Did the Stars of Thirteen Lives Really Dive in the Movie?
Newsweek has previously reported how the Thirteen Lives cast learned how to dive on a set that was purpose-built for the film and designed to look like the real Tham Luang cave system.
Howard recreated the cave by visiting the real one with Stanton, Volanthen and fellow diver Jason Mallinson (played by Paul Gleeson in the film). There, the divers explained to the filmmaker which points in the cave were particularly difficult for them to navigate.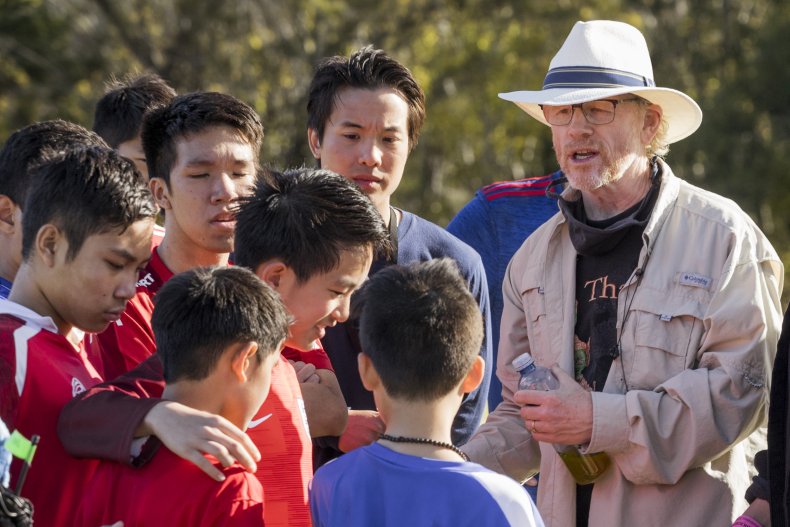 When asked at a recent press conference if they ever panicked while filming the movie's underwater scenes, Egerton said: "I did have one moment because, you know, not only were we going, I was a relatively novice diver—well completely novice—getting through these stages...It's thanks to Rick and Jason and all the Australian Navy guys that were assisting us getting us to get through these like incredibly tight pinch points with side-mount tanks, with a lot of equipment.
Mortensen added: "There were several moments for all of us, I think, where you went, 'Oh, wow, what have I gotten myself into?'"
Thirteen Lives is available to stream now on Amazon Prime Video.