This Chinese Prison is Twice the Size of the Vatican, Can House 10,000
China's largest detention facility, which is currently holding members of the country's Uyghur minority and has the capacity for 10,000 people, could be the biggest in the world, the Associated Press revealed Thursday.
The facility is located in the country's western Xinjiang region, where Chinese officials have been accused of committing human rights violations against the Uyghurs and other Muslim ethnic groups.
The Chinese government recently granted AP journalists a tour of the Urumqi No. 3 Detention Center in Dabancheng, a 220-acre complex that's twice the size of the Vatican City.
According to the AP, it appears that China is converting the "training camps" that have been used to detain Uyghur residents into prisons and detention facilities, like the complex in Dabancheng.
Former detainees in China's "reeducation camps" for Uyghurs have reported atrocities like forced labor, sterilizations and beatings.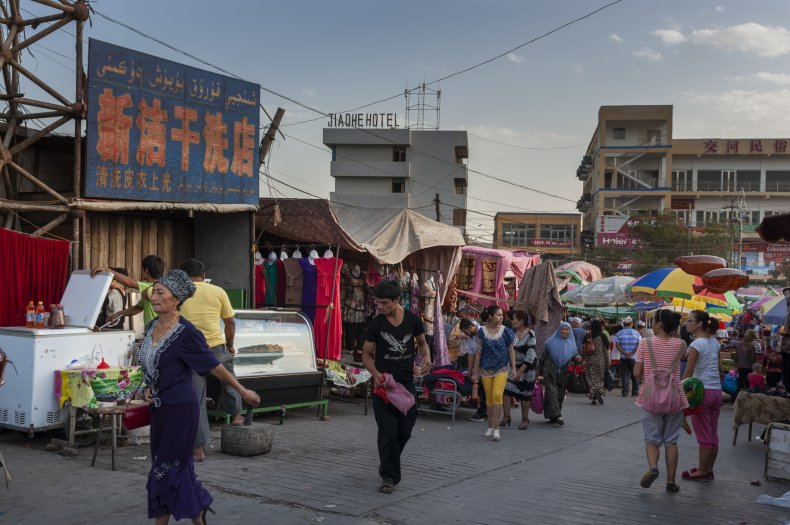 Several countries, including the U.S., have condemned China over the reported oppression against members of the country's Muslim minorities. Meanwhile, China has characterized its actions as part of its efforts to fight terrorism. Officials told the AP that the center is aimed at rehabilitation and that inmates had access to legal counsel, hot food, and exercise.
Chinese officials have said they've closed their "training" facilities and that there is "no connection between our detention center and the training centers."
"There's never been one around here," Urumqi Public Security Bureau director Zhao Zhongwei said.
The complex was previously known as the "Urumqi Vocational Skills Education and Training Center."
While Chinese officials declined to say how many inmates the facility can hold, the AP estimated its capacity, based, in part, on satellite imagery. Journalists only toured a section of the complex and neither spoke with inmates directly nor witnessed violence. But, they reported claims of beatings and forced confessions at the complex.
In January, the United States became the first country to call the Chinese government's treatment of the Uyghurs "genocide."
At the time, then-Secretary of State Mike Pompeo said, "we are witnessing the systematic attempt to destroy Uighurs by the Chinese party-state."
U.S. officials determined that China had committed genocidal acts against the Muslim minority since at least March 2017, and said that the crimes were ongoing.
But Chinese officials have strongly dismissed U.S. criticism.
"In the United States and other Western countries, lies about Xinjiang still hold sway. Systemic slandering and unilateral sanctions against China are rife," the Chinese ambassador to the U.S., Cui Tiankai, said in May. "But lies cannot stand the scrutiny of facts. The so-called 'genocide' is just a downright lie."