Is This the New Grumpy Cat?
Lock up your litterboxes—there's a new Grumpy Cat in town. Meow Meow, a cat from Taiwan, has a striking resemblance to the beloved original Grumpy Cat, who sadly passed away in May 2019.
Appearing on Instagram a day ago, the long-haired feline has already struck the hearts of many users because of her resemblance to the well-loved internet sensation.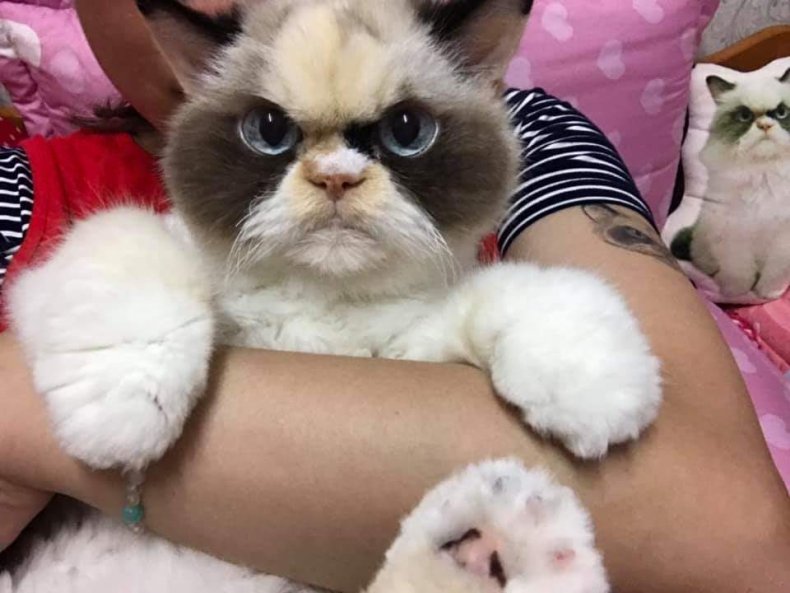 The "original" Grumpy Cat, real name Tardar Sauce, became an internet sensation after her photo was posted on Reddit on September 22, 2012. According to her official website, it had been suggested that the photo was doctored, so her owners took to sharing videos of her on YouTube. The rest is meme history. Grumpy Cat's petite size and sour expression were due to feline dwarfism.
Grumpy Cat died in the arms of her owner, Tabatha Bundesen, due to complications from a urinary tract infection. Her death was announced in a post captioned: "Some days are grumpier than others..."
But now it seems that Grumpy Cat's legacy can live in the form of Meow Meow, whose owner, named Clare, describes her as looking angry "but is sweet". According to Bored Panda, Meow Meow met her owner when she was 10 months old in an old pet shop after she had been abandoned. Interestingly, it is thought Meow Meow was born before Grumpy Cat, making us wonder who is the original grump of the cat world.
Even though she has only been on Instagram for a day, Meow Meow has already acquired 2,100 followers. She also has what her owner describes as a "Batman mark," referring to the bat-shaped markings on her face.
In her first posts, Meow Meow has already talked about keeping her cool during hyperthyroidism treatment and subsequent quarantine, posting: "When I stayed in the hospital for hyperthyroidism treatment and quarantine, I still kelp my elegant. Have a lovely day and stay safe from the Coronavirus! Everyone".
She also took to the social media platform to complain about the weather: "I am not a fan of humidity unless I am close to nice clear water to swim in. It's raining again. Talk to the paw".
The feline also has a touching back story. After meeting Clare 10 years ago, it became apparent that Meow Meow could become sick very easily. But it wasn't until 2018 that Clare noticed that her cat's sickness was a bit more serious."I worked in Tokyo for a year and when I came back to Taiwan, I noticed my girl had gotten sick."
It turned out that Meow Meow had hyperthyroidism, a sometimes fatal condition if not treated. The feline's veterinarian advised that she could live for up to two years if she took medication, but for Clare, she knew there had to be another option: "I couldn't accept that—we had lived together for a very long and she was like my child. The doctor then explained to me the only way we could save her life was to go to America, but it would expensive."
From then on, Clare told Newsweek is was a hard time. Meow Meow was in and out of her vets for treatment while taking medication twice a day. Eventually, after stabilizing her condition, Clare was given the go ahead by Oregon Veterinary Specialty Hospital to travel to the U.S.
"I took a mortgage loan on my house and quit my job," she told Newsweek. "I found a place to rent in Portland, Oregon, and took the bus every day to visit her in the hospital while she was in quarantine until she could come home to our place in Portland.
"I'm glad I made the right choice," she continues. "She's still with us and now doesn't need to take medication. We are so happy for her."
Clare is surprised by the attention Meow Meow is now getting: "I was supporting a friend's restaurant and was posting pictures on imgur.com, but people cared more about Meow Meow. I didn't think she would get so much attention.
"I hope people will focus on how brave and sweet she is," Clare said to Newsweek. "She brought me to the U.S. and she completely changed my life."