In This Trump Interview Edit, the President Fights With Himself and Not Jonathan Swan
After President Donald Trump's Axios interview on Monday, August 3, the memes rolled in. A notable one that emerged from him discussing coronavirus statistics with political reporter Jonathan Swan was an edited video, "Donald Trump Is the Dumbest Man in America²," posted by someone who is identified as Justin T. Brown, in which Trump argues with himself.
In the clip shared on YouTube, the president fumbles with the papers while showing himself data surrounding the pandemic. "Take a look at these charts," Trump 1 says. "Numerous categories were lower than the world." Trump 2 cuts in to offer an explanation for the testing in the United States.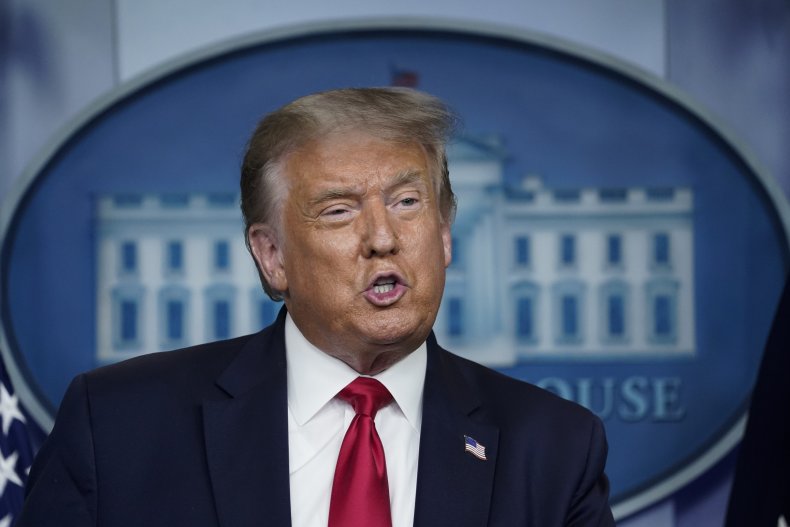 "You can test too much, you do know that?" Trump 1 insists. "New cases, new cases, new cases…the top one! That's a good thing, not a bad thing."
The two Trumps exchange charts and graphs back and forth to each other. "We have more cases. Don't we get credit for that?" Trump 1 posits.
Newsweek attempted to contact Justin T. Brown but did not hear back in time for publication.
Folks on YouTube enjoyed the edited interview. "Oh man, I'm going to be cackling all night while thinking about this," one person commented. "Somehow he is still losing the argument with himself," another noted.
"He's so much more polite when interrupting himself," a third YouTuber joked.
On August 3, the president sat down with Swan to discuss his administration's handling of the coronavirus pandemic. Trump claimed that the U.S. coronavirus deaths "were lower than the world," and celebrated the statistics.
"I'm talking about deaths as a proportion of the population," Swan told the president. "That's where the U.S. is really bad."
"You can take the number of cases and look we're last, meaning we're first," the president later insisted, holding up a bar chart.
"They are dying, that's true. It is what it is," Trump told Swan when acknowledging that the coronavirus death toll of the United States had reached 150,000 people. "But that doesn't mean we aren't doing everything that we can. It's under control as much as you can control it."
"The United States is lowest in numerous categories. We're lower than the world. We're lower than Europe," the president said, adding that since the United States does more tests, it has more cases.
Swan countered, "I'm talking about death as a proportion of population. That's where the U.S. is really bad. Much worse than South Korea, Germany.… " Trump, flustered, responded "You can't do that," saying that the number of deaths should be reported in proportion of cases.
As of August 4, the United States has 4,713,562 confirmed coronavirus cases, and 155,471 deaths, as per Johns Hopkins University.